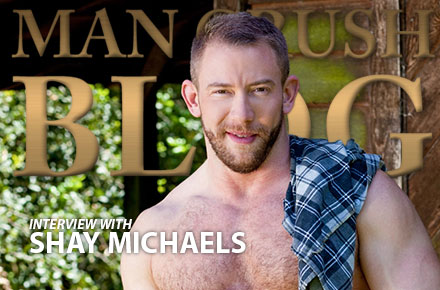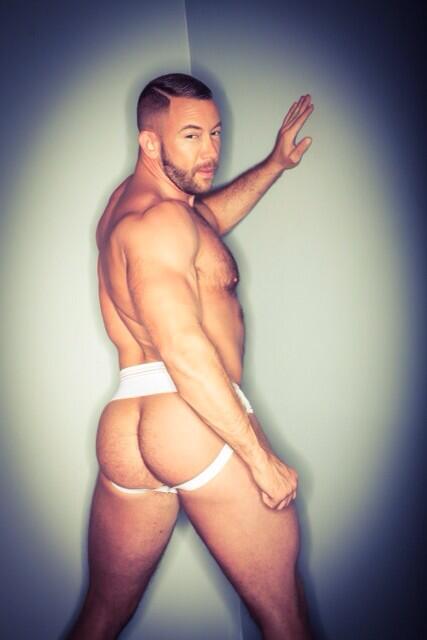 It was back in 2011 when I first wrote about my (imaginary) love affair with porn model Shay Michaels (@Shay_Michaels). I've always found this hairy stud to be simply irresistible in every way imaginable–from the body to his ass and cock in specific, Shay's had a hold on me for years. Imagine my reaction when I recently had the opportunity to interview him! We talked about a variety of topics including the reason he's on the comeback trail to his thoughts on why there isn't more diversity in the porn industry. After this interview you'll come to see that Shay's much more than just a pretty face with a hot body. For even more images of Shay, click here.
Images in today's interview include shots from COLT Studio Group, Channel 1 Releasing and Titan Men. Images and video in today's interview are NSFW and intended for those 18 years or older. 
Ice Breakers
Man Crush: Let's start off with some random questions to get you all warmed up. If given the chance, which male celebrity, musician or public figure would you like to film a scene with?
Shay Michaels: It would be John Cena. He is fuckin' hawt, [laughs]
What's the worst pick up line someone's tried on you?
I can't remember it was so bad I blocked it out.
Complete this famous Meatloaf lyric with your own response. "I would do anything for love but I won't do …?"
Anal. Kidding!
What advice would you give to your 13-year-old self?
Wow, this is a hard question! I'd say, "It's all going to be ok."
In your rentboy.com profile you say you're into anything mild to wild. What's the wildest thing you've done?
Oh God, here we go. I had a client hire me to flirt with him in a bar in front his boyfriend. I had to convince the boyfriend to invite me back to their hotel for a three way. The three way was easy, it was the bar setup and flirting which made the session kinda wild as I was scared that it would all fall apart.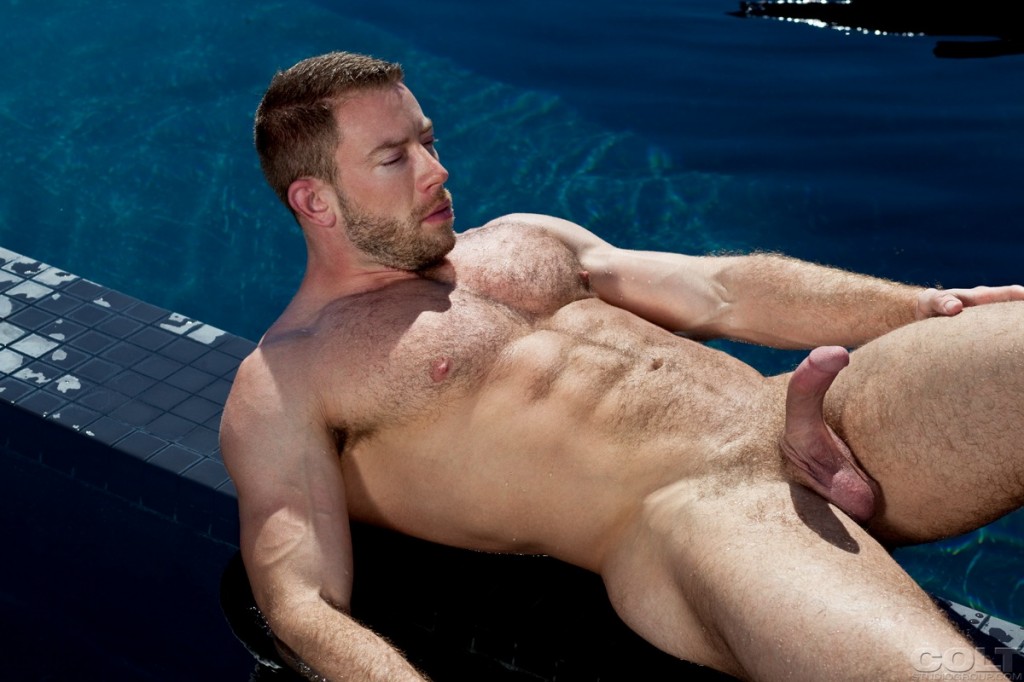 The Porn
When we first talked about doing an interview you mentioned you were trying to stage a comeback. I didn't even know you had gone anywhere! You seem to always have a scene out. What's kept you away from filming new scenes?
Life got in the way. I moved to Portland, Oregon, about 3 years ago to start a new life with a man and in the process got wrapped up in my addiction and lost track of a lot of things. There is no sun in Portland and having moved from Phoenix, Arizona to the Pacific Northwest I went into a depression and so on. During the 18 months I lived there my filming dropped off as did my escort work.
What's the biggest misconception about you? I'm sure people have a few when it comes to you and your involvement with porn or rentboy.com. 
I have been around a while so there are many misconceptions about me, I am sure. In much of my scenes I play a muscular dominant top with a nasty mouth. Yes, that side of me does exist to some small degree, but in my personal life I am very passionate and gentle.
Another misconception that I hear a lot is how unapproachable I am by clients and so on, which is quite the opposite. I am a total jokester and comedian. I have a very quick and sharp tongue which can get me into trouble but also makes people laugh, which I love. At heart I am a puppy dog with a nasty pig collar. Woof.
Over the past year or two we've seen the porn industry kind of get hit hard by everything from health scares to deaths so let's look at it from an uncommon point of view–how has porn helped you?
Yeah the events over the past few years have been a lot to handle and more seem to be happening. Porn has allowed me to explore my sexuality and to try things that most guys would run from. Porn has—to a degree—given me a greater sense of confidence about my body. To be honest, porn is all about your body and either your ass, cock, or both. To continually be hired by studios and to watch my fan base increase means that my body must be desirable and therefore I have come to love my body and have an ease with it.
From poking around the Internet people seem a bit surprised that you aren't exclusively a top with your overall build and look. What's the perk of being a bottom and what's the downside of being a top?
I always say that a bottom makes a good top, and that a top makes a good bottom. How the hell do you know how to fuck if you have never taken a cock up your ass before? I am top and versatile and love, absolutely love, to fuck a nice round ass, but there is also pleasure in bottoming for a hot fucker who knows how to fuck. Also, being versatile in porn has allowed me to fit into many different scenes, which otherwise would have been unavailable to me if I was just a "top" or just a "bottom".
You've shot some scenes with Race Cooper and Lawson Kane, two of the most prominent men of color in the industry. While it shouldn't be uncommon, scenes between guys of different races seems to be a rarity these days. Why do you think we don't see more diversity in scenes and scene partners?
I want to say that I love a hot man, regardless of color. A beautiful man is a beautiful man, period—regardless of color. I don't really know why there's a separation between the races. I have noticed the trend myself and was trying to think about possible reasons. Essentially it all comes down to supply and demand. Why the demand for interracial porn is dropping is a mystery.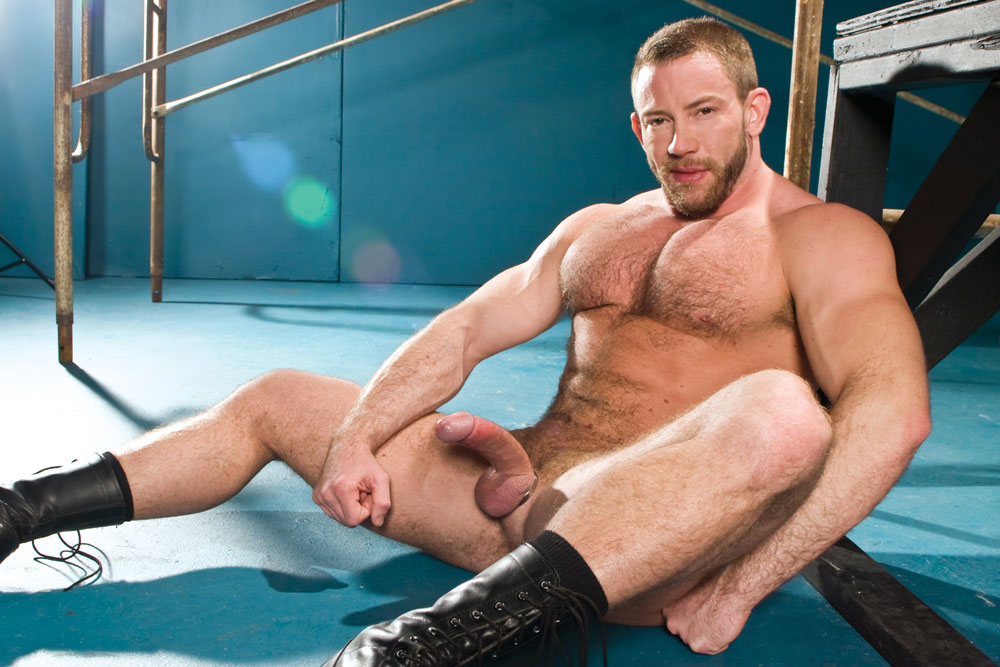 The Body
So, like, I'm in love with your beefy build. What's your workout routine like?
Blood, sweat, and tears [laughs]. I have been in the gym since I was about 14, so 20 years of conditioning my body. I work out 6 times a week. Each day I train only one muscle group for an hour to exhaustion. I train the same way that a body builder does as I am a body builder. I try to fit in 30 to 40 minutes of cardio into my workout 3 times a week. As I get older I realize that my body responds better to less time in the gym but harder intensity.
How do you keep yourself motivated and focused when you workout in the gym?
Music. I love music and always have my head phones on. Also seeing other hot men around me helps me to push myself harder to achieve more.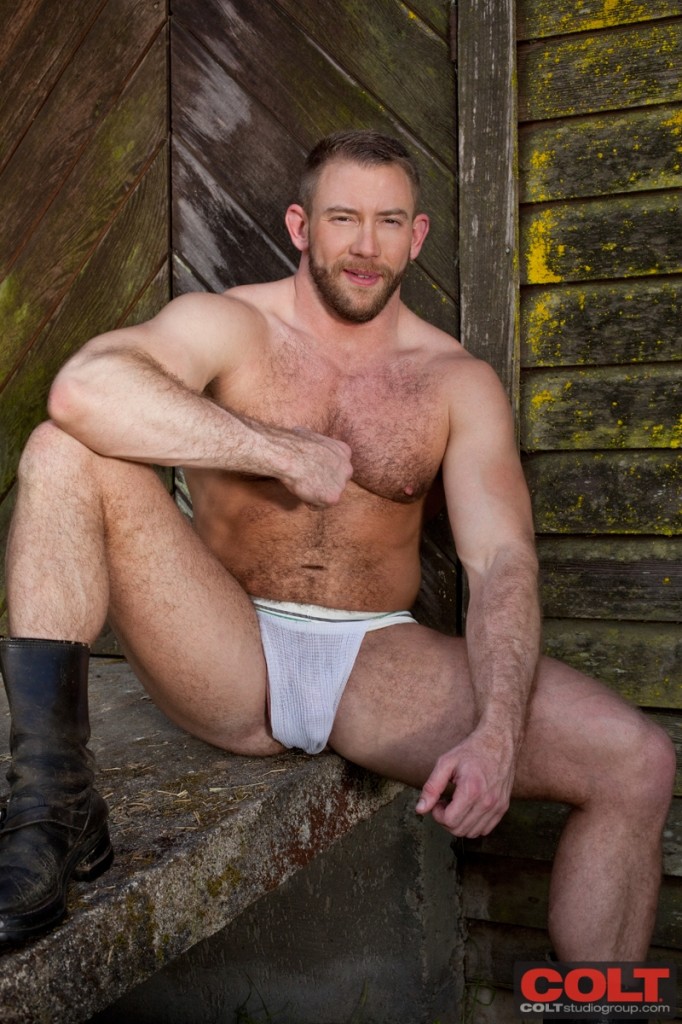 What's your favorite part of your body and what do you do to maintain and improve it?
Legs and ass. I did martial arts for years and always pride myself on having solid legs and bubble ass. I do legs twice a week and target my glutes on its own day.
What's the worst piece of fitness advice you've been given that definitely doesn't work and that people should not be doing?
Cutting out all carbs. Carbs are energy and without them the body can not absorb protein or even repair muscle damage.
What exercises should a guy be doing to build a "porn star" body?
Bench press, squat, lunges, bicep curls, and military press.
Personal
We all know you as a porn performer but how'd you describe yourself outside of the porn career?
Driven. I am completely driven to make something of myself. I am coming up on 9 months sober and my drive to stay sober continues to grow. Out of my sobriety I am making a lot of changes to be the man I always wanted to be.
What do you hope to have accomplished ten years from now?
To have a thriving personal training business; to have learned Spanish; maybe have bought a house.
What's something about you that few people know?
That I was home schooled from grade school though til college. I earned a G.E.D.  and then went to college. I was so far behind my peers in certain areas when I arrived at college. I can remember not knowing how to insert a floppy drive into a computer my first week of classes. Most people are completely shocked when I say that I was home schooled as they always say, "Wow, you are so well adjusted for being home schooled". I know that they are trying to give me a compliment but it's also a put down.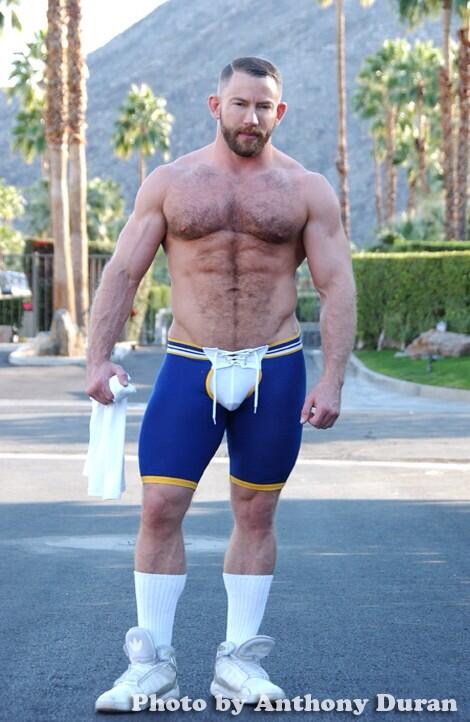 What do you want most out of life right now?
This is a very pertinent question. Number one is my continued sobriety. If I relapse, I will lose so many precious things that I have found in sobriety. Second is my relationship with Marcos Whitaker, who moved to Los Angeles from New York City. We met in the rooms of AA and CMA. He is simply amazing and understands me in ways no one ever has before. Having been in porn and escorting for a while you to a degree shut down your emotions and become desensitized. Being with Marcos has changed my life for the better, oh my God, so much for the better. What I want is for my relationship with this wonderful man to continue to grow and strengthen over time. I also want to enjoy this time in my life where I am actually happy, I know who I am, I am in love, and I am driven. For me this is a wonderful time, and I want to enjoy every minute of it.
You get the last word! What parting message would you like to leave with the readers and your following?
No so much a parting message but rather a sincere thank you for having followed me all these years in porn and showing support through my early recovery. I received so many amazing messages on Twitter from fans and from other recovering addicts that it really warmed my heart and made me feel a part of something bigger than myself. Again, thank you for always being there.