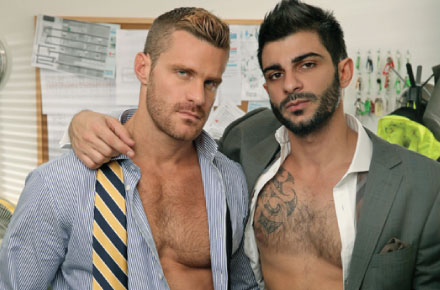 In Men at Play's "Under Construction," Rio Silver comes in to inspect the work Landon Conrad's construction team has completed and isn't impressed with the work but does appear to be impressed with the piece of work that is Landon Conrad. When he accidentally gets paint on his suit, his anger causes him to smear paint on Landon's suit before bending him over and doing a bit of "construction" on Landon's ass. For a preview of the scene click here.  The images in in today's gallery are NSFW and intended for those 18 years or older. For more scenes like this visit meanatplay.com and follow on Twitter @Menatplaycom. You can follow Landon on Twitter @LandonConrad.
Follow The Man Crush Blog on Twitter | Facebook | Tumblr | Pinterest | Newsletter
Click on thumbnails to view larger images.