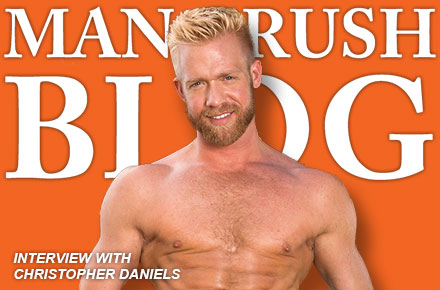 I recently had the opportunity to interview porn model, male escort and now published writer Christopher Daniels. Christopher recently released his first book, Money's on the Dresser which focuses on his experiences as a male escort and touches a bit on the porn industry. We chatted about how to hire the best escort for your needs, the state of the porn industry and other interesting tidbits. You can find out more about Christopher by visiting his website christopher-daniels.com, liking his Facebook page or following on Twitter @CtopherDaniels. Some of the images in today's interview are NSFW and intended for those 18 years or older.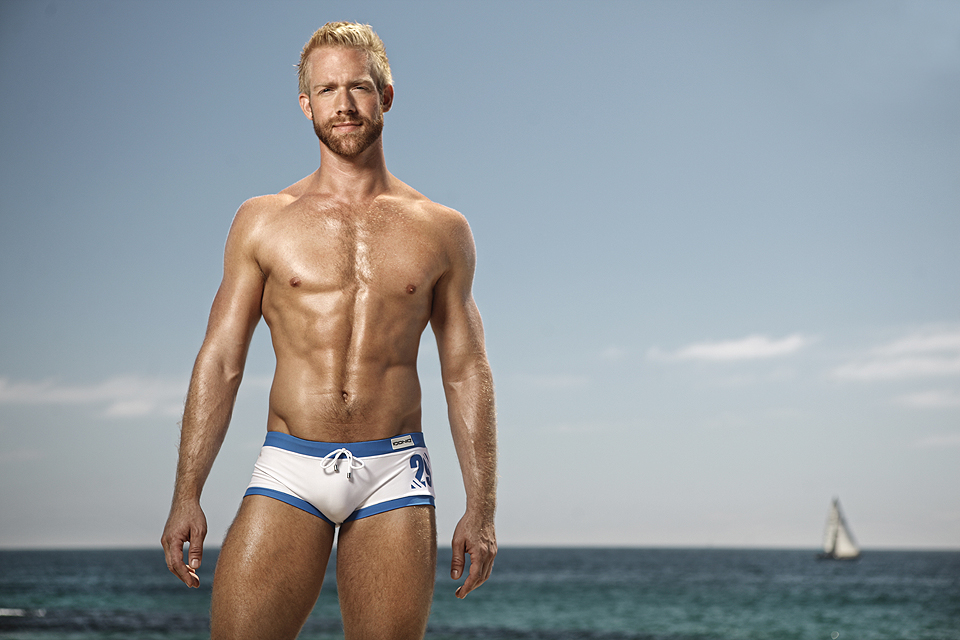 Ice Breakers
Man Crush: Before we start talking about your book, let's warm up with some random questions. Some big Hollywood studio picks up your book and wants to turn it into a movie. Whom do you choose to play you?
Christopher Daniels: That's a tough one but I think I'd have to say James Franco because he seems to be doing every gay role these days.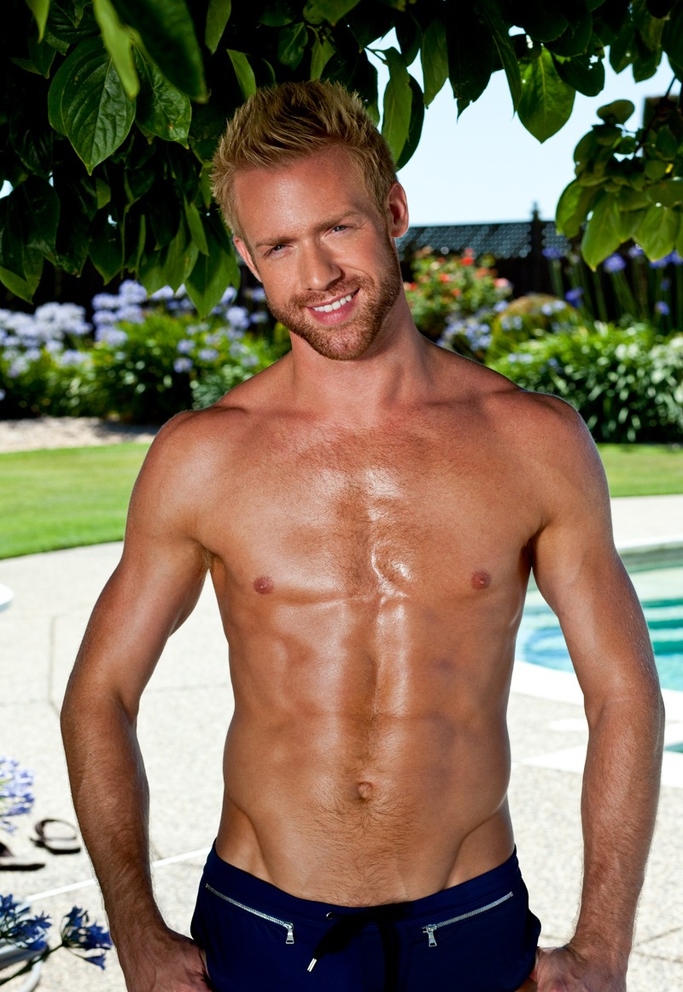 What tip do you give to those looking to hire an escort?
I'd say do your research. Websites similar to Nu Bay Pussy Videos might be a place to start or Maybe have a look at some escort review sites and have a brief conversation with them on the phone to make sure you feel comfortable with them. Pay no attention to the clients who sit there for hours talking in the forums and obsess and/or trash us. Hiring can be hit or miss and that's the price–literally–you have to pay.
What song would you say best describes your life?
Oh, boy. I think it would have to be P!nk's song "Walk of Shame." I just moved to West Hollywood and I seem to be singing that as I speed walk down Santa Monica Blvd. at 7 a.m. lately.
What porn performer, active or currently not performing, would you like to do a scene with?
I feel like I have worked some huge stars and some amazing performers and it's generally been an amazing experience. Although, one thing I've learned has been that you can never really know what you're going to get. Sometimes that guy you've fantasized about and jerked-off to for years is a complete freak … or worse. One time I did a scene, that might of ended on a website similar to watch my gf, with a porn crush and he turned out to be a Republican. It totally killed my erection.
The Book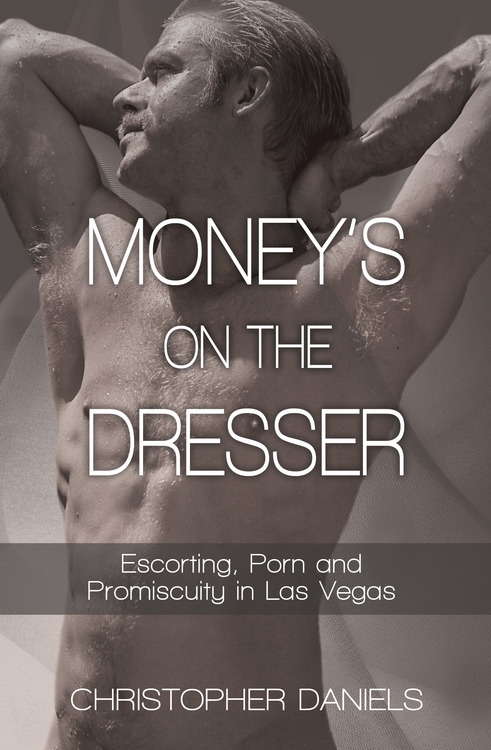 Let's start off by talking about your book, Money's On The Dresser. Talk to us about the concept of the book. How or when did the idea come to you to write a book?
The idea sort of came together after the events described in the first chapter happened. I won't say what that was because you should buy the book and read it for yourself, but it was shocking and floored me. It was at that time that I thought "I gotta start writing this shit down… nobody would believe me otherwise." [You can purchase the book at christopher-daniels.com]
Now, you focus a lot on escorting and your porno amatoriale career but many reading this book are surprised that you also discuss your experiences with ex-gay therapy. You could have focused solely on your career and have had enough material to fill a book with so why was it important for you to touch on what many view as a controversial subject like ex-gay therapy?
My book originally focused solely on my escorting experiences with a few references to my upbringing. I had a friend read some of it and she suggested I talk about my upbringing because maybe some people would find it interesting. I decided to write about my life pre-escorting and the ex-gay therapy stuff because I really wanted to show people that sex workers come from all different types of backgrounds. We all have a different story and part of mine happens to be ex-gay therapy.
In writing the book, what did you feel was too much to write about? How did you decide what to cut or edit out of the book?
It was pretty rough writing about my childhood and having to re read it in editing. I did not have a traumatic upbringing and far worse things have happened to other people but it was tough reading about how sad, depressed and close to suicide I was as a kid. I've overcome a lot of those things but it's hard to think of a small kid-especially yourself-going through it.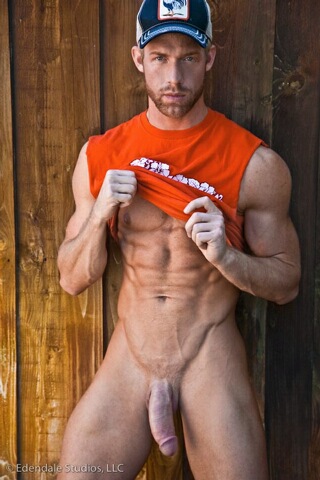 A reviewer on Amazon described your book as being, "What Hollywood Wives by Jackie Collins was to the world of movie stars, Money's on the Dresser by Christopher Daniels is to the world of modern day escorts." People really are responding to the chapters about your escorting experiences, probably because we don't often hear or read much about male escorts. Do you have an escorting experience that stands out above all the others?
The feedback I have received has been so kind and genuine. It has actually moved me to tears hearing other people stories and how they can relate to some of my life experiences.
I'd say the one chapter that sticks out is the one where I meet up with a virgin in his 20's who is a paraplegic living with MS. It truly was a profound experience for me. He read the book and called me a few hours after. He told me he wanted to call me directly after he read his chapter but he couldn't because he spent over an hour crying. He told me his experience with me-aside from passing the bar and becoming a lawyer and opening his own practice-was one of the most memorable experiences in his life and he will cherish it forever. He told me losing his virginity to me was such a special thing for him and reading the chapter brought him to tears. Hearing someone say you've made an impact like that on them really humbles you and puts things into perspective.
Another thing about your book that may surprise people is that though it's about the world of escorting and your experiences with porn, it's not necessarily a dark book. You mix in a lot of humor and light moments. Was it intentional to keep the book from being a dark and cautionary tale as many would expect from the subject matter?
YES! I was so sick and tired of people painting sex work such as porn and escorting as being a dark, seedy, depressing, drug-fueled world where we are basically selling our souls and becoming worthless whores that eventually commit suicide. I'm so beyond sick and tired of our society slut shaming everyone and painting sex as such a dirty, depraved thing. Here's a fact for you: about 85 percent of the men I see are married, have girlfriends and live their lives-or have lived their lives-as straight. So obviously we are not addressing a problem within our culture that needs to be addressed, in my opinion. Sex and sexuality is not a black and white issue and I wish people would realize that sex is ok and that we're allowed to have fun with it. There's a reason God made it feel good, right?
This may sound like an Oprah question but why should people read your book? Why do you feel your story is important enough to write about and share with the world?
I feel like I answered some of that in the previous question. Whether people want to believe it or not, sex is a human need and it does not always need to be fulfilled within a monogamous- or marriage-type setup. We can try but people constantly fail and I think we're wise enough to know that it's pretty unrealistic for some-if not most-people. I wanted people to read my book and perhaps see a little of themselves in it or for it to help open their eyes to what is going on but nobody is talking about.
" src="https://themancrushblog.com/wp-content/uploads/2014/02/christopher-daniels+interview+2.jpg" width="500″ height="750″ />
The Porn
You talk a lot about escorting in your book and many readers said if there was one thing they wanted more of it would've been more stories from your experiences in the porn industry. Why wasn't there as much behind-the-scenes stories from porn sets?
That is because I wrote a majority of the book before I started filming porn and before I started establishing my name as a "porn star." Stories on the porn industry is being saved for a second book. Stay tuned.
Oh, I think that's an exclusive tidbit that I hadn't heard or read elsewhere! I'm sure people will look forward to that book just as much as this first one. This is sort of the classic, "Chicken or the egg" question. Did escorting lead to a career in porn or was it the other way around?
I started escorting and then a year later I started doing porn to promote escorting. This is a fairly common route for Launceston escorts, and those in other locales, to take. I was very hesitant to start doing porn. Naturally, I was petrified of my family finding out and I still had a lot of preconceived notions that the porn industry was sleazy, dark and that the performers were cracked-out whores who were probably molested as kids. The porn industry is completely messed up and dysfunctional, but so is any industry based on talent and looks. That's life.
One theme that runs throughout Money's On the Dresser is how you often times set out to make others happy in your escorting experiences. Is this need to please something that translates over into your porn scenes?
Pleasing my partner is always important to me in any situation where I am having sex. Unfortunately, in porn it's not always about doing what feels good, intimacy, chemistry or pleasing anyone. Instead, it can be-but is not always-about a director who's never been in front of the camera telling you that you're going to do 2 minutes of making out, 5 minutes of oral and rimming, 5 minutes of doggie, 5 minutes of missionary and you're going to fuck to cum. Shooting porn is not always an organic or fun experience-it's work.
We've just gone through the State of the Union address here in the States not too long ago so consider yourself the designated president of the industry right now. What's your opinion of the porn industry as it is today? What are the problems and what are the improvements since you've come onto the scene?
I will gladly accept this role. Thank you everyone [bows and holds up hands to acknowledge mock applause]. You may be seated. I believe the porn industry is going through a lot of changes and has been for awhile. Things like Xtube have killed the glamor of being a porn star and it's unfortunate but at the same time that's just what it's evolved to. Illegally downloading porn has really killed the industry and brought our scene rates way down and we're having to do a lot more for a lot less. Bareback porn has gone from ultra taboo to what a lot of studios are doing now. I personally believe we are all adults and can make up our own minds. I believe porn truly reflects what is going on in the gay community and I believe that a lot more people are barebacking now in their personal lives and thats what people want to see. I think a lot of porn studios who have been very anti-bareback have started doing bareback for financial reasons and it's the only way to keep the lights on. Is it right or wrong? Who knows. It is what it is and I have no judgements of what people chose to do.
Personal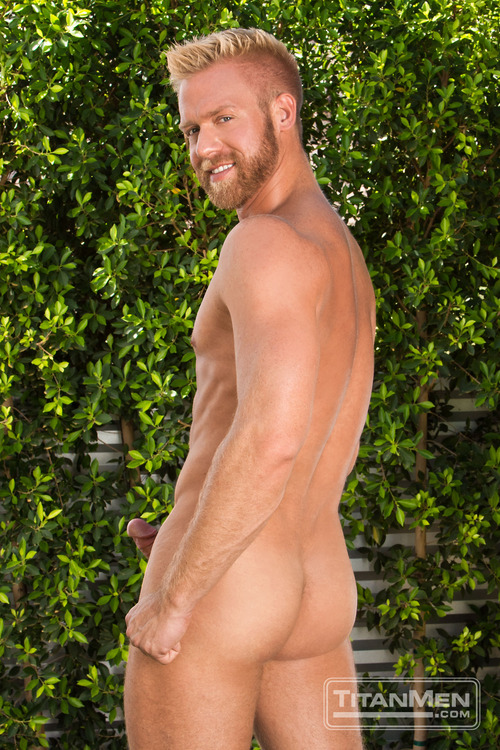 What motivates you?
My ongoing fear of being a failure.
You've written a book, you're still filming scenes–what's next for you, Christopher Daniels?
I just moved to L.A. and I'm ready to start a new chapter in my life. I will continue to film porn, see clients, dance, write and be the best parent I can be to my 2 pups.
Do you ever think about the future in terms of how you may eventually decide to leave escorting and porn behind?
I think about that every day and I'm sorry to say I haven't come up with an answer yet but I will continue to search for that next big step. I'll send out a tweet once I discover what that is so follow me @ctopherdaniels!
You get the final word! What parting thought or message would you like to leave with the readers and your followers?
Honestly… thanks to so many people for the love and support. I never thought I'd ever be escorting or doing porn or that I could bring some happiness or a smile to someones face. Buy my book at christopher-daniels.com and follow me on twitter @ctopherdaniels.
Follow The Man Crush Blog on Twitter | Facebook | Tumblr | Pinterest | Newsletter