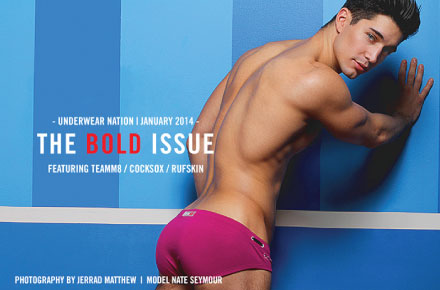 January marks Underwear Nation's "Bold" theme. Underwear Nation writes, "Audaces fortuna iuvat. Fortune favors the bold. To kick off 2014, we celebrate that idea with bold, brightly colored selections in our January Issue. As we all prepare our resolutions for the new year, we promise ourselves to lose weight, get more organized or take more chances. What better way to take a low-risk chance than by shaking up your top drawer with some color? It could change your entire outlook!" This month's collection includes pieces by Teamm8, Cocksox and Rufskin. View the full issue at underwearnation.com and follow by Twitter @underwearnation. Model Nate Seymour (Matthew Agency www.matthewagency.com) is featured in the photos by Jerrad Matthew.
Follow The Man Crush Blog on Twitter | Facebook | Tumblr | Pinterest | Newsletter
Click on thumbnails to view larger images.