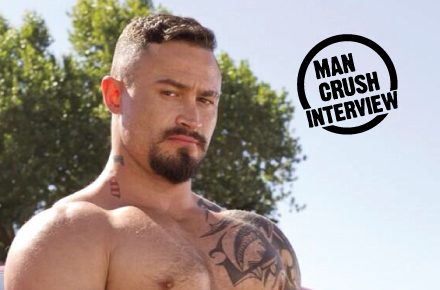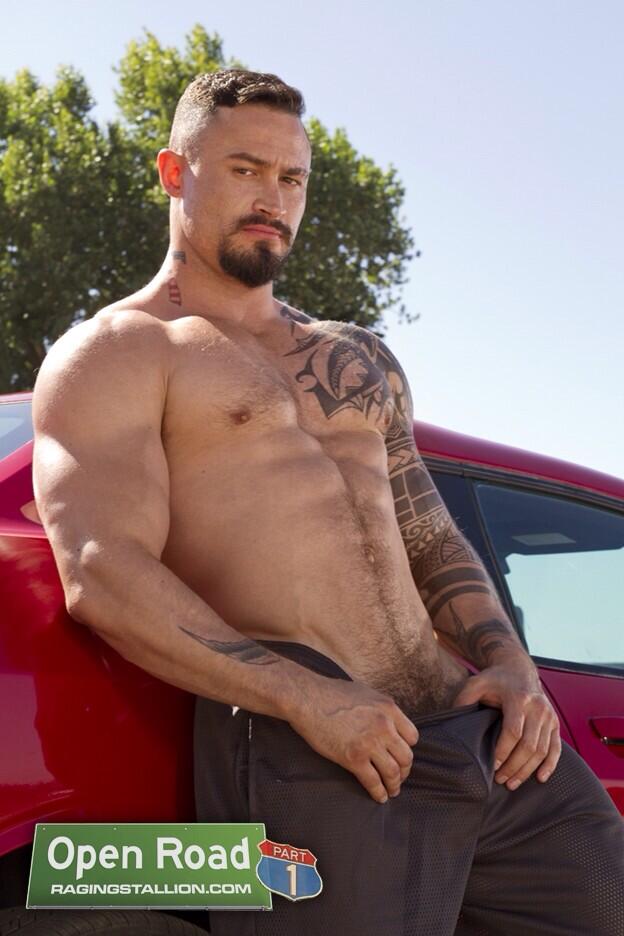 Today I'm dishing out another exclusive interview for your reading pleasures. If you've seen
Raging Stallion
's "Open Road" release then Seven Dixon may look familiar to you, thanks to gay erotic films that feature all over adult sites like
full tube
and more. In this interview, we discussed his reasons for getting into an industry that's taken a bit of a beating in the past year, workout tips and look to discover who he is beyond the porn mystique. You can follow Seven on Twitter @sevendixon. Photos for this interview come via
Raging Stallion
and photographer
Edwin Pabon
.
Ice Breakers
Man Crush: Let's warm up with some random questions to see if you're awake and on your toes. What song gets you in the mood?
Seven Dixon: "Electric Feel" (Justice Remix) by MGMT.
Man Crush: What's the worse pickup line you've been subjected to?
Seven Dixon: This guy was trying to hook up from a party at the Surfcomber and his line was "C'mone, lets go back to my place, relax, have some fun, suck a little cock"… Now I don't know about you but it struck me to laugh, not go suck a "little" cock.
Man Crush: Considering this is the Man Crush Blog, who are you currently crushing on?
Seven Dixon: Ok, I don't know him but I have a man crush on Trenton Ducati.
Man Crush: Where's the oddest place you've hooked up at?
Seven Dixon: On the subway in NYC, the F, to be exact.
Man Crush: What characteristic makes you unique from all the other guys in the porn industry?
Seven Dixon: I think all the guys in the porn industry are unique and there are a lot of really great guys! If I stand out amongst the beautiful bodies and creative men within them then that speaks for itself.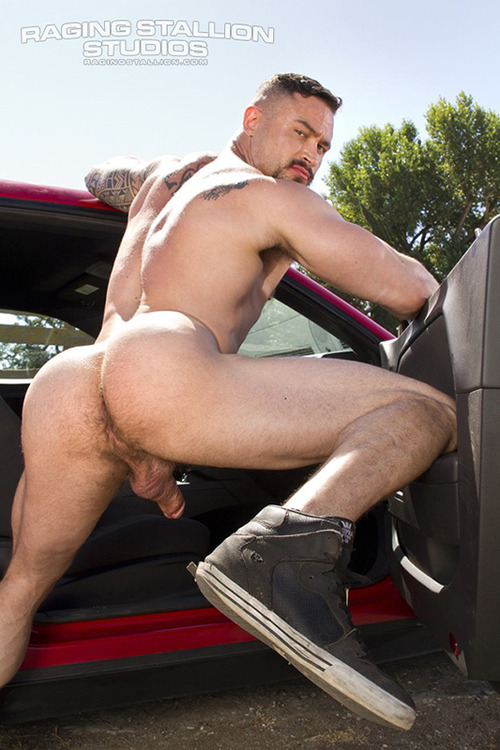 The Porn
Man Crush: The whole porn industry today is different from how it was a few years ago. We've seen "stars" tumble, suicides, health outbreaks and other events take place that make this line of work a bit tarnished. What made you want to get involved in it and how do you think you'll avoid the pitfalls many have been unable to encounter?
Seven Dixon: I have always wanted to do porn! In previous phases of my life I worried it would be a stumbling block in career's paths, family, and all of the other questions one would have to settle with in order to make this choice. I feel comfortable that those questions were all answered for me before shooting my first film. I got into it because I am a total show off–I like exhibition and am highly sexual, I value the same qualities in other guys and plus I get have sex with some other really talented and beautiful men.
Suicides and health outbreaks cannot be blamed on the porn industry. People struggle in all walks of life. If you are going be active in the porn industry, I think it's obviously a good idea that you know your piglets are finally in a row for it.
Man Crush: For you, is porn a hobby or is it something you hope to make a career out of?
Seven Dixon: Porn is my career right now. Could it change again? Sure! I hope to stay young in my head and teachable always. Change is bound to occur. But I'd like to make balls to the wall dive at it.
Man Crush: For some, they need to have a physical attraction and feelings for their partner. For others, they just need to be in the mood. How do you define sex and do you think doing it on camera for pay will somehow make sex less appealing for you?
Seven Dixon: For me, attraction is physical and/or chemical and I also just plain old have needs. So I don't have trouble finding the pieces that fit. Having sex on camera is completely hot to me. It has added, not taken away from, my sex life!
Seven Dixon: Trenton Ducati, as I mentioned earlier. Also, he is not currently filming but I'd like to pull him back to it, Francois Sagat.
Man Crush: I understand you're a part of Raging Stallion's "Open Road." What has it been like filming that and what secrets can you spill from the set?
Seven Dixon: "Open Road" is the biggest project of 2013 for Raging Stallion so I was definitely excited to be involved! It was my first film, so I can't say that I wasn't nervous or that for a first experience it was a total breeze! However, the setting was right up my alley–or so it went! I pick up Adam Ramzi hitch hiking in a kick ass red Dodge Charger, take him to a barn and we go at it; in, on, out of the car. What's not to like right!?
Steve Cruz and Bruno Bond treated me like gold and made the setting entirely comfortable while I was getting to know the ins and outs, pun intended, of how a scene rolls along.
The Body
Man Crush: When you're involved in a field that involves being half-naked all the time, your body has to be on point all the time. How do you keep in shape?
Seven Dixon: I was a gymnast for 16 years of my life and so not working out was really never an option, it is built into my physiology. When I let up on gymnastics, I started lifting and continue today. So I have always exercised.
In the past year I have become more diet conscious, mostly to just feel great and have more energy. I like a pizza a coke, don't get me wrong! But I choose a lot of lean proteins and love fruits and veggies these days too. And as you said, of course as my body is a good part of my field, I take it in a little more consciously.
Man Crush: What's your favorite body part and what do you do to train it?
Seven Dixon: There is nothing sexier than cum gutters! I work my lower abs and upper back shooting for a wide V-shape.
Man Crush: What's the best piece of fitness advice you've received that everyone should apply to their lives?
Seven Dixon: Balance! And of course then if it don't fit, force it!
Man Crush: What one exercise should everyone be doing if they want to look good naked?
Seven Dixon: There is this one really good one I know, you get up off your ass and start walking, driving, or hell, running to the gym. The rest falls into place.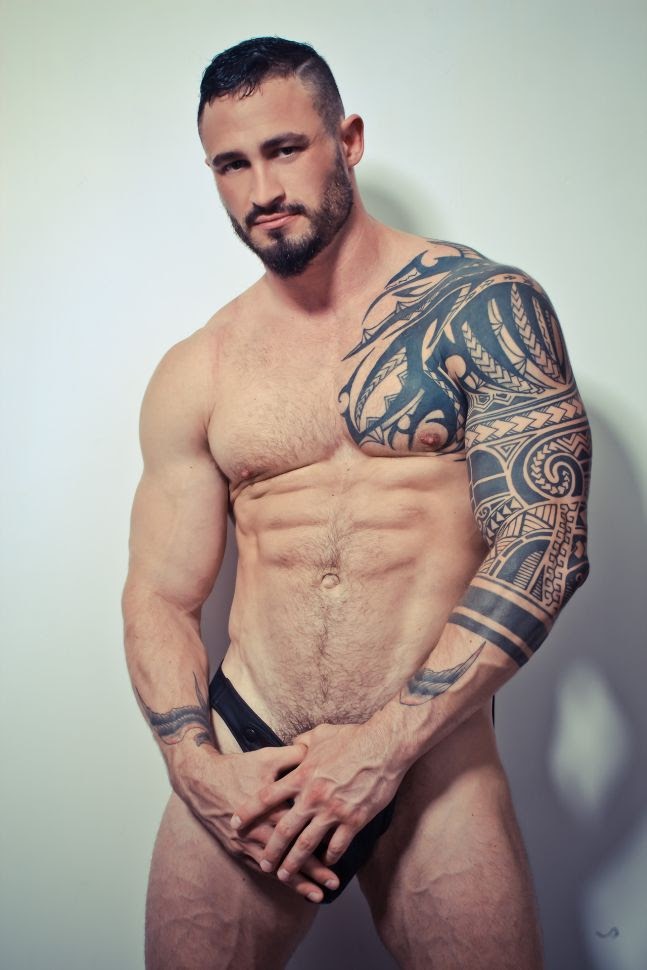 Personal
Man Crush: Considering many will soon be Googling your name and seeing your pictures circulate on the Internet and will slap the "porn star" label on you, answer this simple but complex question–who are you? What makes you tick?
Seven Dixon: I am a searcher and I like to seek truth in whatever I am plowing through in life. I think I am a man with some soul which, by contrast, reminds me that I am one of many and I am glad of it! I take a lot of interest in those closest to me, and I would do anything in the world for a brother or sister in my life.
Man Crush: Everyone has a challenge or obstacle that's come to define them. What event in your life has challenged you the most and how have you turned it into a positive in your life?
Seven Dixon: I lost a best friend and a brother to addiction. It was more painful that I'd have ever imagined and I honestly thought it'd be easier to let him go as it was coming. My way of honoring it and creating a positive spin on a root of some pain is to steer clear of that lifestyle. To live and to live well.
Man Crush: I think I read somewhere that for most, the average porn career lasts two years. That's not very long! What do you see yourself doing after porn?
Seven Dixon: I may be one of many as I said above but I am not average! Im not going to project beyond the end of something great I just started. [smiles]
Man Crush: You get the final word! What parting message or thought would you like to leave with the readers of the blog and this interview?
Seven Dixon: Nuts to guts y'all! Thanks Man Crush!