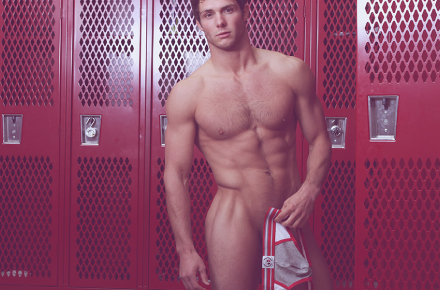 This month Underwear Nation takes us into the locker room with Timoteo and model Justin Leonard. Underwear Nation writes:
"Varsity.  The best of the best.  The cream of the crop.  To be varsity, you set yourself miles above the average player. Our theme this month was inspired directly from the name of the collection we're featuring; the Varsity Collection by Timoteo.  The collection features a very sporty look in bright reds and blues.  Our Underwear of the Month for November are the Timoteo Varsity Superlow Brief, Timoteo Varsity Crew Short and Varsity Trainer Jock in blue (seen to the right).   We're excited, however, to feature more of the collection including another cut of jock and the super sexy Varsity Relay Pant."
To order these you can visit its website underwearnation.com, following on Twitter @underwearnation or joining its Facebook group. View the entire issue here. Photography by Jerrad Matthew.
Follow The Man Crush Blog on Twitter | Facebook | Tumblr | Pinterest | Newsletter
Click on thumbnails to view larger images.