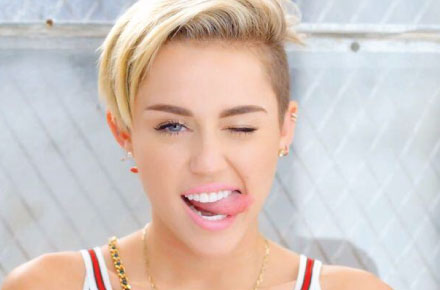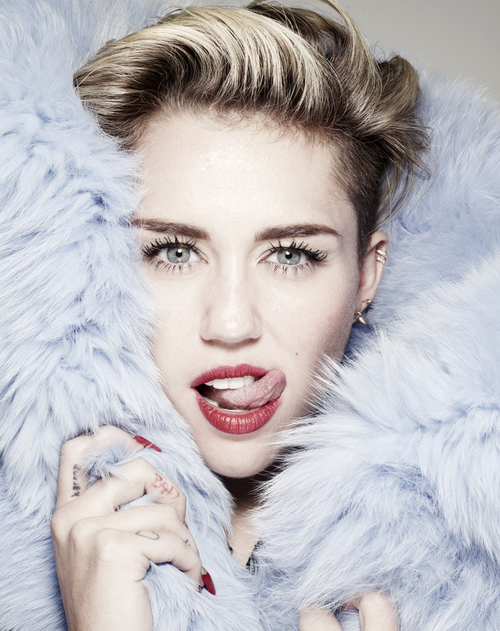 You know how when you're a kid and you get sick your mother, or perhaps father, had to trick you into taking medicine? They'd sometimes take the pill and mix it up in your food, or stir in the medicine into your favorite drink and by the time you've downed the drink or eaten the food it's too late–you realize you've consumed much more than you expected. Well, that's what Bangerz is. It's a collection of decent pop music all wrapped up in a part trainwreck, part hot mess with a dash of intrigue that you can't help but to peek at. Miley Cyrus has launched into what's been a year-long effort to completely rework her brand, going from safe and–no shade–bit boring Disney pop tart to a, "Oh, what'd she do now …" type of entertainer. Do you recall her last album, Can't Be Tamed? Can you name any of the hit songs from it beyond the title track? Oh, you can't? Can you recall some of Bangerz's hits? I'm sure you can, mostly because she's pulling a number that we've seen many pop artists from Madonna down to Rihanna pull with shock value being used to get your attention and hooking you into listening to the music. So, what do you have to look forward to with this album?
Track-by-Track
This is one of those albums where the sequencing kind of matters becuase you definitely get an overall arc and story. Bangerz doesn't start off with a heavy-hitting track but with a soft ballad titled "Adore You." This may easily be Miley's best vocal performance on Bangerz and where she's at her most authentic. She's very vulnerable on this track as she lovingly sings, "Baby, baby, are you listening? Wondering where you've been all my life / I just started living / Oh baby, are you listening." This feels more like the Miley Cyrus we all know from the past. Then we progress into "We Can't Stop" which, while it could be taken to be a party song or a song of defiance seems more like a sad song about partying to the point of trying to avoid life and drown out reality. "We can't stop, we won't stop. This is our house! This is our rules!" This sounds a bit more like Miley's autobiographical spill on how she's trying to transition from being a controlled and kept child into an independent adult. "SMS (Bangerz)" features Britney Spears and it's actually about Miley "struttin' her stuff" rather than text messaging as one would believe. It's a bit of everything–cursing with Miley repeating, "Fuckin' bangerz" through the track, references to battery packs being used to keep a man (though wouldn't that be used to survive when one is without a man?) and a head-turning, head-scratching verse by Miss Britney Spears rapping about catwalks, slick talks and scratching eyes out. In other words, it's a toss-away track where Miley tries hard to convince the listener that she's tough and rebellious now. Mission … not accomplished.
"4×4" features defunct rapper Nelly who, like Britney, attempts to build Miley's street cred. Here she sings about going off-road, driving so fast she's afraid she's gonna piss on herself (that's what they make Depends for, Miley) and how she's a ride of die kinda gal who'll keep her loverboy Nelly out of jail by lying to the police. Again, she tries a bit too hard to come off tough and edgy as, say, P!nk. Miley tones things down a little with the R&B-tinged "My Darlin'" featuring Future. The track samples Ben E. King's "Stand By Me" and turns the track into a sexy and alluring love ballad. Sure, it's weird and has Miley singing lines like, "I ain't pop no Molly but you still got me sweating," but there's something very authentic and sweet about the track and feels like it could easily relate back to her now broken-off engagement with Liam Hemsworth. The album segues into another ballad, "Wrecking Ball," which kind of marks the demise of the relationship that she's spent the majority of the album singing lovingly about.
"#GETITRIGHT" is Miley's track with Pharrell so naturally, it's a bit like "Blurred Lines." Miley's in heat, asking her object of affection to flex his muscles, to get in the bed, that she's got chills  and things she wants to try. As intriguing as the lyrics are, the instrumental is a bit forgettable and lost on this album. "Love, Money, Party" featuring Big Sean will either irk you or having you twerkin' hard to it. Miley turns up the ratchet meter as she schools us on life and what it's really all about. "Money ain't nothing, money can't buy you love; Love ain't nothing but love, when you learn to love, ain't nothing but love." Again, in between these profound lyrical moments are references to not being able to trust, to falling out of love, to being hurt by putting your faith in someone who, in the end, shouldn't have been trusted. "Drive" is another R&B ballad, and one of the album's strongest tracks. "Drive my heart into the night … you can drop the keys off in the morning" Miley says as she describes how she felt duped and left wondering why her now former love made promises that he didn't keep. She follows up with a response to this track with "FU" featuring French Montana, going for the more theatrical and dramatic flare as she tells off her former love by singing, "I've got two letters for you–one of them's F and the other one's U, SMH, I'm pressin' send on you!"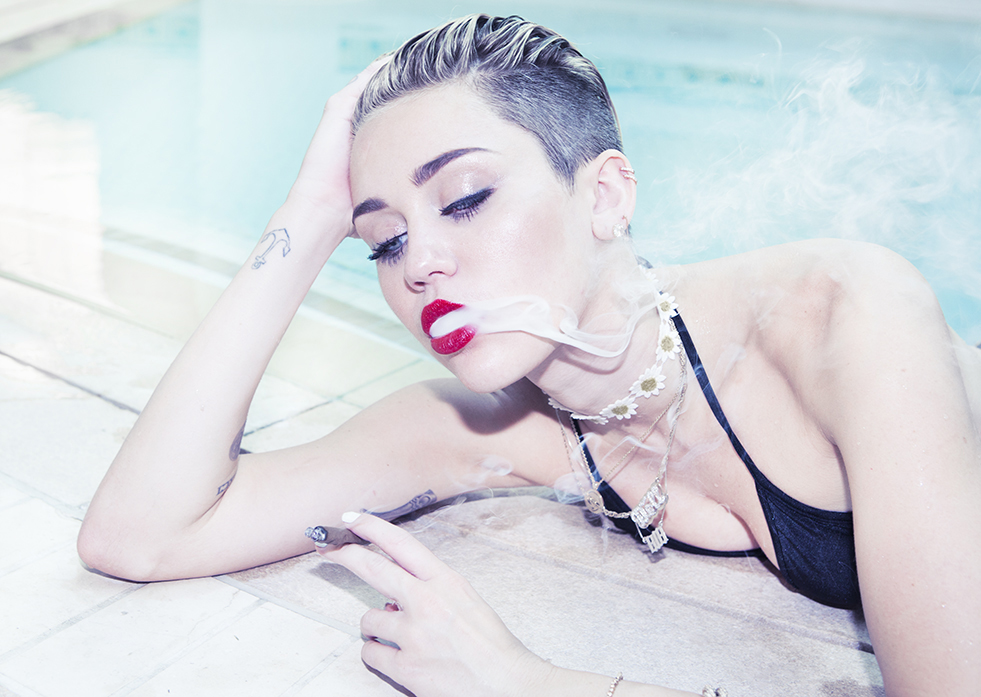 Now we enter into the album's final act and Miley's no longer in love, she's no longer attacking and questioning her failed relationship but she's on the rebound. "Do My Thang" is a dramatic turn around. Here Miley is very hardcore and isn't taking any prisoners in this track. "Damn bitch, you think I'm strange bitch? It's bananas, like a fuckin' 'rangutan, bitch! Mind you business, stay in your lane, bitch!" Miley's at her most confident on this track, striking out at anyone that questions her new direction and her decisions. While you may question her authenticity and if she can pull off this Rihanna-like assault track, in the context of the album, it's both amusing but full of substance. The attitude and edge subsides as Miley sings, "Maybe You're Right." Here she brings the album's tone back to the opening track. There's no gimmick or attempts to rap and act out–she's open and emotional, responding to her critics and lost love. "You might think I'm crazy–that I'm lost and foolish, leaving you behind. Maybe you're right …" she sings in what ends the album on a rather sad but thoughtful note. The final track is "Someone Else" where she takes a cue from Madonna and declares that "if you're looking for love know that love don't live here anymore, he walked out that door without me." She also turns down any pity, giving you a hint that there's an awareness behind all of the out-of-character antics and behavior and this is her coping mechanism.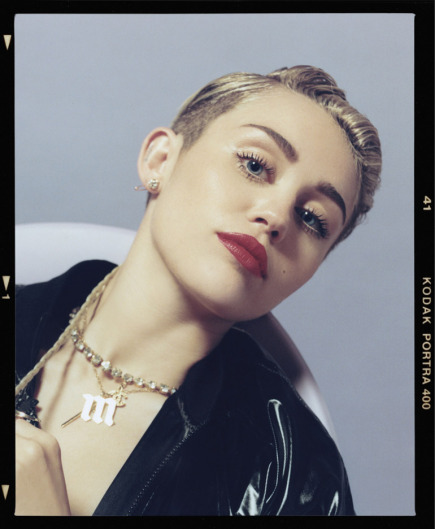 The Deluxe Tracks
The deluxe version has three bonus tracks. "Rooting For My Baby" sounds like a demo and doesn't fit into the narrative of this album at all. It's light, carefree, something you could imagine her singing in between recording the more interesting tracks on the album. The track is her consoling her love, acknowledging that he's having a bad morning and that things will get better and she's there for support. "On My Own" sounds happy and carefree but the lyrics tell a story of how she realizes she doesn't fit into her love's life and that she know she can do better on her own than to continue to be brought down by him. "Hands in the Air" is probably the best of the the bonus tracks and features Ludacris. This is a track you could picture being sung on tour to get the crowd hyped and excited. Here Miley sings about where she's at right now in life and that she imagined what it'd be like to be where she's at and recalls the lack of support and how she's dancing to the sound of her music hyping the crowd.
Final Verdict
Overall, Bangerz is actually a good album that suffers a bit from the promotion side. When listening to the music and looking at the lyrics, you'll realize that the album's title really isn't all that fitting. There's a lot of vulnerability on display on the album as the songs seem to paint a rather unflattering picture of her relationship, both romantic and that with her family. Another issue that seems to plague the music and album is authenticity. Does anyone really buy her antics she's used to push the album? She's said she's murdered Hannah Montana; that she considers herself a new artist now; that she's glad she's able to be the bad bitch that she was meant to be; that she likes to smoke weed and pop Molly. This all sounds an unruly teenager trying to rebel against his or her parents, going to the extremes to do so. Also, considering how her last album didn't go far after the first single, going the route of Madonna and other big pop acts by using shock value to draw attention to the music is a hit or miss. Certainly, she has our attention but she seems to have split the audience to those that can't get beyond her new bad girl image to give her music a fair listening. Either way, Bangerz isn't an album full of club or dance songs. It's actually a rather sad and telling album that goes from a feeling of being secure and being in love ("Adore You") to broken and shattered and feeling alone ("Somebody Else.") Definitely worth a listening.
Bangerz [Deluxe Edition]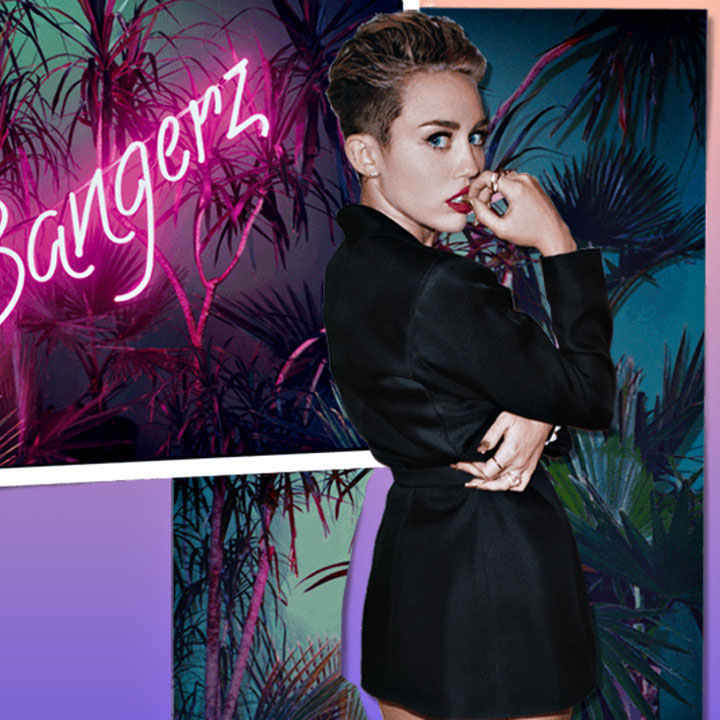 1. Adore You
2. We Can't Stop
3. SMS (Bangerz) (ft. Britney Spears)
4. 4×4 (ft. Nelly)
5. Stand By Me (ft. Future)
6. Wrecking Ball
7. Love, Money, Party (ft. Big Sean)
8. Get It Right
9. Drive
10. FU (ft. French Montana)
11. Do My Thang
12. Maybe You're Right
13. Someone Else
14. On My Own
15. Rooting For My Baby
16. Hands In the Air (ft. Ludacris)
Follow The Man Crush Blog on Twitter | Facebook | Tumblr | Pinterest | Newsletter