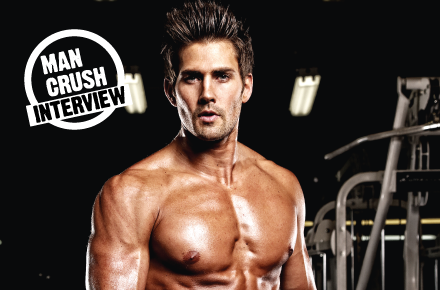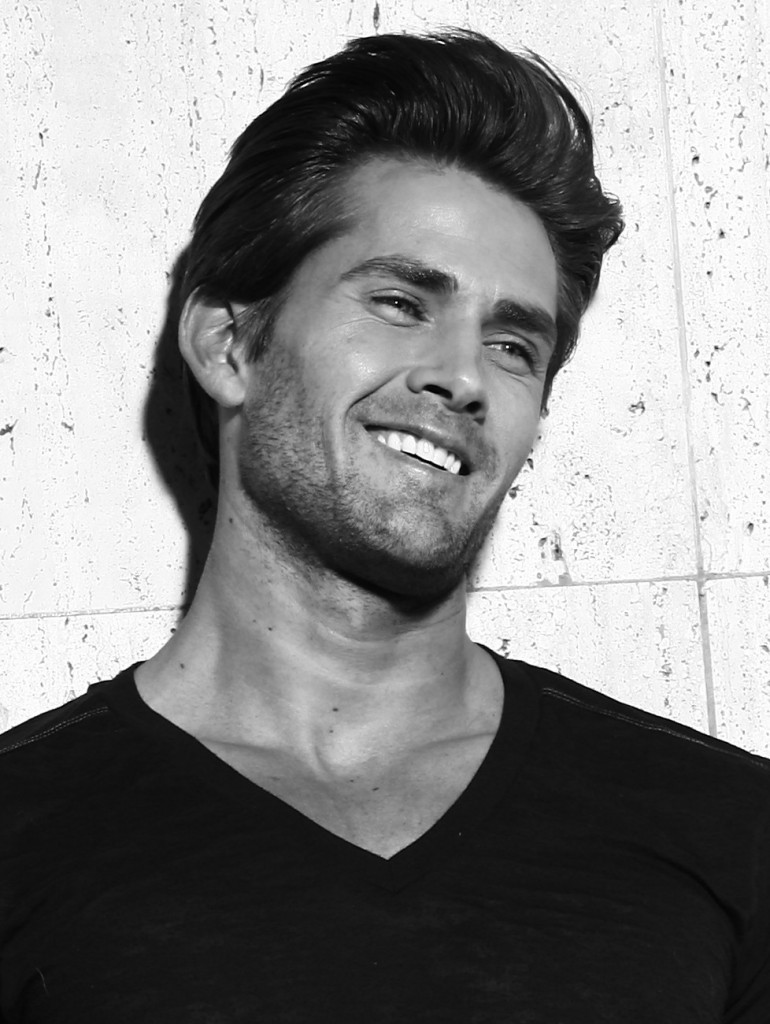 Last week I had the opportunity to interview model Colby Lefebvre. You may have seen him in campaigns for Abercrombie, Hollister, Timoteo, Rufskin and countless other brands. We talked about his experiences as a top male model, gym tips and overcoming personal obstacles to achieve success. You can read more about him by visiting his website colbyl.com and follow him on Twitter @ColbyLefebvre,
Ice Breakers
Man Crush: With every interview I start off with some random questions to see if you're really ready for this interview. What was your reaction when you saw yourself in the Abercrombie ads for the first time?
Colby Lefebvre: To get to see your pictures when Brice Weber shows you your shots from his own camera and be one of those chosen few is really flattering. The whole experience start to finish was amazing! Growing up you see the ads of the good looking guys and girls in the Abercrombie ads and then to become one and to be shooting with models who are now on the pages of all the magazines around the world is really surreal.
Man Crush: Your family has a long history of playing sports. If you could go pro in any sport, what would it be?
Colby Lefebvre: My family has 100 year history of playing and coaching in the MLB, Olympics, NFL and the AFL—including sports inventions and books. Pretty big pants to fill and some pressure as well!
I played every sport growing up and loved baseball. I was a star in Little league. Had we not moved to a small town when I was almost a teenager that didn't really have any sports programs of merit, I probably would have gone on to pro baseball like many of my family. I am one of the lucky people who is naturally athletic and was decent at most any sport I tried but, because I was not in a city with a good sports program and didn't play regularly, I ended up playing and doing little of everything, including snowboarding, triathlons, football, baseball, wake-boarding, and surfing. You name it, I played or do it.
Now if I could, I would chose one of two sports to go pro in; my first choice and something I really enjoy is MOTOGP. I have had a GSXR1000 and other race bikes since I was a teenager. I used to practice stunts everyday. To be a pro moto Gp Racer is would be top of my list. The thrill of going over a 100mph is hard to top! Second; would be to play pro NHL Hockey. Oddly, I have not skated more then 10 times in my life and have never played the game on ice, but it is a crazy intense game that fascinates me and I love it.
Man Crush: What's a song you have on your phone or iPod that you listen to while working out that gets you motivated but is a little bit on the embarrassing side?
Colby Lefebvre: I listen to everything from DUB to alternative music. I have quite a mash-up of variety in taste but something that might surprise people is that I like country music. On my phone right now I'm listening to Leona Rae. She is one of my current favorites with more of soul/blues vibe but not quite probably what people imagine I'm listening to while working out at the gym!
Man Crush: What's a favorite quote that you consider to be a motto?
Colby Lefebvre: I love many motivational quotes, especially fitness related. However for life I have about five that I like the most and try to live by or that describe my outlook on life:
"You miss 100% of the shots you don't take." –Wayne Gretzky, NHL Hockey Legend
"If the world were merely seductive, that would be easy. If it were merely challenging, that would be no problem. But I arise in the morning torn between a desire to improve the world and a desire to enjoy the world. This makes it hard to plan the day." –E.B.White, American Writer & Book Author
"I've learned that people will forget what you said, people will forget what you did, but people will never forget how you made them feel. –Maya Angelou, Philosopher & Poet
"The question isn't who is going to let me; it's who is going to stop me."–Ayn Rand, Creator of Philosophical Objectivism
"I don't care if you're black, white, straight, bisexual, gay, lesbian, short, tall, fat, skinny, rich or poor. If you're nice to me, I'll be nice to you. Simple as that."–Eminem, Song Writer, Producer, & Performer
Man Crush: Since this is the Man Crush Blog, who do you have a man crush on or admire as a man?
Colby Lefebvre: I have a lot of respect for anyone getting out there a fighting for their dream or making a difference. So anyone who is successful I am happy for and waiting for my chance to be as good as they are. I am impressed at the moment with Benedict Cumberbatch as an actor. I'd love to be as good as him one day. Love the BBC's Sherlock Series and him in Star Trek Into Darkness.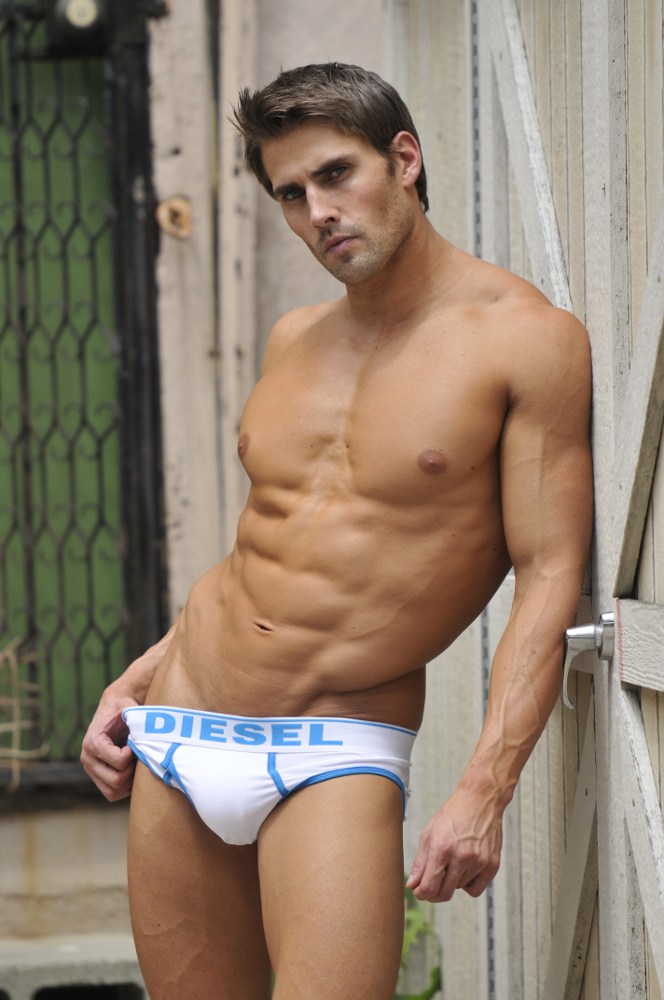 Modeling
Man Crush: I first became aware of you when looking at promotional images from Timoteo. On your website you've talked about how you got into modeling which brings me to my first question–what's it like to be a male model? Most think of modeling being about the women so I'm always interested in what it feels like for a guy trying to make it as a male model.
Colby Lefebvre: It's pretty fun to be a male model. Never a dull moment, that's for sure! Traveling, meeting new people, fashion shows, and shoots—all very exhilarating to do. Since I do modeling, acting, and training, my outlook is that I consider every job something cool and like an extra bonus or adventure. I'm enjoying it and also taking it seriously for the first time this year and more doors are opening for me now more then ever.
My mother was a model for major brands in the 1960's and was very successful. I grew up familiar with modeling from a woman's perspective because of her stories. I recently did her photo Doppelgänger for fun from her 1960's modeling shoots and her's came up Anna Nicole Smith in the Guess Ads. My mom was a blonde-bombshell so she had quite a few stories to share about the inner workings of the modeling world before I ever got started so I was prepared.
For me as a male model what it feels like is pretty close to what a woman goes through. You are suppose to look good and you show your body for a living. As a model you want people to love your look and want to book you. Sometimes you do get booked because they want to date you as well. Getting the job regardless of the motive, being professional, and making the client happy are all tricky things as both women and men in modeling.
Though with male models versus our female counterparts, I feel that people feel more confident to ask personal things and tease male models more on a personal level. People ask very personal questions and it is a fine line when your a model to keep your personal life "personal" and "private" away from work, especially when you have your clothes off in front of the entire staff of stylists, photographers, make-up artists, clients, and designers. Often shooting, especially on location, you have to just strip down in front of everyone, and they are seeing "all of you" or "all" you have to offer. Curiosity Just takes over and you'd be surprised what comes out of the client or shoot crew's mouths sometimes. [laughs]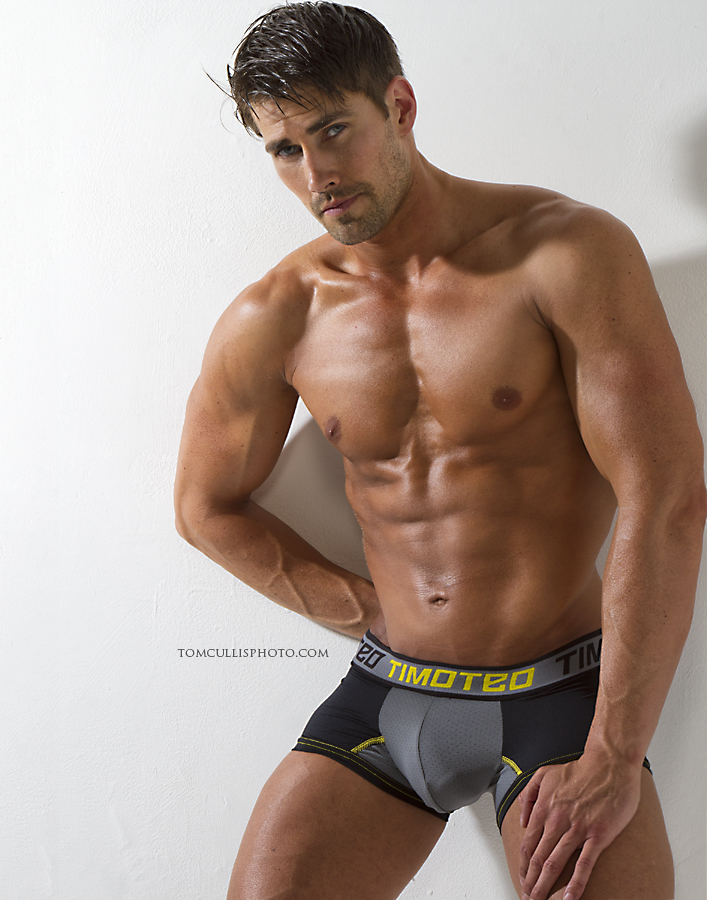 Man Crush: Another common belief among many is that if you're a male and you're a model, you must be gay and if you're not, then you're probably in the closet. Why do you think male models have more of a challenge dealing with sexuality than females?
Colby Lefebvre: That is a great question and I would say probably as a male model you automatically are treated with a lot more curiosity about being "Straight" , "bi", or "Gay" or "in the Closet", at least that has been my personal experience. I think mainly because if you are a male model you are relatively good looking, some even 'pretty' as male models. In the typical work environment, people are not getting asked job-by-job what their sexuality is, but as a male model I am asked constantly. Plus as a male model, I get featured in both straight and gay publications and have fans in both markets. Modeling is about the pictures, not about who is going to see them or where.
Man Crush: And I'm sure it doesn't help that as a model you're seen doing things that the stereotypical "straight" male wouldn't be caught doing …
Colby Lefebvre: Because I'm in the fashion world and often times wearing makeup on shoots as a male, it's easy to be given the stereotype that we might be gay or a closet gay. Like women in this business, we have to care a lot about our looks for the job, which is not normal to pay such meticulous attention to your vanity for a living as a man. I hear from female models when I'm working runway shows saying; "he's too good looking to be straight, he must be gay" about some male models whom I know to be straight. So it seems to be a common assumption.
Man Crush: Getting back to something you touched on earlier, modeling forces you out into the public. People can Google and see pictures of you in various states of undress, they can follow you on Twitter to see what you're thinking and interested in. Bottom line, you're a public figure rather than being just another anonymous face in the crowd. What's it like trying to separate your professional and professional life?
Colby Lefebvre: In modeling the personal boundaries are often blurred with people wanting to know your intimate business, story or dating life, and so on, especially at a photo shoot. I think it has a lot to do with changing in front of them. People may feel closer to you because it is intimate to change in front of someone. Not for me, I do it all the time. [laughs] But for the client, set crew, or company, it is the first time they are close to me and I am basically naked so it is tempting for them to ask all types of questions when they see you standing their with your clothes off at a shoot. It isn't uncommon for them to "place bets" and try and find out your personal life.
Strangely, it is somewhat assumed most all female models are straight and that is also not true. If this business has taught me anything it is to "not to judge a model by their cover or look!" [laughs] Being a good model means that I want to sell what the client is hiring me to shoot. Sometimes they want you looking tough and manly, other times, soft and feminine. It's my job to do both as a male model and sell that.
I just live my life, enjoy each shoot, and let people think whatever they want to about me. With modeling, I get to be whatever people want me to be in the ads and in the things I model for. Being a male model is a great job no matter what people say or speculate about what our sexuality is or isn't as male models because it only matters to us and who we date in our personal lives.
Man Crush: You've worked with companies like Rufskin, ES Barcelona, and Timoteo that have a large gay following. So, what does it feel like to be the object of affection and desire by so many men?
Colby Lefebvre: I really enjoy this business, all aspects of it. I am a social person. Having fans, whether they are male or female, is very much an honor for me! I've been featured in many fashion magazines, blogs, and other platforms for both straight and gay companies.
I don't see my fans as male or female, gay or straight. I am just very happy and excited that people like my work and like me. I appreciate every fan, truly. Having people like what you do and compliment you is flattering! I especially know they are fans when they spell my last name right [laughs] For curious people, it is pronounced: 'La- Fever" but spelled Lefebvre.
Man Crush: Ok, enough with the Barbara Walters-like interrogation. Tell us about your favorite photo shoot.
Colby Lefebvre: I have a lot of favorites, from shooting in different countries to building roof—tops, running the beach with a full parachute, back alleys, even stopping six lanes of traffic in a speedo. All the stories you can imagine of the modeling world are true. "
People ask you to get naked often and try to put you in crazy situations whether for the job or just because they want to try. I've been photographed for a clothing website where I've been in nothing more than a hard hat and an axe, then one day I'm doing a shoot in $3,000 designer overalls. It is a wild life if you let it be. You may start off doing everything you are booked for and the designer or photographer wants to try something new. You just have to be prepared in this business that—you can't prepare, basically! I just enjoy the adventure and try and get a great new shot whenever I can.
Man Crush: Is there shoot stands out in your mind the most?
Colby Lefebvre: My most memorable was my first major international shoot for Abercrombie & Fitch with Bruce Weber. Mainly because it was a fluke booking by an agent who I met on a holiday weekend that scouted me and submitted me. Within weeks I was officially hand picked by Abercrombie and flown to another country with major models. They treated me so well and Bruce Weber shot me several times while there for 4 days for Hollister and Abercrombie.
It was my most memorable to me because it was the first time major executives were telling me they loved my look. Bruce was very nice to me and personally talked with me and offered a lot of modeling tips and direction. It was all really valuable and I took that advice and have used it my entire career. I am actually planning another shoot with him.
Man Crush: What have you taken from that experience that still influences you today?
Colby Lefebvre: I didn't realize that looking back on it, it is the reason I stayed modeling. Just knowing I could get a shoot like that from thousands of models with a few snapshots. It was really validating and cool. On that shoot the other male and females models were also super friendly and a large majority have gone on to be big male models, Victoria Secret models, and Sports Illustrated girls. I still keep in touch with a some of them today and you never forget the feeling of seeing the email from NYC saying " Abercrombie & Fitch has Confirmed you as a Model to shoot for their Ad Campaigns here is your booking info…" Like Christmas, only better!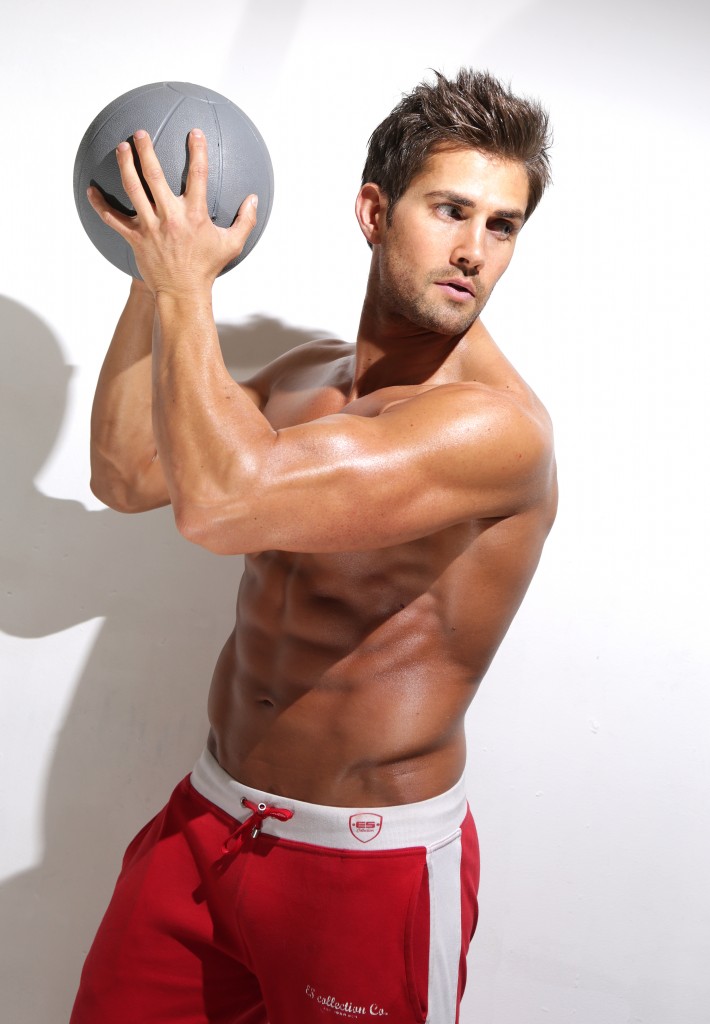 Man Crush: What's a typical shoot like?
Colby Lefebvre: Shooting a campaign or anything, is seriously hard work. I includes posing for hours, keeping your body in shoot condition, and giving the client what pictures they want. Sometimes you're shooting for ten hours, sometimes only a few. When doing fitness, fashion or commercial modeling I sometimes have to gain 10 pounds of muscle to shoot swimwear or lose it to shoot fashion or clothes. I look different from week to week. So some shoots are crazy for me just to get my body prepped in time for what the client wants. My manager plans to work me in Hong Kong, Paris, NYC, and Italy this next year, so perhaps some more crazy stories soon? I'll keep you posted.
Best part as a model is when your hard work pays off and you get a big ad. To actually see yourself when walking down Melrose Ave. or Sunset Blvd. on a billboard or at a magazine stand. Those shoots always stand out to me because I can walk by and see a photo of myself and say "I know him!"
Man Crush: Since you're probably a pro at being photographed, give us all some tips on how to be as photogenic as you are. How do we all take a model-worthy photo?
Colby Lefebvre: Just like we have all heard: Practice makes perfect. But some people are naturally more photogenic for sure. I would say I am but I still have to work for certain looks. Especially ones that are out of my comfort zone.
As a model, photographers will always try to angle you into a look they want but if you are prepared, you can angle yourself enough to get a shot you both like and giving them variety even when they don't ask for it shows a range. Photographers always like the problem of having too many good shots to choose from instead of so many bad, they are trying to find one that works.
I have a set of looks I go through and though I photographers tell me repeatedly I am very photogenic, but it doesn't mean I don't want to do better or keep getting better. I also go in to "character" of sorts, like acting. I clear my mind and really focus and enjoy what I'm doing, even if I have to tell myself a story to make the "feeling" of what the client wants come alive. All other distractions and personal things aren't going to change in that moment, so you must know how to get into the "mood" of whatever they want. Fitness Shooting is much different posing then fashion or clothes. So I have to adapt my poses for each type of shoot.
The trick is to make the pose look good and your face look good, even if it hurts physically. If I have done my shoot right, my entire body is sore the next day from posing and angling. I am always working at it. It is a job and I take it seriously and you always want the client to love your photos. And for yourself with friends, you want to be the one looks good in the snapshot, so practice and it should really help.
Man Crush: What are your tips for those interested in the modeling industry?
Colby Lefebvre: I never think as a model you should stop practicing. It is like a skill and you have to be prepared. My advice is the same that I was given whether you are a model or just hate how you look in snapshot pictures. The advice is to pick out your top twenty different modeling photos you like. Male or female model shots, it doesn't matter. Make sure there is at least 7-10 different looks in those twenty shots.
Print them out and practice them repeatedly in the mirror till they are in your memory a second nature. Make sure when you go to set or just are posing with friends, you have at least 5 poses to memory that you know work or you like for your body and face and work those looks into the shoot or picture. I promise once you find the angle you think you look best, you'll never forget it, even if it's just one or two looks. Nothing worse then cringing when you see a picture of yourself. I have done it many times.
The Body
Man Crush: We couldn't have an interview without talking about your God-like body. What's your workout routine like?
Colby Lefebvre: That is a very popular question and my workout routine is regimented, I workout 3-4 times a week and do cardio 3-4 days as well. I don't lift as heavy as people think either. Its about isolation of separate muscle groups and that comes from knowing the major and minor muscles and accessing them with proper form.
Man Crush: It's obvious you know a few things about staying fit and building muscle. So in your expert opinion and based on all the time you spend in the gym, what's one glaring mistake you see most guys making that keeps them from achieving their fitness goals?
Colby Lefebvre: More than any other question I get asked, "What is your workout program," or "How much do you lift?" I always tell them most importantly it is my DIET that brings me the most results. What most people don't understand about building muscle and maintaining it is that most important to eat enough, right, and when. I meet a lot of people who just don't know that you have to feed the body properly to get results, especially as we age.
Often times people don't eat enough protein or complex carbs. When building a body for modeling or fitness, you have to eat every few hours so your body can build and retain the muscle.
It is harder for people to eat as much as you are suppose to and when, than it is for them to lift weights. If you are not feefing the body properly or you wont see anything other then minor results even if you lift everyday. That is the thing that people don't expect to hear from me. Why it happens, is because if you don't eat enough for your increased exercise, your body will feed off the muscle and you will stay the same size, maybe firmer but it is a surprise for people to know that the key is the diet above everything for gaining muscle. I have my food prepped for the week in advance, because if I didn't, I could't take the time to be so regimented. Of course there are cheat meals or a cheat day a week, but the food plan is what keeps me on point.
I have had to discipline myself with my diet and not to over train. I am still sculpting my body and changing it but once people accept that workouts are needed but a change in your Diet is the key, then amazing results can happen in a short time! I also think people are scared of getting help from other people. I know I asked a lot of help from my bodybuilding friends throughout my fitness regime. They gave me lots of different suggestions for what I could do to improve my body and fitness. They even told me about SARMs and the positive effect they have on your body. If you're into bodybuilding then you can check out sarms.io for more information on it.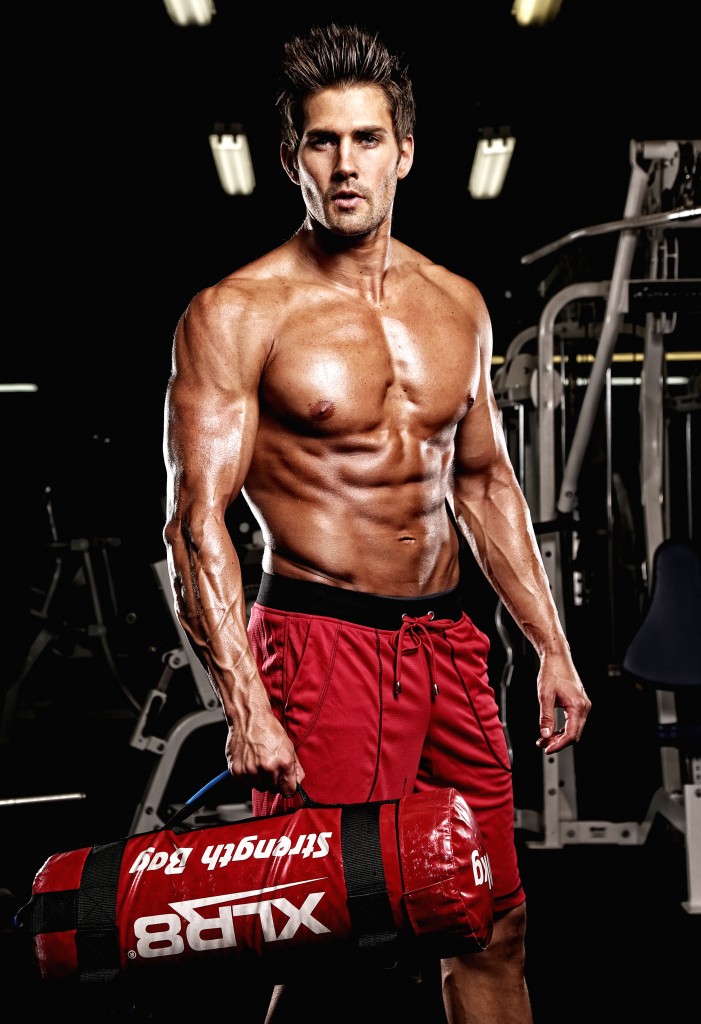 Man Crush: What's your least favorite body part to workout and how do you motivate yourself to charge through that particular workout?
Colby Lefebvre: Legs actually, but that's because my core is so strong, I tend to let my abs do the work. I have really been focusing on them and seeing the results by isolating them. Abs are my favorite but I over trained them, so now it would surprise people to know I haven't don sit-ups or crunches in over a year. [laughs] Your genetics play a part in what is easier to develop. As a fitness athlete, you always feel you are unfinished. I took third at Fitness America and second at Fitness Universe in the model divisions this last year and I still see where improvements can be made to my body to reach number one.
Man Crush: What's the best piece of fitness or health advice you have given you that everyone needs to hear?
Colby Lefebvre: That it's ok if you're not good at fitness or disciplined. But this is the only body you ever get. That this is a marathon, not a sprint. Life is tough but you are always with yourself; mind, body, and spirit. All of them need to align to live whole. If fitness isn't your thing, then find someone to supervise or push you. Facts are that our bodies will degrade as we get older and that's what I see the most. People put it off until there is a real problem with their body performance and then it's much harder to come back.
Remember, this is an investment in you and the betterment of your quality of life. There is no better investment in my opinion that you can make, then to invest in your health. It is one of the best things you can ever do for yourself: To reach for a goal that set out for you, invest in it, work hard, and achieve it. I recommend that if you can't do it on your own, you find a good certified trainer, even some classes that push you, or friends to do weekly hikes with. Find what works, start there, simply and then work your way up.
I have seen some many times people don't take it seriously then have to have a surgery or get injured and can't fully recover because they haven't maintained a good amount of muscle. Better to invest a little money now for classes, the gym, or a trainer, then $50,000 on surgery or other medical failures that occur when people forget your body is your vessel. You can't trade your body in for a new one. Cherish it. It doesn't have to be to my level, just a commitment to try, to do, to be active.
Personal
Man Crush: Ok, so, I watch a lot of Oprah's Life Class so this question comes from one of those episodes with Joel Osteen. He said that we are closest to victory when we face our greatest opposition. Tell us about a challenge you've faced in your life that has come to shape you in a positive way.
Colby Lefebvre: I have had a few issues in my life to deal with. I can tell you, not matter how rich or great someone life may look, even that of a male model like myself, we all face our own troubles in life or get sick. No one eludes difficulties in life at some point. I can think of at least four very difficult challenges and things that have happened in my life that have been truly hard, but instead of focusing on "what" they were, I am moving forward and working on accepting that it is what I do about it that makes the difference in the end.
How I am channeling all of these experiences is in appreciating what I have become. It is in my determination to be successful and happy that found that I am a very strong and determined individual. I have two fitness related companies, one is my own, and one I co-own. I model, act, compete, coach and train. I have really grown into the man I know am in the last few years because I won't accept that certain bad things that happen to us "define" us. I have cleared all the negative people out of my life and surrounded myself with kind, successful, and amazing people.
That in itself makes the difference and I have now had more opportunities and big successes by simply realizing what I wanted and going for it. The stars are aligning and I love that my future looks bright, successful and fulfilling. I feel blessed to have taken personal challenges and changed them into tangible assets!
Man Crush: What do you do for fun?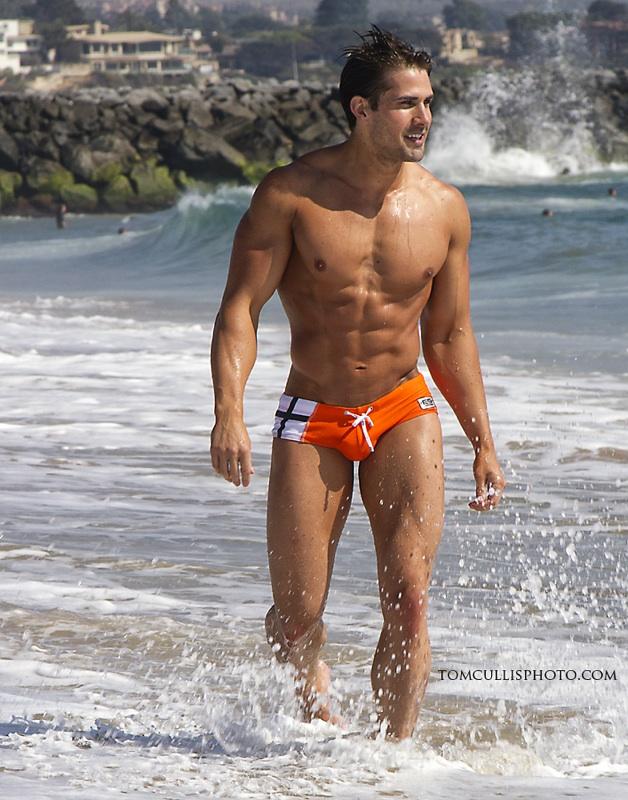 Colby Lefebvre: Like I said above, I do a lot of things. Ride motorcycles, travel the world, go bowling, go wake boarding, snowboarding, movies, Motogp races, monster-jam, camping, the Rodeo, to the Fair, paint-balling, and go kart racing. I am an adventure seeker.
I also have a diverse group of friends from regular people living in the midwest to Hollywood celebs. I think the diversity of my friends is fun and makes my life more whole. I am someone who likes all to be in all walks of life, from a red carpet event, to playing with fireworks and shooting at cans on a ranch or riding horses, to camping and hiking every year in the wilderness. Im lucky to be so blessed to every type of friend in my life that brings me something different and ensures theres never a dull moment and there is something fun to go and do constantly when I have free time.
Man Crush: What do you hope to accomplish in life along with your modeling and fitness careers?
Colby Lefebvre: I feel very lucky to get to do so many things. I'm even prepping release of my video series nationally, which has many people and segments featured. So its been quite an endeavor to do, but so very rewarding.
I decided to make this a "big year" and so far the stars have aligned for me. With a modeling career, two fitness companies launched, national TV shows, magazine covers, and all the other things coming, it feels pretty cool. I hope to be happy, healthy, and successful as I can be. Basically: Grow both of my businesses to new heights every year, experience modeling around the world, continue to enjoy my life and prosper.
I have a small wish list for fun of course: learn to fly a helicopter, jump out of a plane, track time with MotoGP, Baja 1000, demolition derby, take a trip around the world visiting all the cool historical sites, go on a treasure in the Atlantic Ocean, have a massive shopping spree in Hong Kong, buy an apartment in Paris or the Southern Coast of Italy as a second home, get the best sports cars and speed through all of Europe (literally), take the Orient Express while I solve a murder mystery, and write a health book.
Man Crush: You get the final word! What are some things people don't know about you?
Colby Lefebvre: I wake up in a good mood everyday. I am social and make friends easily. I like donuts and laugh at almost every "LOL kitten" picture! I can't help it. I am always joking and laughing. I watch and record every game of my favorite NHL hockey team. Love cars and watch Top Gear BBC. I love sport bikes, movies, want to skydive, and travel. I do everything; batting cages,surfing, camping, cart racing, mini golf, bowling, monster jam, to a high end restaurant.
I have been to every museum in LA, some a few times. Have plans this next year to work and vacation in Paris, Italy, Miami, NYC, Hong Kong and anywhere my desire takes me or a modeling job. I've lived in Australia and traveled to South America and plan to travel the entire world in my lifetime. If I could have another career, I have a list of ten including movie director or stunt driver. You name it, if it looks interesting, I've thought about it.
Oh. I'm not very good at social media. I don't check my email enough or look at notifications. I just see whats in front of me for that moment. I just pay attention in spurts. Some things just don't get posted because I forget or I am too busy. I have at least 100 videos from shoots, that I just haven't gotten too. Like to get better at that, my manager helps me with some of it.
Follow The Man Crush Blog on Twitter | Facebook | Tumblr | Pinterest | Newsletter