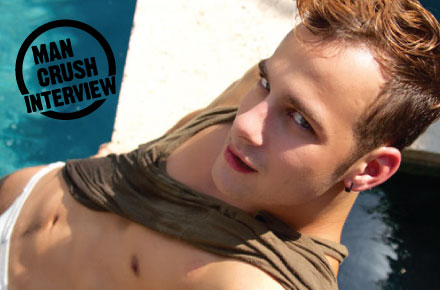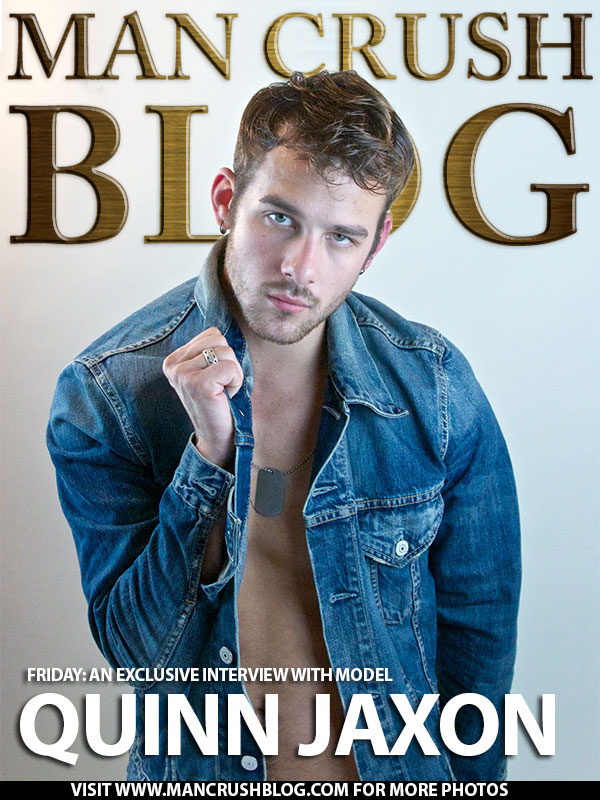 Today I'm bringing you peeps an exclusive interview with model Quinn Jaxon (Twitter: @Qjaxon99 / Vimeo / Facebook). Quinn's work with Andrew Christian, and his legendary ass and other impressive body parts has won him a huge following on the Internet. In this interview we talk about everything from what Hollywood studs he's crushin' on to why he thinks he's the gayest straight guy you'll ever meet. We also discuss his new eBook, The First book of Quinn full of over 300 hi-res photos of him. This interview is full of photos from that book, all taken by photographer Bacchus Stuart.
Ice Breakers
Man Crush: I'm excited to finally get the chance to interview you! You've attracted a rather large following on The Man Crush Blog, especially your photo shoot with Murray! Let's warm up with a few ice breakers. Let's pretend you're about to have a Magic Mike moment. What's your choice song to dance to?
Quinn Jaxon: I think I'd prefer some kind of ghetto-thug hip hop music. Something a little different from the normal.
Man Crush: Boxers, briefs, jockstraps or commando?
Quinn Jaxon: Commando!
Man Crush: I know you're straight but what guy do you currently have a man crush on?
Quinn Jaxon: What about three–Ryan Reynolds, Chris Hemsworth and Henry Cavill! How's that? [laughs]
Man Crush: While I know how many of your fans would respond to this question, I want to know how you'd respond to this: what's your best feature?
Quinn Jaxon: My eyes and my ass!
Man Crush: Let us in on a talent you have that few know about.
Quinn Jaxon: I jerk off 4 or 5 times a day … is that a talent? [laughs] How about that I'm learning Chinese? Yeah, that's more of a talent. The other's a necessity!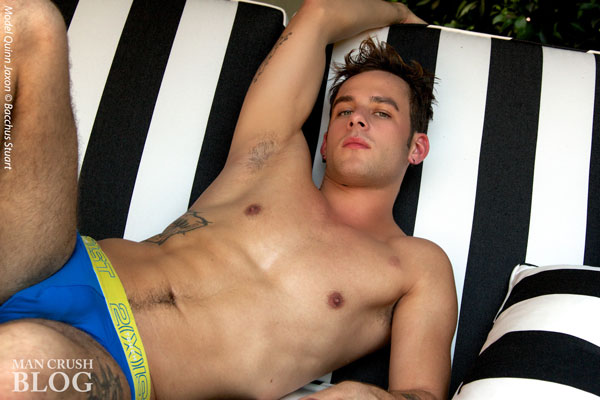 Underwear and Modeling
Man Crush: Many will know you from all the work you've done with Andrew Christian. You also seem to be one of the few male models, straight at that, who have few issues with nudity. Do you ever worry about some day in the future having nude photos or your flashy work with Andrew Christian present problems in your career outside of modeling?
Quinn Jaxon: Not really. I enjoy being nude and I don't do anything that doesn't bring me joy. If something makes me happy and someone has a problem with that, well, I wouldn't want to work with them anyway.
Man Crush: What I find interesting about you is that while you're straight, you seem to adapt and fit into the whole gay world very easily. Has walking the line between sexuality ever presented any issues for you?
Quinn Jaxon: I'm the gayest straight guy you will ever meet. [laughs] Seriously though, I've been dancing since I was twelve years old. That's what makes me the happiest. Because of that, I've been around gay guys my whole life. Many have had a huge influence on me. I have more gay friends than straight ones, actually. We all hang out, party together and work together. I've just never understood the big deal or why so many people seem to work so hard to keep everyone divided and defined by stereotypes.
Man Crush: We have some mutual "crushes," I think! I just did an interview with Cory Lee; last year readers of the blog voted Colby Melvin the Man Crush of the Year and he's engaged to Brandon Brown who's graced the blog a few times. Having worked with all these guys that are known also for their activism, how has knowing them and seeing them take on the issue of marriage equality shaped your view of the gay community?
Quinn Jaxon: I'm really happy for all of them! We all work together a lot, and have way too much fun and too many stories. [laughs] I'm really happy for Brandon and Colby and hope everyone gets to find their other half and enjoy the happiness that they make together. Again, I just don't understand what compels so many to waste so much energy trying to stand in the way of other people's happiness. Everyone should have the right to spend their lives with the person they love, and have their love make the world a happier place to live in. After thousands of years of political marriages maybe it's time for marriage to be about love. Kind of a novel idea.
Man Crush: Oh, I definitely agree. You have a lot of fans out there. I've had people leave comments on the blog in the past asking to get in touch with you and other simply expressing their admiration of you. What does it feel like to go from North Dakota living to being considered a "star" and known around the world?
Quinn Jaxon: Sometimes it's a little overwhelming. Fortunately, I'm really lucky because my fans are really awesome. They are very understanding, and caring and seem to genuinely really enjoy sharing in my happiness.
Man Crush: I'm always curious when I talk to someone in your profession if they think about that day when the modeling gigs become rare and they can't strut their stuff on stage anymore. Do you ever think about what your life will be after modeling and go-go dancing?
Quinn Jaxon: No, not really. I'm a professionally trained dancer, specializing in ballet and jazz. Every dancer knows the years take their toll. But there's always theatre, touring companies, dance studios, teaching. Every door that closes leads to another door to open.
Man Crush: I understand you've just released an eBook that many of the blog's readers would be interested in. I've already gotten my copy and the special video that comes with it and definitely can say it's worth the price, especially for those that enjoy all of your various photos shoots over the past few years. Tell everyone else about this book of yours.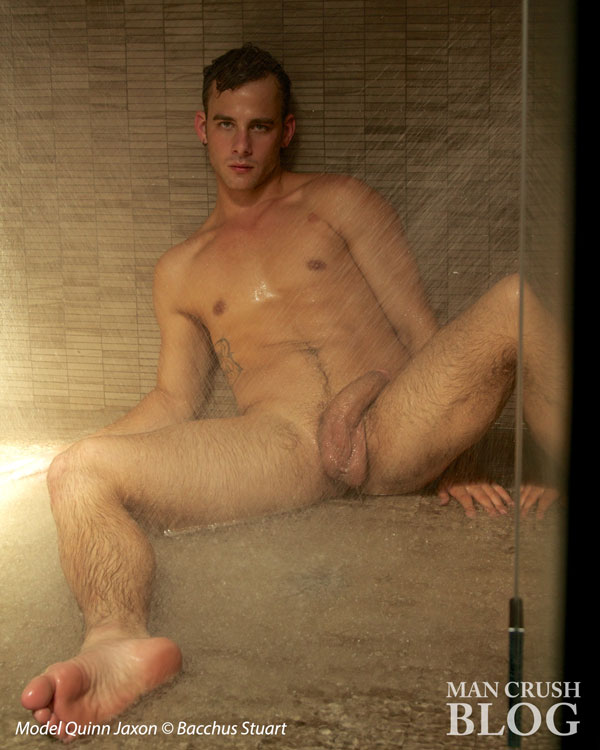 Quinn Jaxon: Bacchus Stuart is my manager and photographer. He's also one of my closest friends. We talked things over and decided–since we've done around 30 photo shoots–to release a trilogy of eBooks. This is The First Book of Quinn. There'll be two more. Then we are going to publish a hardback–a really large, really nice coffee table book of all three of them combined into one big volume. This first eBook is 143 pages long, with almost 300 hi-res photos. It looks amazing on the iPad, by the way. You can download it to your computer or any mobile device. It's only $10!
A lot of people keep commenting that they are surprised we aren't charging more; that we are under-pricing ourselves. But my manager was really adamant that he didn't want fans to feel like they were being taken advantage of. We wanted people to say, "Wow, I'm surprised you're not charging more!" Oh, and everyone also gets, as a bonus, a 1080p HD video, that's a behind-the-scenes video of one of my photo shoots. So you get to see me fluffing in HD! [laughs] Both are definitely, not safe for work, by the way. [laughs]
[Ed: You can purchase your copy of The First Book of Quinn and get the bonus video for $10 here].
The Body
Man Crush: Let's talk about this body of yours. You're a dancer and you model which means you always have to be in shape. What's your workout routine like?
Quinn Jaxon: I go to the gym 5 or more days a week. I focus on specific body parts for specific days. I also take dance classes several times a week. I'm burning calories all the time!
Man Crush: What exercise or workout do you dread doing the most and how do you motivate yourself to charge through it?
Quinn Jaxon: LEGS! [laughs] Largely because I dance so much, and the day after doing legs in the gym, I have to spend a lot more time stretching. And you feel every muscle screaming when you dance the day after a leg day at the gym. How do I get through it? I like surprising myself. Like the other day I leg pressed 820 lbs! Which ain't bad for a 160 lbs dancer.
Man Crush: To model underwear you not only need to have a good ass to fill out the front but a nice front side too. Abs and the coveted Adonis belt V-cut surely don't hurt. What exercises would you recommend for someone trying to get that underwear-model body?
Quinn Jaxon: First, ballet. Only ballet gets you this kind of butt. And that's years of work. Then, the bicycle machine for cardio helps a lot with the V you are talking about. And, of course, lots of crunches. Lots. But you must rotate them. Write out tons of different kinds of ab crunch exercises and do different ones every time you go to the gym. Mix it up.
Man Crush: What's the best piece of fitness or exercise you've received?
Quinn Jaxon: The hardest thing about fitness–DIET. You could work out all day, every day, but if you eat lots of crap, your body's never going to be the way you want it to be.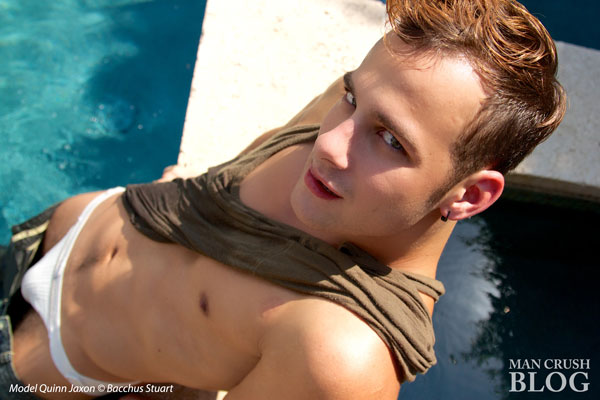 Personal
Man Crush: Modeling, underwear and dancing aside, how'd you describe yourself to others?
Quinn Jaxon:  I like staying active, having fun, and trying new things. I love a challenge. Oh, and I get a raging hardon every time I hear a shower running for some reason.
Man Crush: At this point in your life, what do you consider to be most important to you?
Quinn Jaxon: Staying focused on my career, of course. Also, trying to find that balance that includes time for family and friends. Happiness rarely happens alone.
Man Crush: What's a misconception many people have about you that you'd like to address?
Quinn Jaxon: Like I said before: I'm the gayest straight guy you will ever meet!
Man Crush: You get the final word! What parting message or thought would you like to leave with your fans and the Man Crush Blog readers?
Quinn Jaxon: Don't try to enjoy life, just enjoy it! Do those things that make you happy. If others are trying to make you do things that don't make you happy, then don't do them. And if they are trying to make you do things that bring you no joy, then are they really your friends. Trust me–you do what makes you happy, your bliss will bring you new friends and lots of them. But YOU have to know WHAT makes you happy first.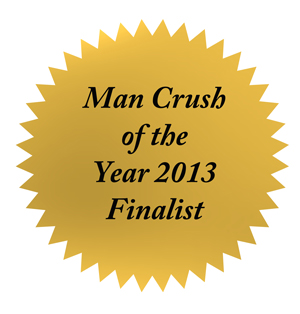 Follow The Man Crush Blog on Twitter | Facebook | Tumblr | Pinterest | Newsletter