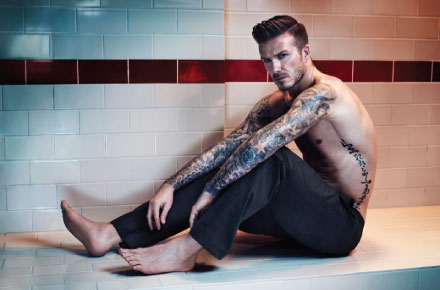 When David Beckham retired from soccer not long ago we all collectively hoped and prayed that meant he'd put more effort into that darn modeling career of his and we seem to have gotten our wish! Check out these photos from David Beckham's new Fall/Winter 2013 Bodywear collection from H&M. Of the new collection Beckham says, ""I love the heritage athletic style of the new pieces in my Bodywear collection at H&M. The vests, pajama pants and raglan sleeve tops are already like wardrobe favorites for me that I know I'll wear all season long. It was great to shoot them in an old-fashioned East End changing room. It was like I had gone right back to my roots."  You can follow H&M on Twitter @hm and check out its website www.hm.com/usa.
Follow The Man Crush Blog on Twitter | Facebook | Tumblr | Pinterest 
Click on thumbnails to view larger images.