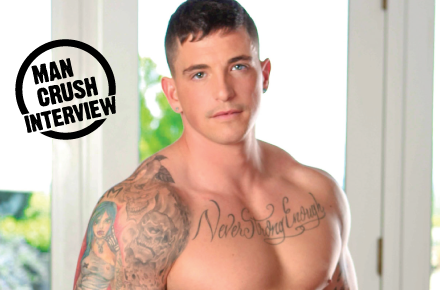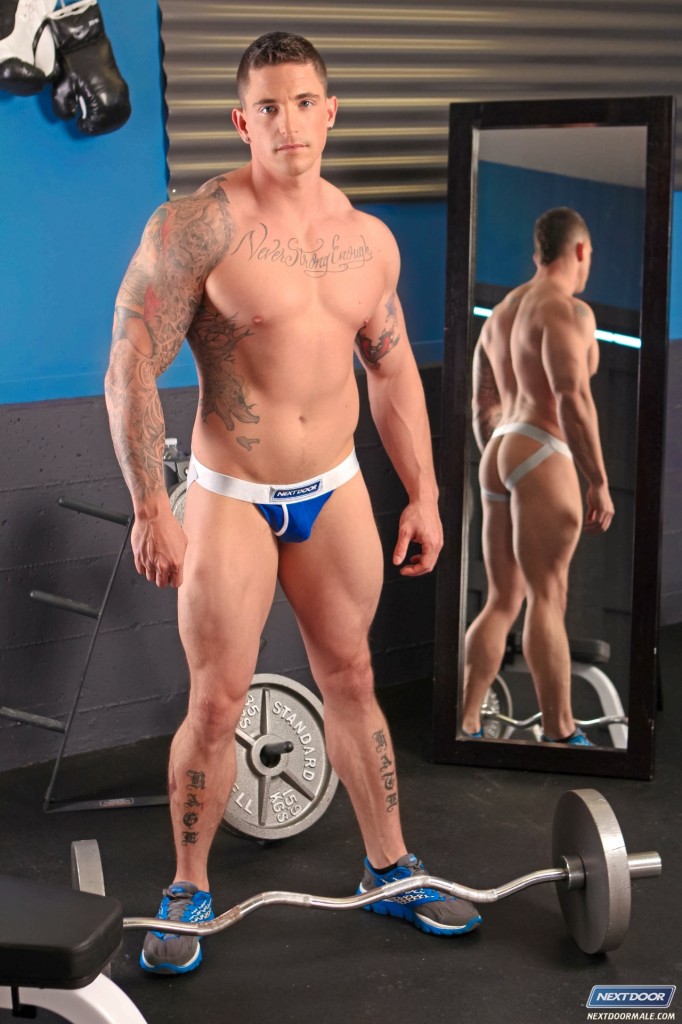 I'm always on the look out for hot men with interesting stories to tell and it didn't take long for me to realize Slate Steele definitely had a unique story to tell. He's a Marine-turned-porn performer with muscles and tattoos but don't be fooled my the ink and abs–there's a lot more to Slate and our hook up will leave you all crushin' hard on this stud for different reasons. You can follow Slate on Twitter
@Slate_Steele.
Ice Breakers
Man Crush: Let's warm up with a few random questions. What's the strangest pickup line someone's tried to use on you?
Slate Steele: This isn't strange but it just happened and it was the best one I ever had done to me so I had to share. This hot guy asked if he could use my phone because his was broken. He took it and put his number in it and saved his name and was like, "Now there's no excuse not to call me." Awesome
Man Crush: Are you a boxers, briefs, jock or commando kind of guy?
Slate Steele: Briefs when I go out dancing; jock at the gym; commando when I wear tight jeans.
Man Crush: What's a talent you have that not many are aware of?
Slate Steele: I am an amazing snowboarder.
Man Crush: In what way do most people underestimate you?
Slate Steele: My intelligence. I am a jock that is covered in tattoos. I get judged as if I'm an idiot, criminal, or thug.
Man Crush: Considering this blog's theme, what guy do you currently have a man crush on?
Slate Steele: Cristiano Ronaldo! Oh my God!
The Porn
Man Crush: Let's talk about this porn career of yours. I've had a crush on you since I saw your scene on All-American Heroes. I was delightfully surprised to see you pop up on Next Door Male. What keeps you going forward with porn?
Slate Steele: At first I did it because I was low on cash, honestly. But it actually helped me 'come out' to friends and family. Plus, I seem to be an inspiration for some and I'm really outgoing and enjoy being on camera, [laughs] so I really enjoy it. I was apprehensive at first, but Next Door Studios made me feel extremely comfortable and apparently I did pretty well because they made me an exclusive right away.
Man Crush: Have you gotten any backlash from anyone for going from defending our country to suddenly getting off on camera for countless, horny fans?
Slate Steele: No, I haven't yet. I say "yet" because I'm sure it will happen. But here's the facts: I did more in eight years in the Marine Corps than most people do in a lifetime; I saved countless lives, never lost a Marine, and was the utmost honorable and decorated Marine I knew for my rank; I've been blown up and fought wars in three different countries. So if there are any haters, just compare lives. Who cares what I do in my personal life?
Man Crush: I've seen you interact a lot with fans and followers on Twitter and haven't seen a negative thing said about you, which is rare for a porn performer! Can you talk about your growing fan-base and how you're choosing to stay grounded and hands on with them?
Slate Steele: I'm not trying to be anything I'm not. My family always taught me to be honest, and I'm just a nice guy. It makes sense to me. My fans are the ones who make me the "star." So if I go around not talking to, or pissing off, fans it's just very counterproductive. It's also branding and marketing. The more fans I have and the more fans I follow, the more each person gets their name out there. More exposure for everybody. Plus I'm outgoing so I do enjoy talking to everybody.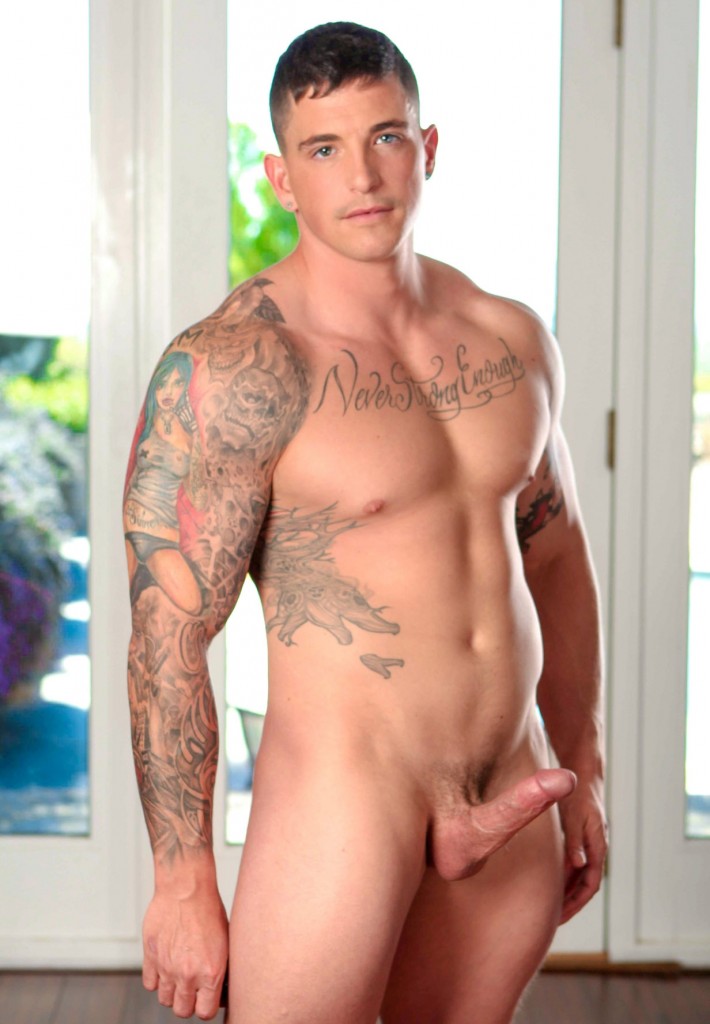 Man Crush: What turns you on most during sex?
Slate Steele: Biting, scratching, choking, hair pulling.
Man Crush: Ignoring studio limitations and such, if you could work with any other porn personality who'd it be and why?
Slate Steele: Austin Wilde. First and foremost he is hot. Second, I would love to pick his brain. He started his own porn company and that is something I would love to do someday.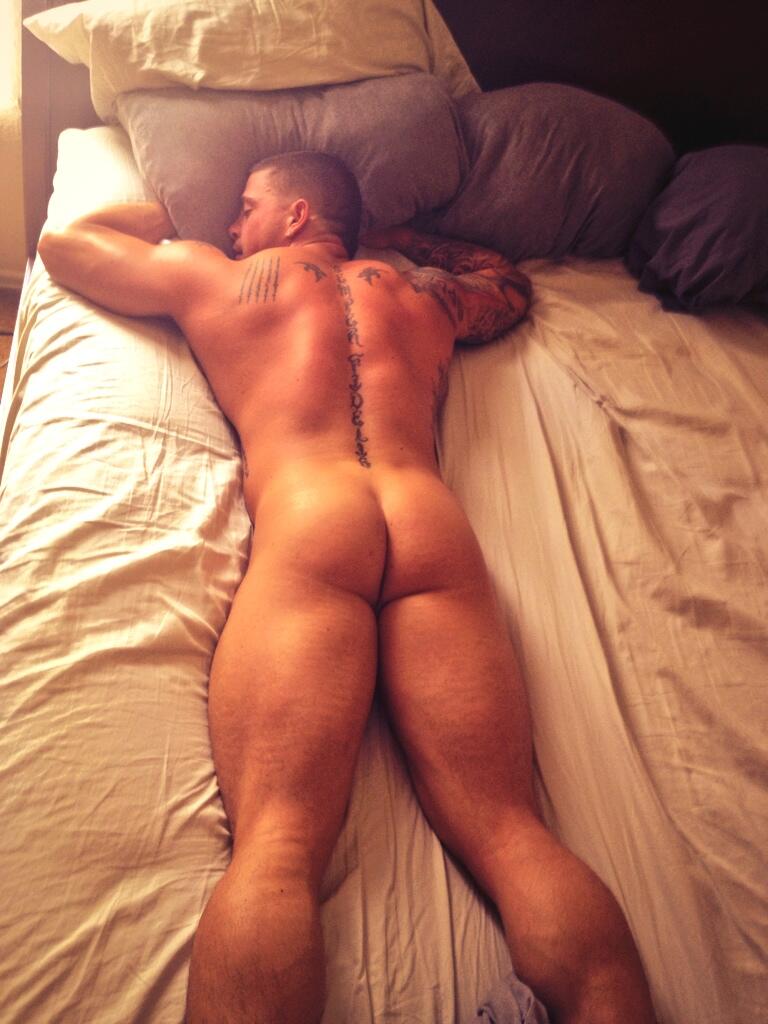 The Body
Man Crush:
We really couldn't have an interview without talking about this body of yours. How in the world do you get a build like yours?
Slate Steele: I wrestled 8 years and all throughout high school, then I joined the Marine Corps. I've weight trained since I was 13. Fitness has always been a HUGE part of my life. I go to the gym 6 days a week and besides in war times, I've gone to the gym for at least 6 days a week for the past 13 years. I'm kind of a freak when it comes to working out. It's so ingrained in my daily routine like eating, sleeping, or sex.
Man Crush: What's a typical gym session look like for you?
Slate Steele: I walk to the gym to warm up. Then 30 mins of cardio split up between 3 machines (10 mins a piece). Then I weight train one body part for 45 mins or so. Finished with 20 mins of abs and a final 30 mins on the treadmill. Then I walk home to cool down.
Man Crush: Whenever I get the chance to talk to someone on your level of having a crazy-hot body like yours I have to ask: what's the best piece of fitness advice you've received?
Slate Steele: "No carbs past 7 p.m. and if you lift girl weight, you're gonna have a girl body."–My first trainer.
Man Crush: As much time as you spend in the gym I'm sure you've observed a range of good and bad techniques. What mistake do you see many guys making in terms of working out and trying to meet their fitness goals?
Slate Steele: Focus on building lean muscle all over your body. More muscle equals more calories burned equals less fat. 10 pounds of muscle is smaller than 10 pounds of fat. And just because you are working on a certain body part does not mean that body part will lose fat. For example, doing crunches to lose belly fat. It doesn't work that way.
Man Crush: What do you feel is the best part of your body and what one move do you do to work it out?
Slate Steele: I love my chest. It took a while to build it but I used to powerlift. So having a max bench of 405 pounds for a 170 pound guy tends to create a massive upper body.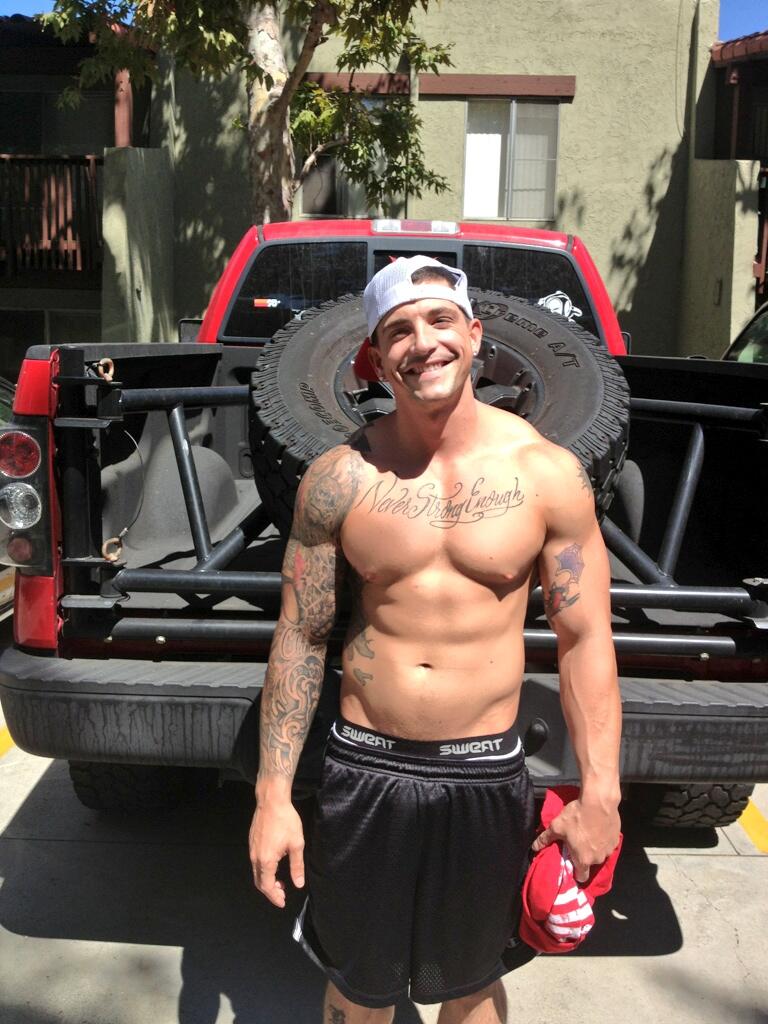 Personal 
Man Crush:
We haven't touched on your time serving in the Marines much because I feel like it's probably a topic you get asked about all the time. That being said, what one overall lesson did learn while serving that still applies to your life today?
Slate Steele: Self-accountability. Being able to own up to your shortcomings, mistakes, and problems. Many people nowadays blame everything on someone or something else. Take responsibility for your actions or inactions.
Man Crush: What tattoo is your favorite and what significance to you does it have?
Slate Steele: My back right shoulder. Same tattoo that Angelina Jolie has. But thats not what makes it awesome. It was done in Thailand with bamboo instead of a machine and it was completed by a Buddhist monk. Charmed and blessed. Very special to me. It's called a "five pillars yant".
Man Crush: Porn and military careers aside, what do you want out of life? What's going to make you happy at the end of the day?

Slate Steele: This is a fault of mine. If I explained all the things I've done in my life, there would be enough material to write ten books. I can never seem to be content with anything–I graduated college top of my class and now I want another degree; I want to travel the world; I want to marry and be happy, be rich, lose it, and become rich again. Life isn't linear. You only get one life to live–enjoy it completely and fuck the haters. "Life is best measured in scars and miles…"
Man Crush: You get the final word! What parting message or thought would you like to leave with the blog's readers?
Slate Steele: Thank you all for the support and getting me to where I am today. Lets keep it going. Much more to come from Slate Steele in the future. And thank you Man Crush Blog for giving me the opportunity to help people to get to know me a little more. Love you all!
Follow The Man Crush Blog on Twitter | Facebook | Tumblr | Pinterest