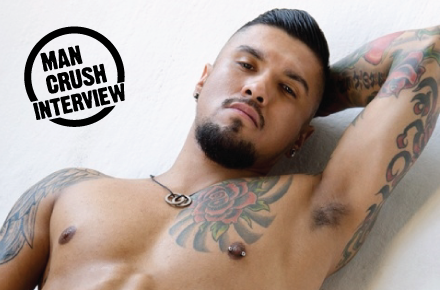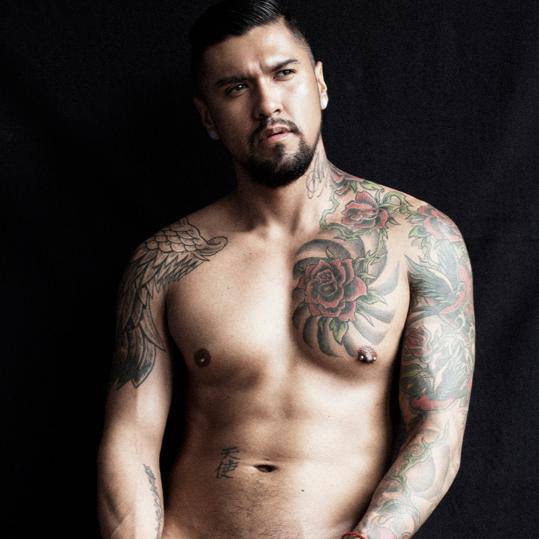 This week I'm bringing you this exclusive interview with Raging Stallion's latest exclusive Boomer Banks. You may have checked out his jaw-dropping photos a few weeks ago (and if not, here's your chance) and you probably noticed is rather large, ahem, appendage. Here's your opportunity though to get to know a bit more about him. You can follow Boomer on Twitter @BoomerBanksXXX or check out his Facebook page to keep up with this hot stud.
Ice Breakers
Man Crush: Let's get warmed up with some random question. I hope you're ready! What's the usual reaction from a guy when you take off your pants and "unleash the dragon," as Sisqo would say?
Boomer Banks: Well, the "Thong Song" always plays as this is happening and boom–jaws drop and down to their knees they go. It's always jarring because my attitude has never been a projection of my penis size.
Man Crush: What's your favorite underwear brand?
Boomer Banks: Nasty Pig!
Man Crush: Team Mariah or Nicki Minaj?
Boomer Banks: WHITNEY! Too soon?
Man Crush: Hm, ok well moving on … Reveal your hidden talent to us!
Boomer Banks: I'm an amazing cook.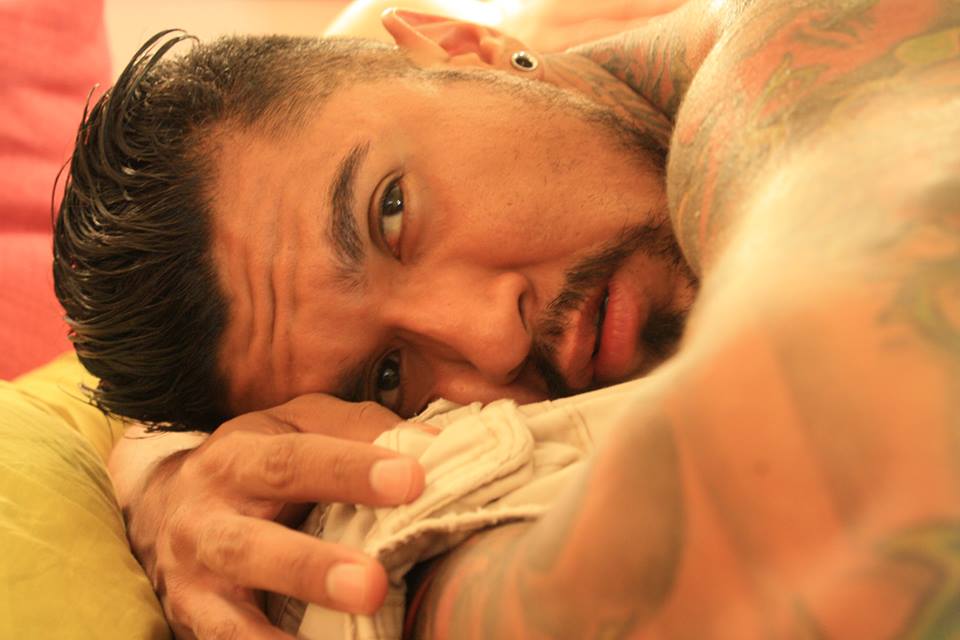 The Porn
Man Crush: Every time I have the opportunity to interview someone in the adult entertainment industry my first question to them is why porn? Is this just another job for you, a hobby, something you've always had interest in?
Boomer Banks: Yes. I am an artist and see this as being an extension of me and an opportunity to strengthen my brand. As a porn model I want to make the hottest, sexiest, dirtiest fuck videos that will make you cream your jock. I'm also a designer and what to make clothes for the men watching my movies that will make them feel handsome, sexy and a tad bit dirty.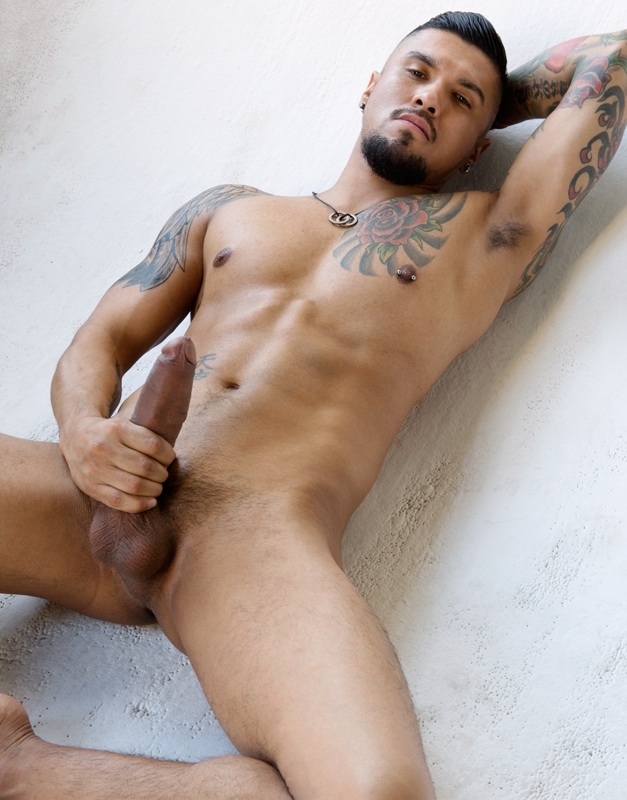 Man Crush: I'm sure you had your own expectations entering into the world of porn. Have any of those expectations come out to be true? Have they changed now that you have some first-hand experience with the industry?
Boomer Banks: I truly had no expectations so everything that has happened in the past month has been mind blowing. I'm humbled and grateful I've been welcomed in all good ways.
Man Crush: This may sound like an odd question to some but I'm curious–what do you hope to accomplish with your porn career?
Boomer Banks: As I answered in a previous question I want to make my new fans happy inside and outside the bedroom.
Man Crush: Let's go for some lighter questions. Do you have a wish list in terms of other porn performers you'd like to shoot scenes with?
Boomer Banks: Aw, that's a huge list! But off the top of my head Angel Rock, Benjamin Godfre and JP Dubois.
Man Crush: What can people expect to see from Boomer Banks?
Boomer Banks: My passion unfold in front of your eyes.
The Body
Man Crush: Everyone has their own method of keeping in shape and I'd think there would be even more pressure to keep fit considering you're about to spend so much time naked. How do you keep fit?
Boomer Banks: Gym 5-6 times a week and eat I tons of bacon.
Man Crush: What's the best piece of fitness or health advice you've received that everyone should know about?
Boomer Banks: Diet! It's ok to eat what you want but in moderation.
Personal
Man Crush: Many may try to define you based on the porn, the go-go dancing or your Rentboy profile. How would you describe yourself?
Boomer Banks: I'm loyal, loving, honest with a sense of humor. I love to smile and be goofy.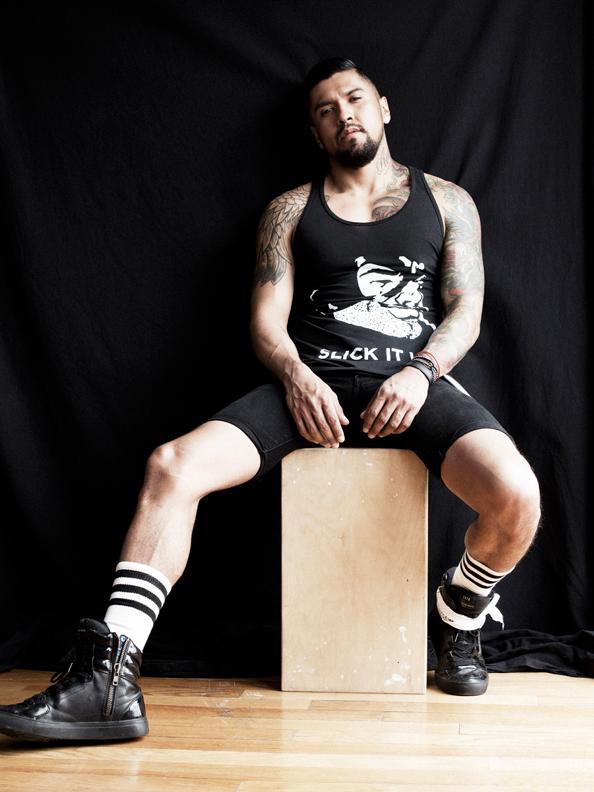 Man Crush: What's one big misconception people have about you that you'd like to address?
Boomer Banks: I'm very approachable despite what my appearance gives off.
Man Crush: I, and I'm sure others, couldn't help but to notice that the press release about you joining Raging Stallion put most of the emphasis on the size of your cock. Does it bother you any that you're measured and judged mostly on the the size of your junk rather than other characteristics or attributes?
Boomer Banks: That's all on paper. Once you meet me that's always forgotten. It's not who I am–it's what I have to work with.
Man Crush: Here's that old high school graduation question–where do you see yourself five years from now? What do you hope to have accomplished?
Boomer Banks: NYC, Paris or Milan Fashion Week.
Man Crush: You get the final words! What would you like to say that hasn't been asked or addressed already in my Wendy Williams-like interrogation session with you?
Boomer Banks: I'm genuinely excited to see what this new adventure has in store for me. Keep it cute and cuddly and never say no to bacon!
Follow The Man Crush Blog on Twitter | Facebook | Tumblr | Pinterest