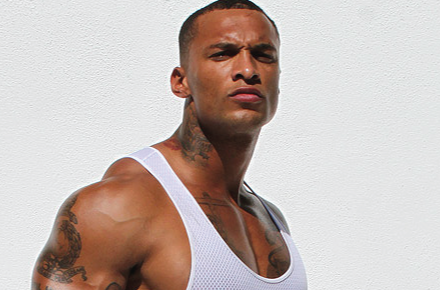 If you're unaware of my fascination and crush on David McIntosh then prepare to be taken to school, boys and assorted girls. David McIntosh has the body of a divine being–buff, ripped, chiseled and ripped. Let's not even get on the subject of the tattoos or that Adonis Belt lower abdominal cut and abs going on. Here's a hot photo shoot featuring David and my other obsession, Rufksin. Here you can see David modeling various Rufksin products including the Kaan singlet, Girona runners, Taylor sheer top, Ricky running tights and other items. You can see more from Rufskin by checking it out on Facebook, on Twitter @RUFSKINdenim and by visiting its website www.rufskin.com.
Follow The Man Crush Blog on Twitter | Facebook | Tumblr | Pinterest 
Click on thumbnails to view larger images.