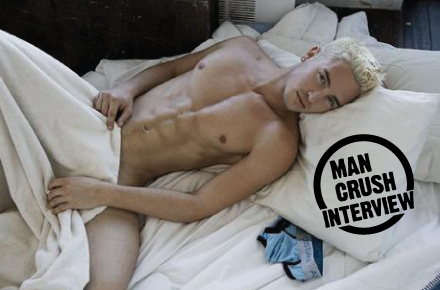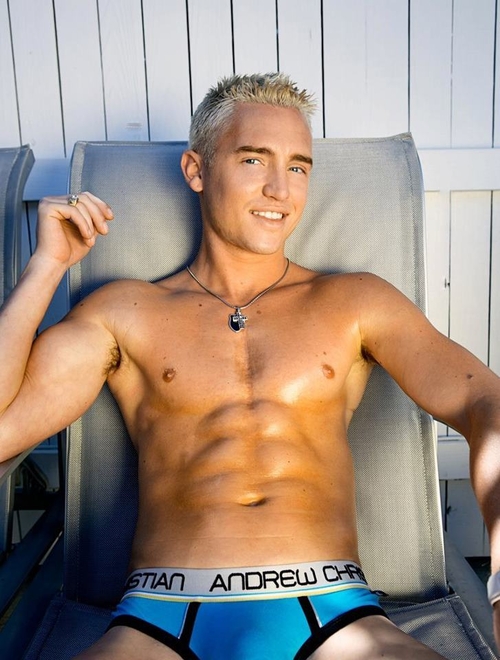 A couple weeks ago Andrew Christian model Cory Lee was a featured crush (check out his photos here.) Today, he's back but getting a bit more personal with you guys in this all-new "Hooking Up With …" interview session. In this exclusive interview Cory and I discuss everything from what songs gets him twerking to his activism activities and his call for you to get involved in your community. You can follow Cory on Twitter @TheOnlyCoryLee and check out his Facebook page.
Ice Breakers
Man Crush: Let's ease into the interview with a few random questions to shake things up. What song inspires you to shake your booty the moment it starts playing?
Cory Lee: "Peanut Butter" by RuPaul really gets me going. I even made a cameo in the music video to it.
Man Crush: You have the chance to hook up with any male in existence. Who'd you choose?
Cory Lee: Brad Pitt. I realized I liked boys when I saw him in Troy.
Man Crush: Briefs, boxers, trunks or jockstraps?
Cory Lee: Jockstraps! [winks]
Man Crush: What's one big misconception most people have about you?
Cory Lee: I don't strike most people as an intelligent person but I did get an academic scholarship for my SAT scores. I find it amusing that people see me as young and naive and thats exactly what I want them to think.
Man Crush: What quality or characteristic about a guy gets your attention the most?
Cory Lee: I find it so attractive when a guy is passionate about something they're good at and love doing whether it's his job, a sport, or a hobby.
Activism and More
Man Crush: Most will recognize you as the model for Andrew Christian but I know there's more to you than that. Tell us about your interests and activities outside of the world of modeling.
Cory Lee: Getting involved in my community and spreading the word to the younger generation to get more involved in their community as well has become my main concentration. With Prop 8 and DOMA recently being overturned our voices are now louder than ever and it's important that we continue to speak up until we are all treated as equals throughout all 50 states and one day all across the globe.
Man Crush: How have you used your career in modeling to pursue your other interests?
Cory Lee: I'm thankful to have the opportunity for a larger audience to hear what I have to say and I owe it to my modeling career. I like being able to grab people's attention with my half naked photos and then talking to them about fighting for what they believe in and becoming an activist in their own town. It's very rewarding.
Man Crush: When we spoke earlier you mentioned you were born with a heart condition that has affected everything from growing to building muscle. What good has come from your condition?
Cory Lee: I used to see my scars as a sign of weakness and I was embarrassed of them but now I see them as a sign of strength because I have overcome so much in my life to get me to where I am today. Everyone faces obstacles. Life is about overcoming those obstacles and making the best of things and my heart condition made me realize this.
Man Crush: You just talked about how you're involved in activism and getting people more invested and involved in their community. What do you say to those living in states that aren't as liberal and open minded as California or New York that are still facing an uphill battle in achieving equality?
Cory Lee: I say to them that California didn't start off as an open-minded liberal state. Once upon a time there was no such thing as gay rights anywhere in the U.S. It has to start somewhere and there's no better time and place than right where you are right now. I'm from Texas and I can't go home and get married right now if I want to. I'm still fighting with you and our work is far from over. You can start speaking up and fighting for what you believe in or you can live your life as a second class citizen. The choice is yours.
Man Crush: You mentioned at some point that you taught bible study classes. Do you consider yourself religious now?
Cory Lee: I consider myself very spiritual. I disagree with some of the things the bible teaches us but I believe in a higher power. I live my life by the golden rule, "Do unto others as you would have done unto you." I think if everybody did that the world would be a much better place.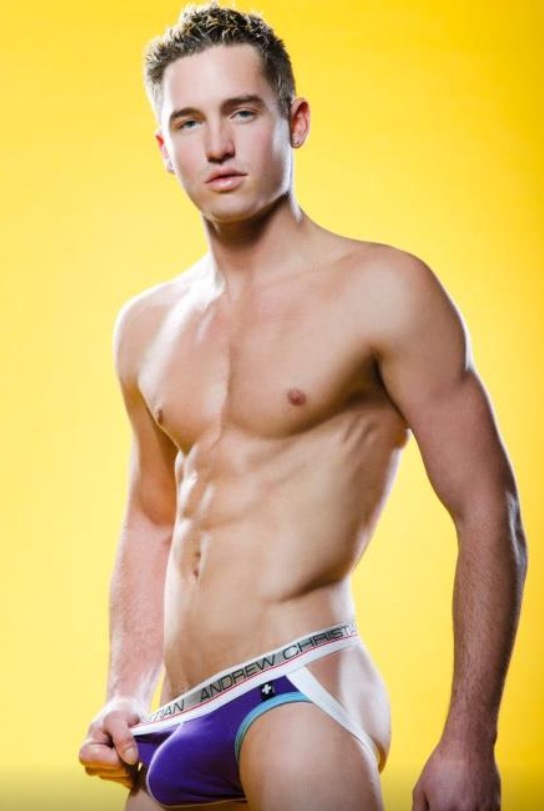 Modeling
Man Crush: Okay, now let's talk about your modeling career. How'd you get started with it?
Cory Lee: When I was about 17 I used to have an online portfolio on ModelMayhem where you could do trade-for-portfolio shoots.  It didn't cost anybody any money and I shot with local photographers for free until I built a book that I was happy with. Then I sent my pictures out to different agencies in Texas and soon I was with a small agency in Dallas but realized there wasn't going to be enough work for me in Texas so I moved to California to follow my dreams and started go-go dancing for a little while until a casting director for Andrew Christian found me and asked me if I would be interested in modeling for them. My career took off from there.
Man Crush: What's the craziest experience you've had while being an underwear model?
Cory Lee: The craziest experience would have to be White Party Palm Springs. We hosted the Andrew Christian Pool party and at night a few of the other AC models and I got to perform on stage with Meital Dohan and Kwanza Jones. That's something I'll never forget. I attached a picture of me on my knees sliding across the stage.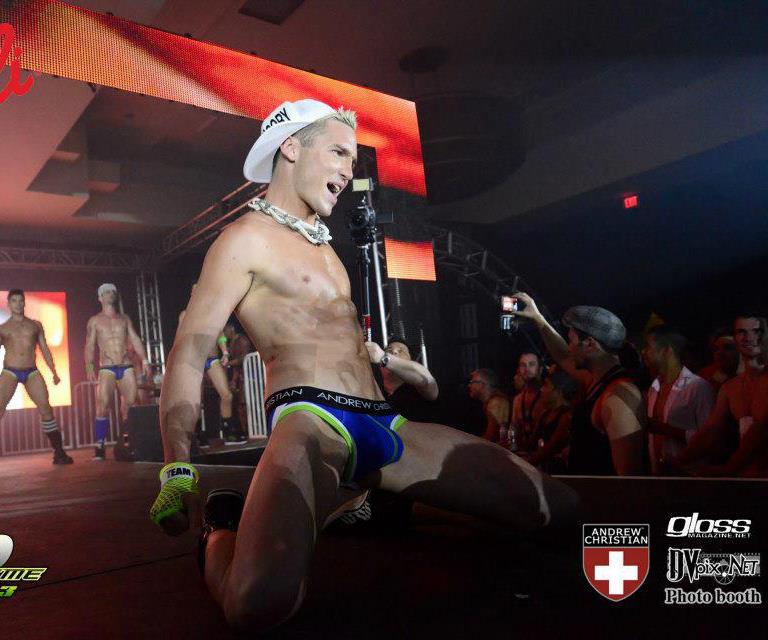 Man Crush: At this point, you have to be a bit of an expert on looking great in underwear. What are your tips for guys in regards to choosing the best pair of underwear for him?
Cory Lee: The fit is everything. You want something that lifts your rear instead of squish it down. same could be said about the front if you like to show off like me. [smiles]
Man Crush: Zoolander is known for giving his tips for models. Describe in your own way of how someone should go about posing for a model-like picture?
Cory Lee: Put some fun music on so that you can relax and have fun with it. It will really show in your finished product if you're tense or nervous.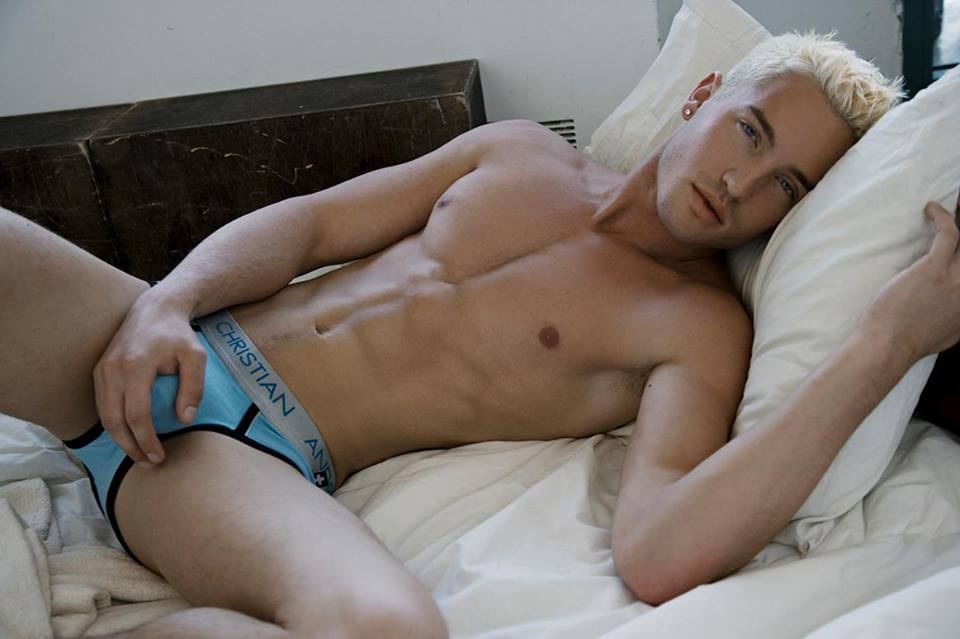 Personal
Man Crush: Who inspires you?
Cory Lee: I think a lot of my inspiration comes from Marilyn Monroe, Harvey Milk and two of my good friends, Ryan Yezac and Colby Melvin. Both have seen potential in me and have worked on several different projects with me. I see big, big things in both of their futures
Man Crush: We've talked about your community involvement, modeling and more. What would you say is the main thing you hope to accomplish in your lifetime?
Cory Lee: I think that the most important thing anyone can do with their life is try to make the world a better place. I am going to continue fighting for what I believe in and speaking up for the voices that are having a hard time being heard.
Man Crush: You get the last word in the interview! What parting thought or message would you like to leave with the Man Crush Blog audience?
Cory Lee: To all of my fans: thank you so much for all the love and support you've shown me. To Man Crush Blog: thank you for your interest in me this past month. And to everyone reading I hope I've inspired some of you to go out and make a difference in the world. Live, love, and be happy. If you don't like something, change it. Don't waste any time being anything other than happy.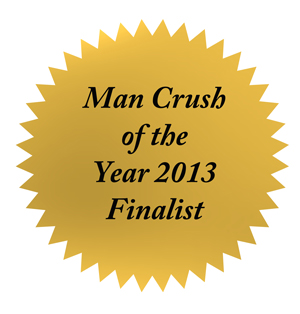 Follow The Man Crush Blog on Twitter | Facebook | Tumblr | Pinterest