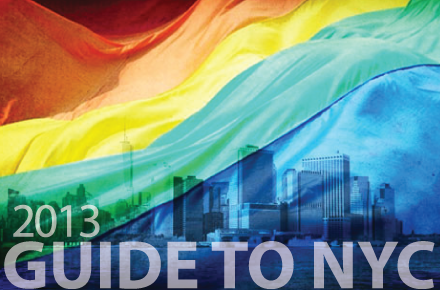 In June I traveled once again to New York City but this time to experience NYC Pride. Whether you're planning to venture to the Big Apple for Pride next year or just want to visit a chic neighborhood like Soho, I've got a few suggestions and tips for you that will help make your visit even better. Before you leave, check out this NYC fact file to find out a little more about the city. It'll make the trip even better for you since you have some background knowledge!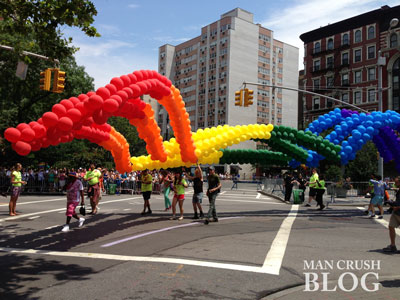 Arriving, Getting around and Leaving NYC
It seems strange that a review would begin with something as trivial as getting to the city and leaving the city but this is usually where your trip will begin. Over the past two years, I've traveled to New York City both by train and plane. Which is better? Well, traveling by Amtrak isn't entirely bad but it depends on where you're coming from. If your trip is over a few hours, Amtrak probably isn't really for you unless you have a lot of patience and time to waste. It could even be cheaper. Plus, on Amtrak you'll have access to food, you could end up on a train with free Wifi, plugs to charge your devices. The quickest way to get to the city will likely be by plane. If you're arriving at JFK, you'll have to take the AirTrain to get to the nearest subway hub which costs $5. There is also a shuttle known as the NYC Airporter (nycairporter.com) that runs from JFK to Midtown (and there's one for LaGuardia) that's actually cheaper than a taxi from either airport into the city. I found the best thing to do if you're planning on staying in the city a few days is to by a 7-day MetroCard (web.mta.info/metrocard). It costs $30 and gives you the ability to ride the subway at any time of the day and night, freeing you from having to use a taxi and helping you save money in the process during the course of your visit. Just a little tip that I read that you should take to heart: before the trip, I read that a real New Yorker doesn't take a taxi. I found this to be kind of funny but during my 6 days in the city, I just took the subway everywhere and never once used a taxi so it is possible!
Apps and Books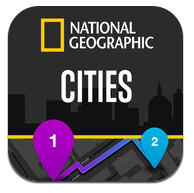 There are some helpful Apps and books that could help you make the most of your visit to the city. City Guides by National Geographic (free, $4.99 for each city, $12.99 for all cities; purchase here) is actually a good bargain and well-organized app that comes with everything from walking guides, suggestions on things to do, secrets of the city, facts about landmarks and suggestions and tips while in the city. There is one specifically for New York City and once in the city, the app will use your phone's GPS to guide you toward landmarks, restaurants and tourist attractions. Another app I couldn't do without was iTrans NYC ($3.99; download here). If the subway system intimidates you and asking for directions scares you, buy this app! With this app, you'll be able to put in your location and your destination and the app will tell you exactly what subway to get on, what transfers to make and what stops to get off on and the estimated time of how long your trip will take.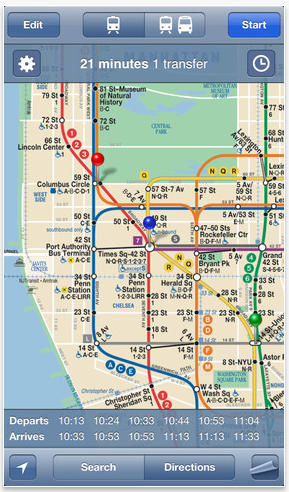 This, along with the 7-day MetroCard, made getting around the city simple and without any stress. It keeps itself up to date so you'll be alerted to service disruptions and will be given appropriate directions. There are a few standards that you should consider that could help you get around including Google Maps for walking directions (Free; download here); Yelp (free; download here) for restaurant and other reviews; Seamless (free; download here) for ordering food from just about anywhere in the city should you want to stay in rather than venture out.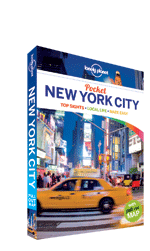 As for books, I recommend you read Lonely Planet Pocket New York (Travel Guide) ($11.20, Amazon; purchase here). This isn't a terribly long book but it's packed with useful information. The book is split into the different Boroughs of New York City, offering a general overview of what each borough has to offer, the tourist attractions, restaurants to visit and the best places to shop. After reading this book you should have more than enough to do outside of Manhattan and Midtown as many would gravitate toward.
Restaurants and Shopping
If you're visiting the city, save up your dollars so you can take full advantage of the city's stores and food. Stop off in Chinatown and visit The Chinatown Ice Cream Factory (65 Bayard St New York, NY 10013; chinatownicecreamfactory.com). It's kind of hidden away in the heart of Chinatown but lawd have mercy, the exotic flavors, as well as regular for those less adventurous, make it worth the search and find. I tried the Lychee flavored in a milkshake and it was actually the first meal I had on the first day in the city and it was worth the month of working out in the gym to work off those calories. Speaking of ice cream, go and check out 16 Handles in Chelsea (16handles.com/store/chelsea.php) and get yourself some self-serve yogurt with tons of fun and fattening toppings that'll give you 16 love handles by the end of your visit. If you want to give your heart a break and bypass a possible heart attack from eating pizza and vendor food, head over to Renaissance Diner in Hell's Kitchen (776 9th Ave, New York, NY 10019) or the Waverly Restaurant in the West Village (385 6 Ave, New York, NY 10014). Both have tons of menu options that are reasonably priced and won't break the bank. If you're looking for a cup of coffee and want to forgo one of the several hundred Starbucks scattered throughout the city, try out The Grey Dog in Soho (244 Mulberry Street, www.thegreydog.com) that offers tons of coffee, beverage and cafe food items. It's a nice place to visit and sit down in a calm atmosphere amongst a busy city. Some honorable mentions go to The Shake Shack for a good burger and fries and Schmackary's which I wrote at great length about last year that offers the best cookies and milkshakes in the city.
In terms of shopping, if you're looking for some good deals on New York souvenirs either for yourself or people back at home, there's a nice selection and a few stores in between Chinatown and Little Italy. Don't be stupid and shop solely in Times Square and spend an arm and a leg on something you can probably get cheaper further out and away from Midtown. For you gay males, there are some must-visit stores while you are in the city. If you're in Chelsea, visit Nasty Pig (265A West 19th Street, store.nastypig.com) and Rufskin (235 W 19th St, www.rufskin.com). Both have friendly staffs and edgy clothing that'll surely turn some heads back where you're from. If you're in the Hell's Kitchen and Midtown area, stop by TAGG (720 Ninth Avenue, www.taggnyc.com) and Universal Gear (715 9th Ave; www.universalgear.com). I promise you that both of these places will both make your day with their huge selections of brands like Carico, Timoteo, Pump! and Andrew Christian (to name a few) right at your fingertips and will probably break your wallet in the process. With any of these gay-friendly stores, the clothes are what you see me blog and gush about and what was fun was seeing them up close and finding that the staffs at all these stores were helpful and if you wanted their opinion on how you looked in something, they'd dish it out and would make sure you didn't leave until you left in something that looked good on you.
New York Pride
This visit was made with New York Pride in mind. While I didn't attend every event out there, I did make it out to a few worth highlighting. On Friday, June 28, my friend and hot tour guide Justin Hernandez (www.justinhernandez.net) attended The Rally at Pier 26. The highlight of this event, besides that gay and magical rainbow that appeared over the city in the background as the rally began, was the surprise appearance by Lady Gaga. Dressed in a simple black bustier and Lone Ranger-inspired glasses, Gaga made a passionate 20-minute speech about how the LGBT community has impacted her career and life and topped it off with her own gay-twist on the national anthem.
On Saturday, I attended Matinée NYC on Governor's Beach Club island. Now, this is one event not meant for everyone. If you're into the whole circuit party and rave scene, you'll love Matinée. If you're not into that scene and all that comes with it (pot-smoking, not in search of Molly, not into paying $14 for a drink) then you may want to bypass this event. You do however get a nice view of the city from Governor's Beach Club and the ferry ride is nice!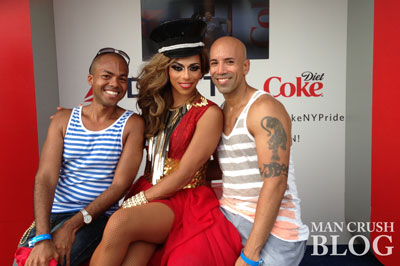 It doesn't get better perhaps than the big Pride March on Sunday. Though I could've used a bit more of that stereotype that comes with gay pride parades–gratuitous displays of skin, muscles and abs–but there wasn't much of that in this year's parade, at least not the 3-4 hours of the parade I managed to stand through. It was definitely heavy on the political figures this year so it'd have been nice if they had been more toward the end of the parade but … eh, anyway. The Pier Dance was a must-attend event due to Cher's big appearance at it. My advice to those attending the Pier Dance in the future: you have two options in getting a good view of the stage for the main acts–arrive early and plan to stand in front of the stage for hours on end or spring for the VIP tickets. Justin and I had a good view of the stage but it came at the cost of putting up with highly intoxicated annoying drunkards, tweaked out twinks and people over 6 feet tall that felt the need to stand in front of those half their height.
Thank You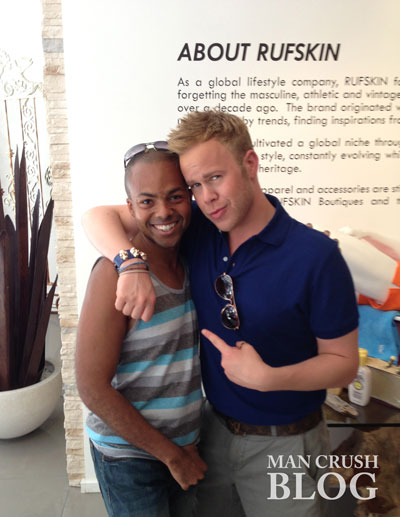 The trip was definitely fun and a few shout outs/thank you to those that helped make it what it was: to David Lopez (@LuxuryDreamer) and The Out, which has become my choice hotel for my visits to the city; my friend and unofficial tour guide Justin Hernandez (@justhernandez71) that showed me around and ensured I didn't get kidnapped or misplaced in the city; fellow blogger and Canadian hottie Brian Webb (@br_webb) for hanging out on Saturday and enduring at least an hour of Matinée NYC after I suggested we go; Ozzie Santana (@JustOzzie) who tried his darndest to get me to enjoy Matinée before I decided to leave in search of pizza and a tv to see Lifetime's Anna Nicole movie; Antony (@TonyBeGoode) that provided much entertainment when we hit up XL Nightclub (@xlnightclub); Marcy and the peeps at Rufskin (@Rufskin_NY) for the invite to their fun pride party; Tyler Williams (@TylerHWilliams) for what was the biggest cafe au lait I think I've ever, and will ever, consume.
For even more NYC tips, check out my Guide to NYC post from last year here. You can see more photos from NYC Pride 2013 and my trip on my Instagram.
Follow The Man Crush Blog on Twitter | Facebook | Tumblr | Pinterest