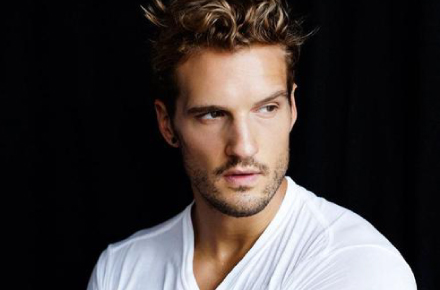 As I've been taking inventory of all the men I've featured and have yet to feature on the blog, one glaring omission came to mind—Parker Hurley. He's always caught my eye because he's always been one to challenge and defy what we think of when it comes to male models. Parker has a total of 10 piercings, some that are hidden and others that can be removed. He also personally designed the tattoos on his body. On his ModelMayhem profile Parker describes himself as, "Artist, nerd, kick boxer, music lover, superhero fanatic, video game junkie, pancake enthusiast, etc.  I'm super open-minded and opinionated yet try not to take myself too seriously. It's a job and I'm here to have fun and create neat images. I view modeling as a form of art and one of the ultimate forms of self-expression." Parker is in his late 20s, 6 feet tall, 170 lbs, 30″ waist, 40″ chest, 11.5 shoe size, hazel eyes, blond hair and tanned. He's been photographed by Ruven Afanador, Tony Duran, Jon Malinowski, Jeremy Kost, Walter Kurtz, Laurentius Purnama.
Follow The Man Crush Blog on Twitter | Facebook | Tumblr | Pinterest 
Click on thumbnails to view larger images.