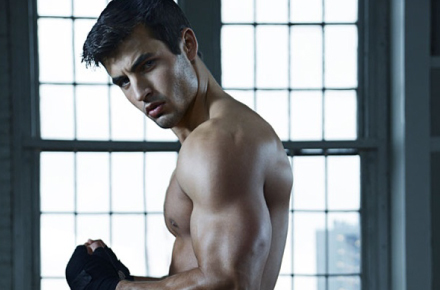 Back in February I featured hot newcomer Mike Stalker, photographed by Rick Day. Mike has been featured in many of the current promotional campaigns for C-IN2 with good reasons—he's f*cking hot and has a crazy-hard, worked out, muscular body. Now Mike's returned in a new phase of promotional photos from Rick Day and C-IN2 showing off some of the company's latest styles. Mike can be seen in new styles from the Zen, Grip, Prime and Yoga collections. You can see more of Rick Day's work by visiting his website www.rickdaynyc.com. You can follow Mike on Twitter @MikeStalker02. To order what you see in the video, visit the C-IN2 website www.c-in2.com/store. You can also follow C-IN2 on Twitter @cin2, find them on Facebook and view their videos on YouTube.
Follow The Man Crush Blog on Twitter | Facebook | Tumblr | Pinterest 
Click on thumbnails to view larger images.