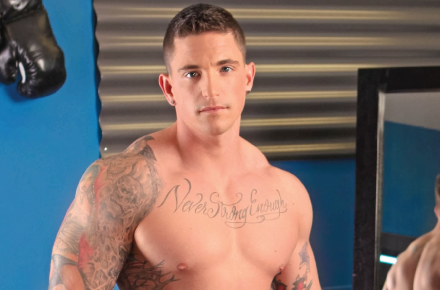 One of my favorite models from All-American Heroes is Sergeant Slate (see my post about him here). He has just the right amount of muscle, tattoos and everything about him is sexy from head to toe. So imagine my surprise and school girl-like squeal when I realized he'd gone from All-American Heroes to civilian-life over at Next Door Male! Yes, Sergeant Slate has become Slate Steele and he's brought his chiseled, pumped body next door for all of us to enjoy. Check out this gym-themed photo shoot of him getting puped that'll surely inspire you to get a lil' pumped yourself. Some of the images in today's gallery are NSFW and intended for those 18 years or older.  You can check out Next Door Male www.nextdoormale.com and follow them on Twitter @NextDoorMale.
Follow The Man Crush Blog on Twitter | Facebook | Tumblr | Pinterest 
Click on thumbnails to view larger images.