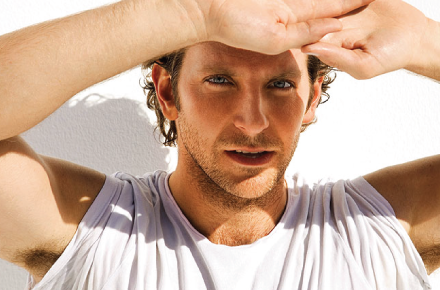 Though it's my birthday I guess I'll share the day with another guy that's about as crush-worthy as I am. Yes, the Sexiest Man Alive Bradley Cooper is finally gracing the blog. Really, I've kinda held back on passing judgment on him because everyone seemed to jump on the Bradley Cooper bandwagon and I'm not one to jump on over saturated hotties. Now though, with The Hangover III coming out it seems right. The first installment of The Hangover was thoroughly enjoyable and had many golden comedic moments. If you haven't watched the first or second film it's highly recommended, whether you may find the drunken antics they get up to funny, or you just want to watch Bradley Cooper. It's been seen that The Hangover Part I has even made it into people's personal top favorite lists, and for reasons you might find a little odd for a comedy-packed film about a stag-do turned wedding day gone wrong, for instance, it's been touted as a top gambling movie, as shown here from the data collected by Newcasinosites.me.uk. Do we think Bradley Cooper influenced their decision or was it actually the gambling aspect that led them to include it within their top 21? Either way, Cooper… Lemme list all the reasons why I now find Bradley hot. First, the hair. Second, the abs and muscles (yes, it's a combo deal); third, the fact that he's crazy-hot and could murder my vagina any day … if I had one, of course. Enjoy some of these hot pics of Bradley from over the years.
Follow The Man Crush Blog on Twitter | Facebook | Tumblr
Click on thumbnails to view larger images.