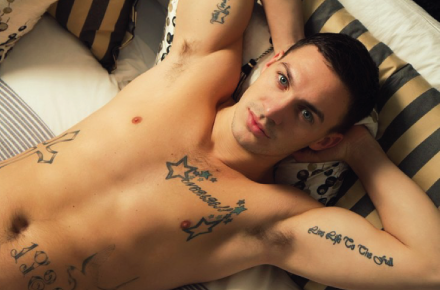 So, yesterday Kirk Norcross from The Only Way Is Essex had a lil' 'xplaining to do when nude pics of him leaked on the Internet for all to see. For some time Kirk's basically teased everyone by dropping trou and showing how endowed he is but he's never gone full-on full monty. While you won't find those pics in today's gallery (just Google search 'em, peeps) you'll see he looks like he's packing a lot and the pics didn't disappoint. If you're unfamiliar with Kirk, he was born in 1988 and is a club promoter for Sugar Hut in Essex. In addition to TOWIE Kirk also appeared in Celebrity Big Brother in 2012. Perhaps his most interesting claim is that he says he's had sex with 800-1,000 women. I'll just end with this Kirk from quote that he made back in April of this year before this nude pic leak, "I loved sex because—and I'm not boasting—I was pretty advanced in the downstairs department. It was ridiculous but I loved it and I wanted everyone to know it. I wanted to show as many girls as I could—and after sex when they complimented me on my size I would say, 'You tell your mates about me. You tell 'em, love'. It gave me a massive confidence boost to know I had that advantage over other lads." Mhmm.
Follow The Man Crush Blog on Twitter | Facebook | Tumblr
Click on thumbnails to view larger images.