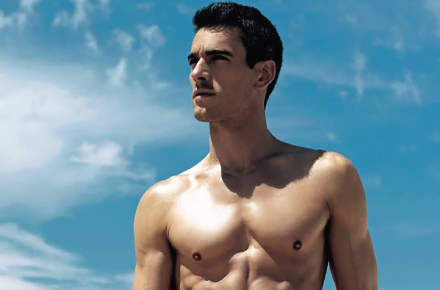 Impetus taps Katy Perry's "Teenage Dream" co-star Joshua Kloss in another summer-themed shoot for its 2013 beachwear collection. About the shoot and the collection Impetus writes that it, " takes you to Paradise, locations where the sun and the sea are inexhaustible sources of inspiration for a collection as rich as it is varied in its themes. The collection ranges from the more classical solid-color boardshorts with a nautical look to the more retro fabrics, such as seersucker with thin horizontal lines in navy or red." You can see more information about Impetus' latest collection by visiting its website www.impetusunderwear.com. You can also follow them on Twitter @ImpetusUndrwr and on Facebook. For more photos of Joshua Kloss you can check out his featured Man Crush of the Day post from 2010 here.
http://youtu.be/2JGDAYqmiqA
Follow The Man Crush Blog on Twitter | Facebook | Tumblr
Click on thumbnails to view larger images.