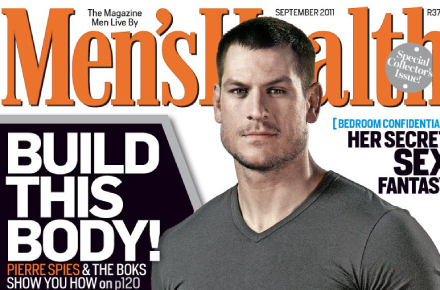 Ok you guys, since this blog's inception I've been crushin' hard on rugby men. Mainly Australian rugby men, and occasionally an English one. Well, all these years and men later I think I'm becoming quite enchanted by South African rugby players. I find one and suddenly stumble upon a couple other hot ones. That's the case with today's featured crush, the Bulls' Pierre Spies. This is a rather superficial pick as I found a horde of shirtless pics of him and nearly fainted at the sight of his abs and thick, muscular legs (where'd you think I was going with that?) Pierre was born in 1985 in Pretoria, South Africa and his 6'4 tall, 238 lbs. He's married but that shouldn't stop us from crushin' hard on him and his ridiculously hot and well-sculpted body. For more information on him you can visit his website pierrespies.co.za, follow him on Twitter @pierrespies8, or find him on Facebook.
Follow The Man Crush Blog on Twitter | Facebook | Tumblr
Click on thumbnails to view larger images.