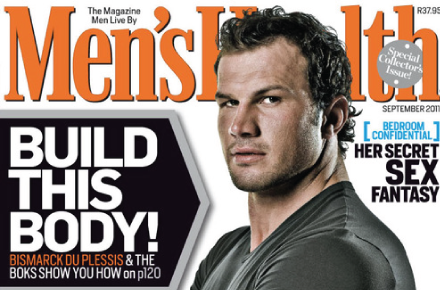 Usually on a Thursday you'll come here expecting a rugby crush and spill from me about how crazy hot I think the Australian rugby players are. Well, you're about to get that same speech but I'm changing it up on ya just a bit. This week's sports crush is a rugby player but he's not Australian! Here's Bismarck du Plessis, a South African stud who's been dominating the field since 2005 when he started playing for the Sharks. he's 6'2″ tall, 251 lbs and plays in the position of hooker (no laughing!) You can follow him on Twitter @BismarckDuP.
Follow The Man Crush Blog on Twitter | Facebook | Tumblr
Click on thumbnails to view larger images.