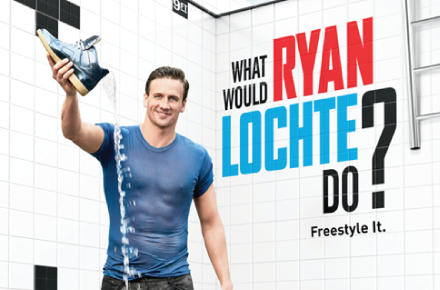 So today marks the beginning a very important television show that I'm sure will go down as one of the greatest reality shows in all of E!'s existence–Olympic swimmer and gold medal winner Ryan Lotche's What Would Ryan Lochte Do? debuts at 10 p.m. EST on E! Now, I'm thinking the title should be Who Wouldn't Ryan Lochte Do? but I'm sure that title would rise a few concerns with the FCC. I actually featured Ryan back in 2011 (see that post here) but that was before the London Olympics when he became everyone's obsession and stepped out from Michael Phelps' shadow to become a bit of a media darling. Ryan's a bit of a player; he's the kind of guy you'd want to hang with because you know you'd have a good time out. Oh, not to mention he's hot as hell and has gotten better looking with a little age. So, consider this more a crush on the reality star Ryan Lochte than the Olympic swimmer and tune in tonight to see his new show. You can follow Ryan on Twitter @ryanlochte, become a fan of his Facebookpage and visit his website www.ryanlochte.com for more information and pics of him.
http://youtu.be/PZLqDHzWptI
Follow The Man Crush Blog on Twitter | Facebook | Tumblr
Click on thumbnails to view larger images.