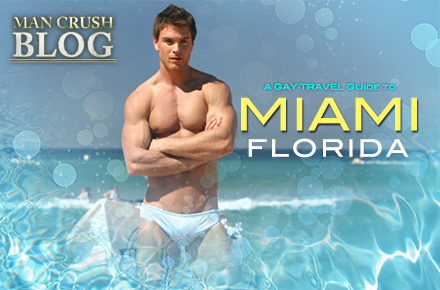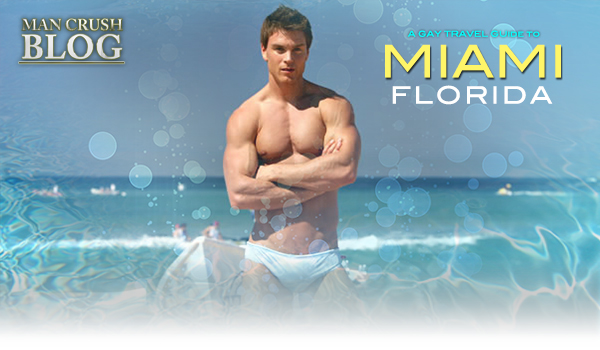 Many of you may be in or heading to Miami this week for Miami Beach Pride (April 8-14, 2013) or maybe you're just planning to head to Miami for a weekend getaway. Either way, if you're a gay man looking for a fun locale with equally delicious eye candy, Miami could definitely be your playground. Here are just a few suggestions for places to go, things to do and how to spend your time while in Miami.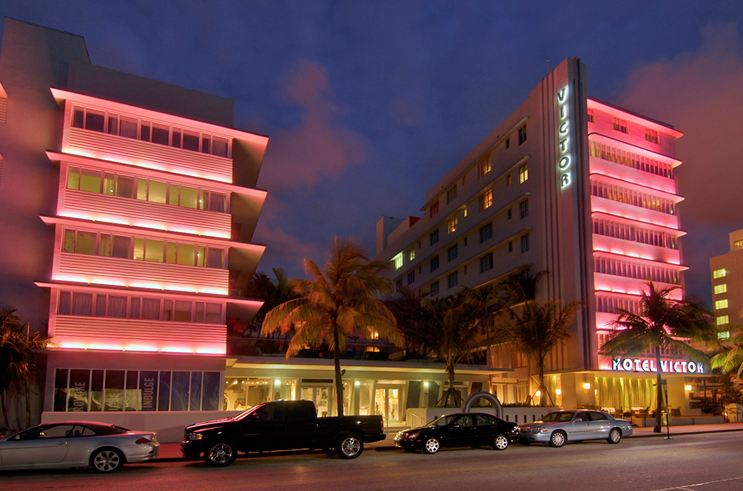 Where to Stay
With any trip, planning begins with two important questions: how am I getting there and where am I staying? Well, the means of transportation only has but a few possibilities but you'll find an abundance of places you could possibly stay at while in Miami. If you're looking for luxury and high-end, treat yourself to a stay at King & Grove: Tides South Beach (1220 Ocean Drive, Miami Beach, FL 33139). The rooms are described as having a breathtaking view, being enormous and giving you the feeling as if you're staying a celebrity on lifestyles of the rich and famous. For a place located within walking distance to many attractions and points of interest, consider Hotel Victor (1144 Ocean Drive, Miami Beach, FL 33139; (305) 779-8700). Hotel Victor has a spa, a lounge, is located near the beach with accommodations that won't leave you feeling short changed. Another highly recommended place to stay in is the Z Ocean Hotel (1437 Collins Ave, Miami Beach, FL 33139; (305) 672-4554). Visitors to this hotel have given it high marks on sites like Yelp, gushing over the great location within walking distance to just about everything you'd want to do in Miami Beach, great views, comfortable beds and friendly staff. Now, it's a no-brainer that you can expect to pay a decent amount to stay in Miami Beach or anywhere close to South Beach so if you're a bit budget conscious you could consider staying somewhere like Conrad Miami (Espirito Santo Plaza, 1395 Brickell Avenue, Miami, FL 33131), The Mutiny Hotel (2951 South Bayshore Drive, Miami, FL 33133) or maybe Hotel Urbano (2500 Brickell Ave, Miami, FL 33129). When it comes to Miami, just remember that old adage "You get what you pay for" and be wary of deals too good to be true.
Websties:
King & Grove: Tides South Beach / Twitter @kinggrovetides / Facebook
Hotel Victor / Twitter @hotel_victor / Facebook
Z Ocean Hotel / Twitter @ZOceanHotel / Facebook
Conrad Miami
The Mutiny Hotel / Facebook
Hotel Urbano / Twitter @UrbanoHotel / Facebook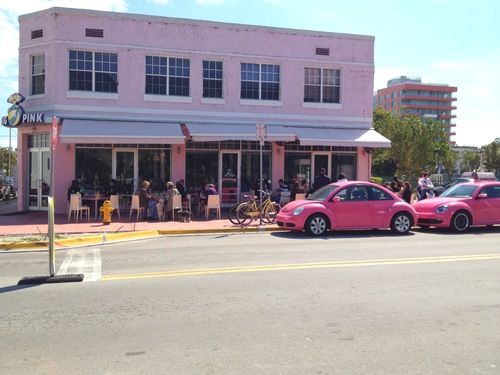 Dine Out
Sure, there are tons of places to eat in South Florida, such as restaurantes end El Doral FL. Another great place to dine in Miami is The Palace (1200 Ocean Drive, Miami Beach, FL 33139; (305) 531-7234). This is a 23-year establishment located in the heart of the Art Deco District that's known for serving up mouth-watering burgers, lavish drag shows and must-attend Sunday "Brunchic" as it calls it. Open 24 hours a day, 11th Street Diner is a great place to stop in at (1065 Washington Ave., Miami Beach, FL 33139; (305) 534-6373). The menu has something for whatever craving you may have; salads, cold sandwiches, snacks and indulgent delights. For a laidback diner vibe, head on over to Big Pink Restaurant (157 Collins Ave., Miami Beach, FL 33139; (305) 532-4700) where you can have your share of comfort foods from around the world, enjoying everything from quesadillas to buckets of buffalo chicken tenders. How could you visit a place like Miami and not try a bit of Cuban food? Stop in at Abuela's Cuban Kitchen (1654 Meridian Ave, Miami Beach, FL 33139; (305) 763-8095). This is a great place for breakfast especially considering you can get Abuela's Breakfast Combo for just $9.95 which will get you two eggs topped with Creole sauce, tomatoes, onions, peppers; your choice of bacon, sausage or ham, home fries, coffee and milk.
Websites:
The Palace / Facebook
11th Street Diner / Twitter @11thStreetDiner / Facebook
Big Pink Restaurant / Facebook
Abuela's Cuban Kitchen / Facebook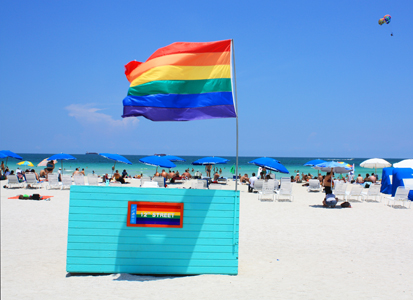 Beaches
Needless to say, you aren't going to Miami just to sit around in your room. You're going for the beaches and all the glorious eye candy that comes with the beaches. Miami has some of the most gorgeous beaches you could imagine with clear blue water and white sands. While any beach in the area will satisfy your need for sun and beautiful oceans, you of course can't visit Miami without visiting South Beach and more specifically, the "gay" 12th Street Beach (at Ocean Drive). You'll have a hard time missing this beach because you'll notice the big rainbow flag. South Beach has tons of places to eat, shop, and sight-see so pack your sunscreen and skimpy speedos in preparation. If you're really looking for some thrills and feel daring and bold, tan in the buff at the clothing-option Haulover Beach. It's 11 miles north of South Beach so you'll need some transportation to the area but for those wanting to sunbathe au naturale, here's your chance!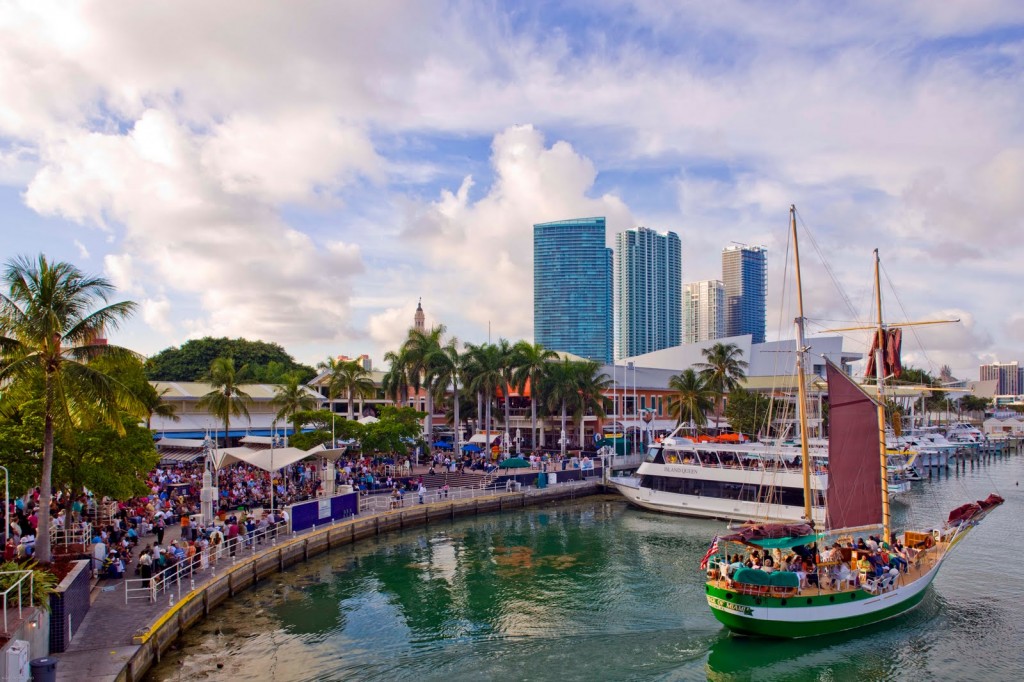 Shopping
When you're tired of the sun, gratuitous display of skin and club scenes there's only one thing left to do in Miami-shop! In Miami Beach the go-to place for shopping is Lincoln Road Mall (Lincoln Road & Lenox Ave., Miami Beach, FL 33139). Described by some as a "tropical oasis filled with shops, restaurants, silver-painted people and rollerblading people in short shorts," this is an infectious tourist attraction that'll offer you a variety of choices in terms of places to eat, shop and people watch. This is the place you go to when you're feeling social or want to window shop. If you're looking for a more traditional mall setting with all the standard-mall stores, venture into Miami to Aventura Mall (19501 Biscayne Blvd., Aventura, FL 33180; (305) 935-1110). For something a bit risqué that you wouldn't go shopping for back at home or in your neighborhood Target and Walmart, check out the adult store the Naughty Rooster (1671 Alton Road, Miami Beach, FL 33139; (305) 397-8241). If you're prudish or all innocent and faint of heart, a simple warning-this store probably isn't for you. If you're just looking for some amusement though, it'd be worthwhile stopping in. Hey, you might find something you like! Other shopping destinations that may interest you would be Coconut Grove's CocoWalk and The Streets of Mayfair, The Shops at Sunset Place (5701 Sunset Dr, South Miami, FL 33143; (305) 663-0482), and Bayside Marketplace (401 Biscayne Blvd R106, Miami, FL; (305) 577-3344).
Websites:
Lincoln Road Mall
Aventura Mall / Twitter @aventuramall / Facebook
Naughty Rooster / Twitter @Naughty_Rooster / Facebook
The Shops at Sunset Place / Twitter: @ShopsAtSunset / Facebook
Bayside Marketplace / Twitter: @BaysideMktplace / Facebook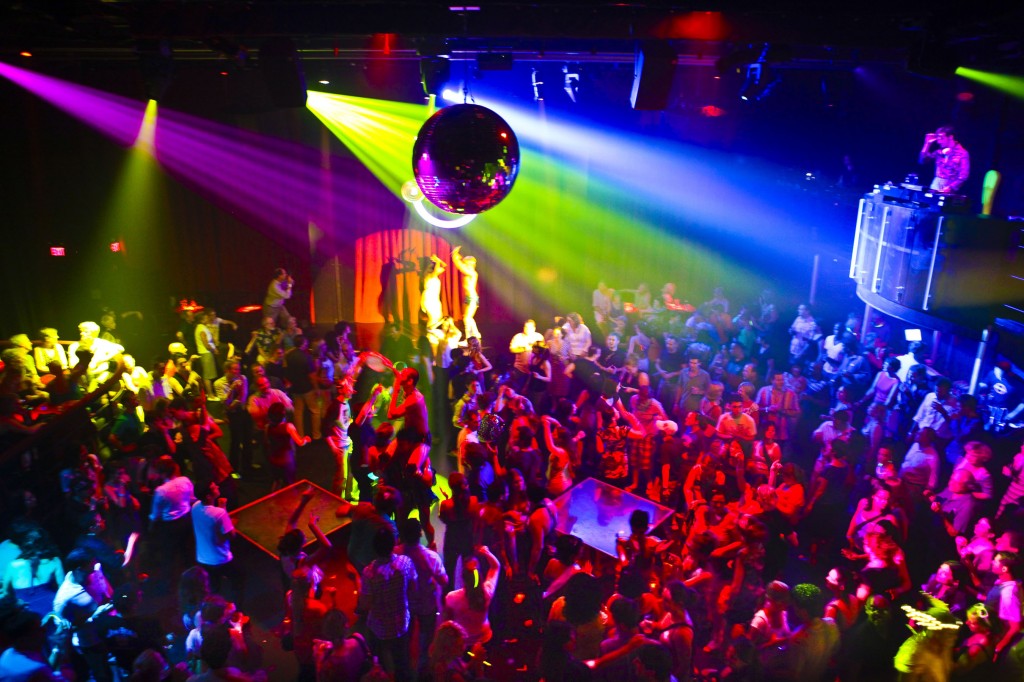 Nightlife
Miami may not be New York City but you can find your share of lively nighttime activities to help keep you up at night if you're otherwise unoccupied. If you're looking for the go-to bar in the area for reasonably-priced drinks and throbbing dance floor music head over to Twist (1057 Washington Ave., Miami Beach, FL 33139; (305) 538-9478. Twist is an awesome South Beach locale known for its music, unique décor and being a tourist attraction. It's open every day of the week from 1pm to 5am. One user on Yelp writes, "The one thing about it [Twist] is that I never seem to know what to expect, not only when I arrive but when, who or what I may end up leaving with." If you're willing to pay a cover charge and are looking for a place with loud music where you can get a good drink, head over to Score (727 Lincoln Road, Miami Beach, FL 33139; (305) 535-1111). At Score there's something for whatever scene you may be into. You can people watch out on the terrace, enjoy happy hour drinks in the front bar lounge area or get into the groove to the beats in the main club-area, you'll find it hard to be bored while at Score. Maybe you're looking for something to actually do besides standing around and drinking and dancing. Check out Eros Lounge (8201 Biscayne Blvd, Miami, FL 3138; (305) 754-3444). Tuesday nights at 8pm Eros Lounge holds Boulevard Bingo; Friday nights at 11:30pm is its Born to be a Drag night. Discotekka (950 NE 2nd Ave, Miami, FL 33132; (305) 371-3773) offers up some interesting theme nights and events. Whether it be a foam water party, '80s theme parties or events to tie-in to the latest movie and music releases, if you're up for something different then this would be your place.
Websites:
Twist / Twitter @TWISTSouthBeach / Facebook
Score / Twitter @scoresobe / Facebook
Eros Lounge / Facebook
Discotekka / Twitter @discotekkamiami / Facebook
***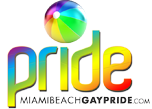 These are just a few things you can do and check out in Miami. If you're there for a special event like Miami Beach Pride there are special events taking place each day that you can check out by visiting the website www.miamibeachgaypride.com (Twitter @MiamiBeachPride, Facebook). For a schedule of events for Miami Beach Pride 2013, click here.
If there's a place not mentioned in this trip advisory that you'd recommend, drop it in the comments section below!
Follow The Man Crush Blog on Twitter | Facebook | Tumblr