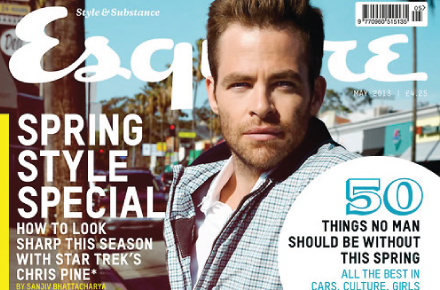 Oh captain, my sexy, sexy captain! With Star Trek Into Darkness just around the corner we're about to be treated by a slew of hot appearances by Chris Pine in the media. He recently turned up in the May 2013 issue of Esquire UK magazine showing off different ways to look sharp in spring. In the accompanying article Chris mostly discusses entering into the world of Star Trek, stating that he wasn't a fan of the franchise or any series and was hesitant about stepping into the role of Captain Kirk. Now though, he of course has no regrets about warping into the big chair and taking command of the fictional Enterprise. Read more from the article here. Photographs are by Yu Tsai.
Follow The Man Crush Blog on Twitter | Facebook | Tumblr
Click on thumbnails to view larger images.