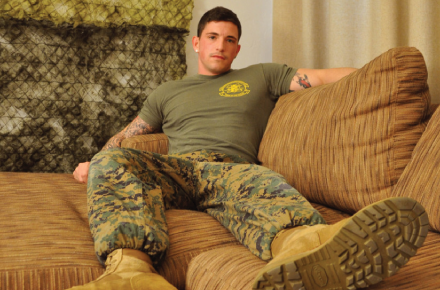 I know I'm not the only one who gets a little turned on by hot military men. You may (or may not) be familiar with the All-American Heroes studio that features "real" cops, marines,firemen and other service men. Here's a hot pick from their collection of hot studs–Sergeant Slate. Slate is a U.S. Marine that served 8 years, including doing some time in Afghanistan. After swapping a few stories about combat, Slate takes off his shirt to reveal his massive, tatted, guns and soon afterward unleashes his own artillery from his cammo pants. Slate is one hunk of meat who could come and get down in my trenches anytime. Some of the images in today's gallery is NSFW and intended for those 18 years or older. 
Follow The Man Crush Blog on Twitter | Facebook | Tumblr
Click on thumbnails to view larger images.