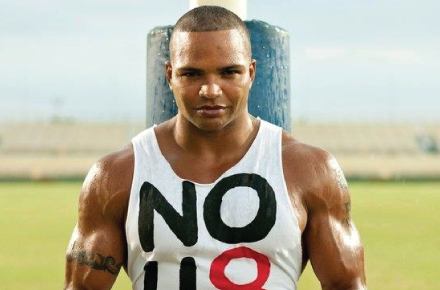 Today's a double-header on The Man Crush Blog! I know, consider what today is, it's the wrong sports reference but bear with me. With it being Super Bowl Sunday it's only fitting that we have a Super Bowl-sized crush, right? Being a bit of stereotypical gay I can say I'm a bit clueless when it comes to footballs. You tell me the Ravens are playing, I think, "Wow, why haven't I heard about this That's So Raven special and why is everyone so excited about it?" Well, turns out the Ravens is a football team! Oh! That means it has a slew of men to look at. As I perused (SAT word, 900 points for me) the team's roster looking for hotties I paused at this one–Brendon Ayanbadejo. Brendon has been in the news lately speaking out in support of gay marriage and shows that we gays have quite some hot straight advocates on our side. This man has some muscles on him! And that smile? And the pierced nipple? Yes, sir. You can follow Brendon on Twitter @brendon310.
And guys, I'm fair! Check out my pick for San Francisco 49ers' Colin Kaepernick coming up later this morning.
Follow The Man Crush Blog on Twitter | Facebook | Tumblr
Click on thumbnails to view larger images.