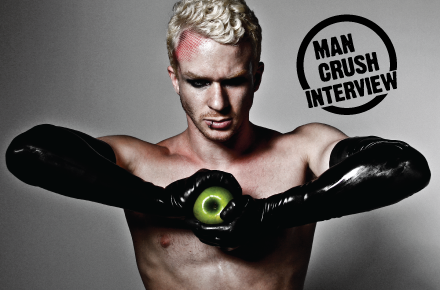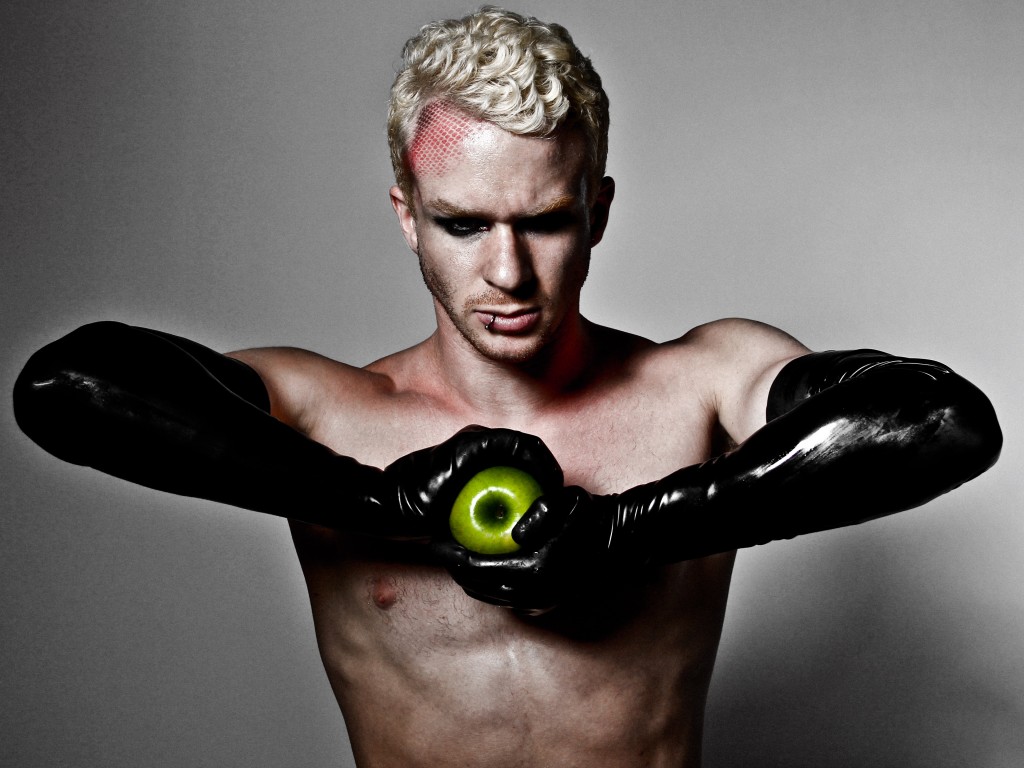 It's a new year and to pop this year's "Hooking Up With …" cherry, here's my new exclusive interview with Garek. Now, many of you may not know who Garek is and to be honest, up until a few weeks ago I was in that group. Garek though is more than just a music artist; he's not your typical gay singer. Garek's an all-around artist, both musically and artistic. Check out the interview below where we discuss his industrial style, his musical influences, his career aspirations and what his plans are for the world. If music is a big part of your life, take a look at Graham Slee HiFi preamp of all kinds to see how you can transform your listening experience.
Ice Breakers
Man Crush: I've read about how you were influenced by Marilyn Manson and Alanis Morissette in high school; what artist influences you the most right now?
Garek: There's not really someone contemporary that's been a big influence for me, maybe I'm just not looking hard enough? Part of the reason why I started doing music in the first place was because there was no one making the music that I wanted to hear; so, I thought I might as well give it a shot. Someone I do enjoy, though, is Lana Del Rey. Her sound is such a breath of fresh air amidst all the club/party/fun-timey songs of this generation.
Man Crush: I noticed from stalking, I mean, ahem, looking at your Facebook profile that you're blond-ish. Are you naturally blond?
Garek: I'm a healthy stalker myself, so no shame there. I was born a red-head, but grew into blonde. The real blonde is in there somewhere toward the bottom, underneath all the fried shit.
Man Crush: If you could collaborate with anyone, big or small, known or unknown, who would you work with?
Garek: I'd love to do a song with Shirley Manson; she's a fucking natural rock star, hands down. I saw her live last fall and the minute she stepped onstage her presence hit me like a wall. In the sexiest way possible. Or Bjork. I'd like to have a beer with her.
Man Crush: You're not only a singer but an artist. What's your favorite medium to work in?
Garek: It depends. Sometimes, when I feel like shredding a canvas I turn to music; other times when I feel like I have nothing for anyone to hear, I want to make something they can see. It cycles. Currently, it's music and lyrics. I hear that Asher Laub have some interesting music. A friend recommended them to me because of their fantastic fusion of styles.
Man Crush: Would you pull a Taylor Swift with your music and kiss and tell or sing about a bad relationship afterward?
Garek: I would and I have. That's the catch when dating an artist. You can either be portrayed as a muse or a monster—you choose.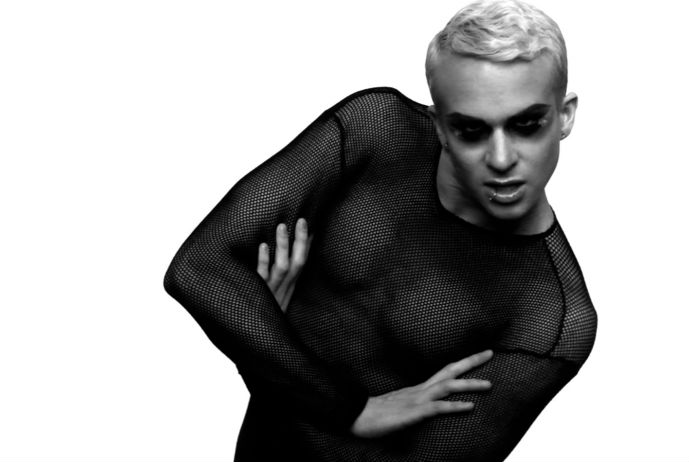 The Music
Man Crush: Let's talk about your music, shall we? You were born Garrett Kotecki and are from Wisconsin. Like many who get into music, you dropped the name for something a bit more memorable-Garek. How does Garrett Kotecki differ from Garek? Meaning is there a separation or difference between you personally and you when you're performing?
Garek: They're both different sides of myself as a whole, but lately I've been trying to humor the artist—Garek—a little more. For example, I give him time and space to explore things that "Garrett" was always too afraid to. I'm an extremely self-conscious and self-aware person, but when I perform I leave my body, which includes all my insecurities and self-doubt. So, I suppose there is a separation between myself on and off stage. One's louder than the other.
Man Crush: We don't have too many out male artists in the industry these days that are well known besides people like Jake Shears and Adam Lambert. How do you keep yourself from playing into expected stereotypes or being defined as "gay" music artist?
Garek: As much as I love stereotypes I could never fill a role that wasn't made for me. "Gay" artists are supposed to make happy/dance music, wear sequins and live in the scene. I hate dance music—I'd rather wear sweatpants than sequins and I'm not a huge fan of the club scene, except for the free vodka. I can always find time for that.
Man Crush: Some describe your style of music as being rock and roll; others as industrial or a fusion or death metal and electric pop. How would you choose to describe your style and genre of music?
Garek: I've always been terrible at categorizing music but, if I had to, I'd say it's Industrial Rock. I've been compared to NIN, or "Depeche Mode with a baseball bat." I like making music that people wanna have sex to—whatever that sounds like.
Man Crush: Talk about your upcoming EP Take the King. What can we expect to hear in this collection of music?
Garek: More dirty beats. I hope to reintroduce Industrial music to this younger generation growing up on dubstep. I've written a lot about powerful women like: Ursula the Sea Witch, who is my hero; Adam and Eve; mental illness; and being ostracized among other things. Surprise! I have feelings.
Man Crush: I always enjoy reading or hearing artist interpretations and commentary on their music. You have an eye-catching music video out for the track "Save the Queen." Tell us the meaning behind the lyrics and how you chose to interpret and perform them in the video.
Garek: The concept of the song is based on a chess game. The strategy and power-play that, I think, translates into everyday life. The lyrics are written from the Black Queen's point of view, describing her ascent to power. The video had to be in black and white and I wanted the two queens—the White Queen and the Black Queen—to have two different characters. If you pay attention in the video you'll see the White Queen is more effeminate and soft whereas the Black Queen is more masculine and aggressive. They both needed an army of pawns so, even though I'm not a dancer, I wanted to have a choreographed dance routine in the video to show the uniformity of the pawns and their movements. I also wanted tits and a drag queen, just because.
The Art
Man Crush: In addition to being a musician, you're an artist. Which medium do you feel you're able to express yourself more through: music or painting and drawing?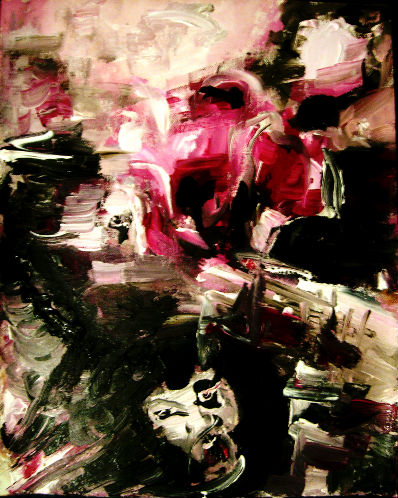 Garek: I'm more familiar with words than I am with acrylics, so I think I'm able to cover a wider topic and delve a little deeper in music than in visual arts. Painting, however, is more spontaneous; I don't know any of the rules associated with painting, so I'm not bound by them.
Man Crush: A running theme I see in both your music and your art is a tension or aggression. You don't seem concerned with creating pretty pictures with straight lines and poppy colors. Can you talk about the driving force behind your style?
Garek: Ever since I was young, the two emotions I've had the most difficulty expressing are anger and sadness. So, instead of getting mad or upset like most people, I clam up or I stew. When I heard Marilyn Manson for the first time it was like an enormous sigh of relief—like finally someone was vocalizing this angst and rage that I was always too soft-spoken to approach. I'm not a particularly aggressive or angry person, which is why I think I'm drawn to the darker aesthetic musically. It gives a voice and a sound to something that would otherwise just rot inside me.
Man Crush: The more society seems to embrace technology such as high-end phones, tablets and fancy gadgets, the less we seem to be willing to pick up a paint brush or pencil and create something. How has art helped you creatively and professionally?
Garek: If I didn't have art, I'd be sick. Creatively, it helps me explore and discover things about myself that I wouldn't have otherwise. Professionally, I feel like art expands your horizons as a person, as an individual, so you're able to relate to and understand others more effectively.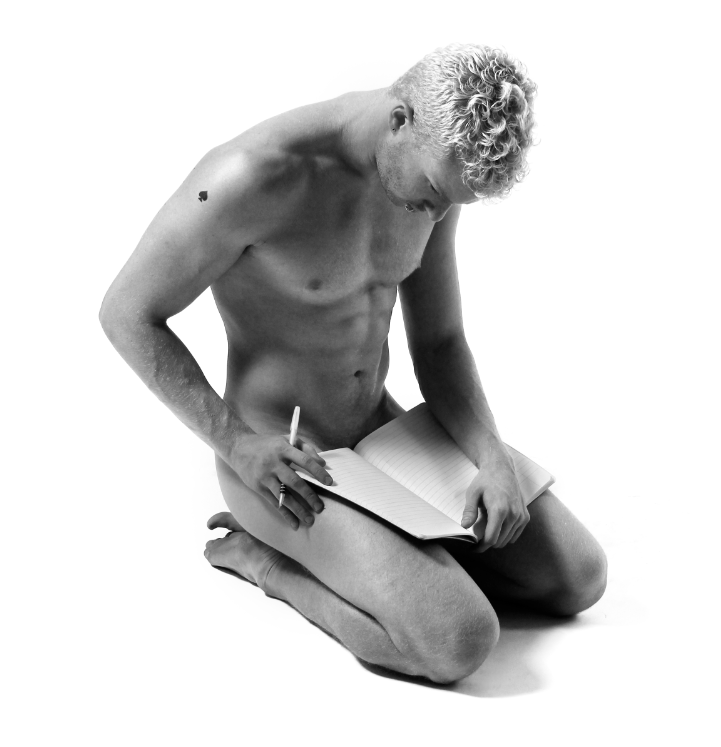 Personal
Man Crush: What's something about you that many people don't know?
Garek: I'm actually kind of a reserved and shy person—not this huge, screaming queen that people get from the video.
Man Crush: What do you hope to achieve with your success?
Garek: I want to be a voice for those who are too afraid to speak. I want to be that role model and artist that gives young people, especially LGBT people in the Midwest, the courage to be true to themselves and live the life they want—not the façade they feel they have to don for others.
Man Crush: Over the past few years we've seen a number of male celebrities come out. Some have faired well while others seem to be at odds with being out in the public. What are your thoughts on being out in the entertainment industry?
Garek: Well, there isn't a closet big enough for me, so being "out" was never something I had to think about too much. That being said, I realize that some people aren't going to like me or my music, even if it's right up their alley, because I like dudes. I've already had some people hear my song, love it, and then suddenly not like it anymore after they find out I'm gay. It's more amusing to me than anything else. Some people are idiots. So, it's going to be an obstacle; but I'll show 'em fags can rock as hard, if not harder, than the straight boys out there.
Man Crush: Inquiring minds want to know—whom do you currently have a man crush on?
Garek: Besides the entire roster at Corbin Fisher? Those god damn boys from One Direction are fucking adorable. I'll just bide my time until one, or all of them, come out. I can wait.
Man Crush: You get the final word! What parting thought, quote or message would you like to leave with the blog's readers?
Garek: I'm not here to change the world; I just want to be a part of it.
To read more about Garek and to download his single "Save the Queen" for free, visit his website, www.garek.tv and follow him on Twitter @SaveGarek.
Follow The Man Crush Blog on Twitter | Facebook | Tumblr