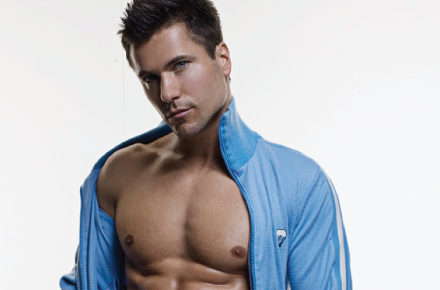 So! Eight years ago there was a rather well-known man on the porn scene, Lukas Ridgeston. Lukas was outrageously hung and good looking  and then suddenly he just disappeared from the scene. Well, fast forward to late 2012, Lukas appeared in DNA magazine in a shoot handled by famed photographer Lukas Ridgeston. Lukas looks even more fit, ripped and hot in these new photos. Here we are in 2013 and it marks Bel Ami's 20th anniversary and guess what … yep, Lukas Ridgeston will be returning to the porn scene to take part! Now, eight years ago we were in the pre-smartphone era and the Internet was a far different place so I can't say I even knew of Lukas before last week but now that I've, ahem, researched and studied his work a bit I can say I'm all for him making a comeback and hope his Bel Ami scene is just the start of something bigger. Some of the images in today's gallery are NSFW and intended for those 18 years or older. 
Follow The Man Crush Blog on Twitter | Facebook | Tumblr
Click on thumbnails to view larger images.