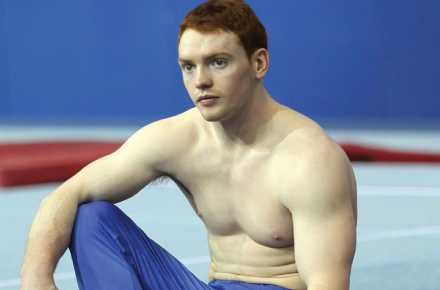 Can we all just agree that the greatest event of the year that brought us all together were the 2012 Olympics? I mean, it's the only time I think I've ever found myself rushing home to watch a sports event. Not so much for the actual sports or games being played but for a view of the latest hot jocks and athletes from around the world. We all enjoyed watching male gymnastics and while I've been fixated on the U.S. Male Gymnastics team, other countries had equally hot men. Take for instance the U.K.'s Daniel Purvis. Daniel was born in Liverpool, England in 1990. At the 2012 London Olympics he competed in the all around competition and won bronze along with his teammates. A tight, muscular body and that stark ginger hair? Oh Mr. Purvis, you sexy, athletic, flexible little devil, you! You can follow Daniel on Twitter @PurvisDanny.
Follow The Man Crush Blog on Twitter | Facebook | Google+ | Tumblr
Click on thumbnails to view larger images.