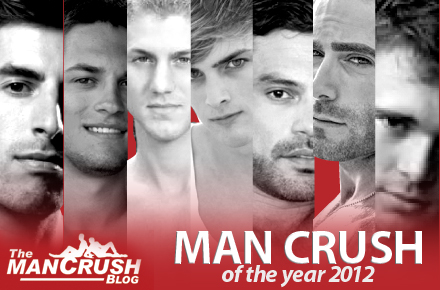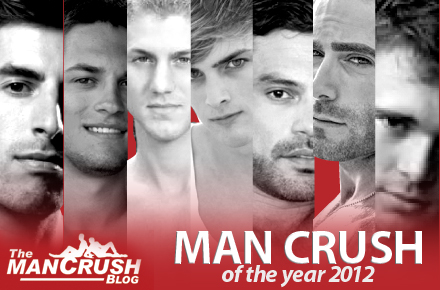 You all really turned out and voted in the first of Man Crush of the Year, helping Andrew Christian model and activist  Colby Melvin secure his place in the final round taking place next week. Now it's time to choose who he'll be going up against! While last week's groups were all models, this week's selection will offer up some rather stiff competition. You'll be voting for your favorite porn and adult entertainment male featured on the blog this year.
This week the seven crushes up for your vote are all from the adult entertainment industry. There's Randy Blue model Adam Rexx whose interview has lured thousands to the blog ever since it was posted (see his post here), then there's fellow Randy Blue model Andrew Jakk whose muscular frame and slightly hair body has gotten many excited over the past year (see his post here). If Southern studs are more your thing then you may be one of the couple thousand that have checked out Southern Strokes' Toby Hart (see his post here). Lean, ripped, blue-eyed blond Bel Ami model Mick Lovell (see his post here) is hard to resist as his Fratmen's Jayden (see his post here). Then there are the two porn heavyweights that've dominated 2012, Rogan Richards (see his post here) and hot, buff Jake Genesis (see his post here). This will literally be stiff competition!
Here's how it works: This week you will have the chance to vote between 7 men, all of them having attracted a couple thousand views each over the course of 2012. You get one (1) vote this round so choose wisely! During the week of December 17, you will have your chance to vote for Colby Melvin and the winner of this week's round of voting, leading to one hot man being crowned the Man Crush of the Year for 2012. The winner of this competition will get a free, prominent banner ad for a year on this blog that will link to his website and constant promotion by The Man Crush Blogthroughout 2013.
Voting for round two ends Sunday, December 16 at 11:59pm EST.

[poll id="12″]
Follow The Man Crush Blog on Twitter | Facebook | Google+ | Tumblr