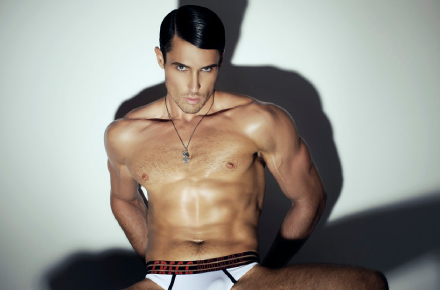 Gregg Homme is roaring back to the blog with a new video and photos to introduce its Fall/Winter 2012-2013 line. Gregg Homme is known for pushing the envelope with inventive, sexy underwear and its new collection is no different. In  a press release the company writes, "Electrify. Magnetize. Daring. Shocking. Sexy. CHARGED! Like nothing you've ever seen before, Gregg Homme strives to reinvent "Outrageous Underwear" with the launch of ever new collection by looking forward to the future and predicting what it will entail. This is how Gregg Homme continues to stay on the cutting edge of fashion." The new video "Charged" features an original track produced by London's Nathan Stornetta and the video and photos feature Canadian porn star Adrian Long from Quebec. Prepare yourself for an arousing, sexy experience as you indulge in Gregg Homme's latest creations.
You can check out Gregg Homme's website www.gregghomme.com for more information and photos, like its Facebook page or follow on Twitter @GreggHomme.
Follow The Man Crush Blog on Twitter | Facebook | Google+ | Tumblr
Click on thumbnails to view larger images.