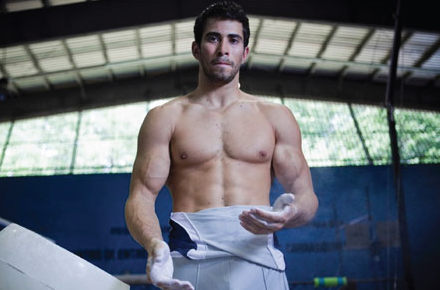 Most of last year I seemed to have a bit of an obsession with rugby players. This year? Male gymnasts, thanks to the 2012 olympics. One Crush reader must have realized this because they dropped me a little note on Tumblr to take a look at Puerto Rican gymnast Tommy Ramos and I did just that and felt quite infatuated right away. As Kylie would sing, it was love at first! The muscles, the athleticism … the little questions of, "Can he do some of those flips and twirls in bed?" Yes, Tommy is definitely crush-worthy. You can follow Tommy on Twitter @TommyRamos_pur.
Follow The Man Crush Blog on Twitter | Facebook | Google+ | Tumblr
Click on thumbnails to view larger images.