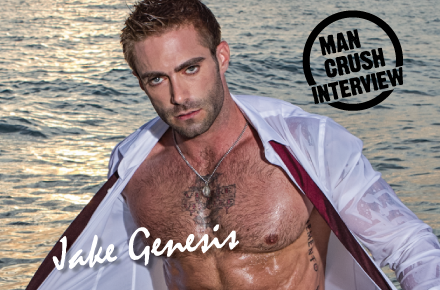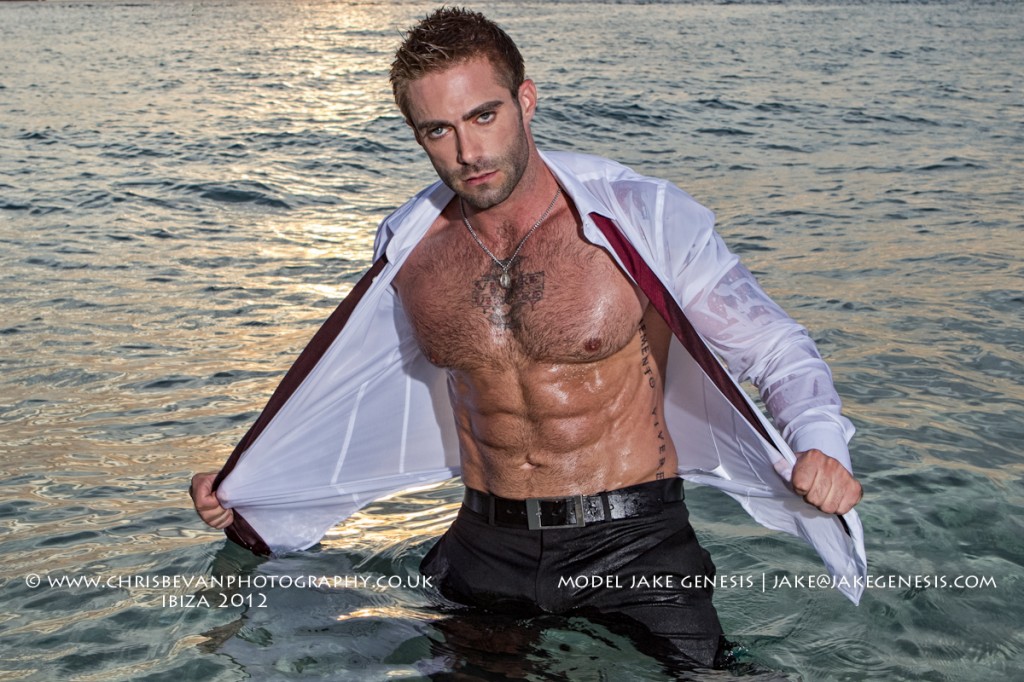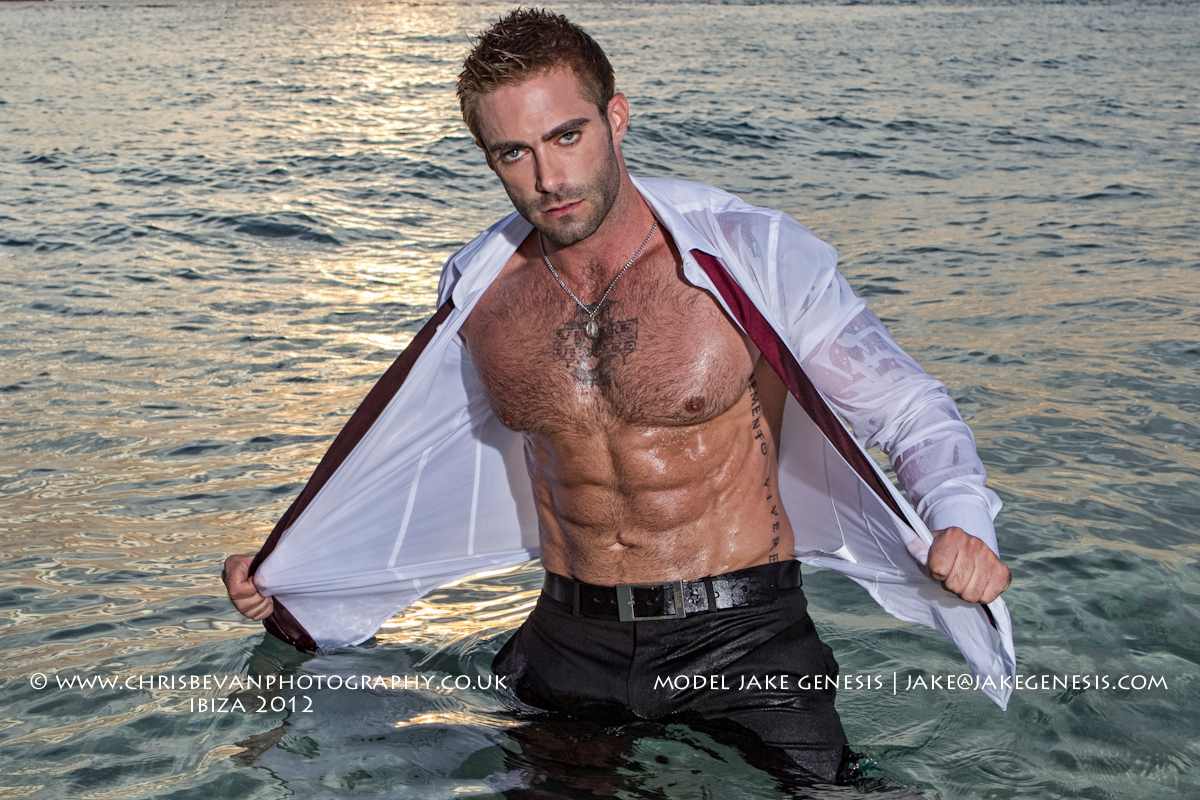 Earlier this week I posted the first part of my interview with porn model Jake Genesis. We honestly discussed so much that I decided to split our interview into two parts. Read below to find out how Jake keeps in shape, his views on sexuality and religion and a look at who he is outside of his work with adult film studios such as hd tube movies xxx. If you missed the first part of the interview, read it here. Photos courtesy of photographer Chris Bevan.
The Body
Man Crush: What I love about you is your body. You have an awesome muscular build and you don't appear to manscape yourself to the point of being smooth and hairless like many do. You are also so well hung. How do you maintain your body? Is it more fitness or nutrition?
Jake Genesis: Thank you! I work out twice a day usually. Cardio and abs in the morning on an empty stomach and I lift in the afternoon. I don't eat carbs after breakfast. I like working out but my diet kills me. My favorite food groups are pastries and chocolate. When I give myself a free day, do not come between me and anything sweet! As for my penis, it's always been naturally quite big so I guess I'm lucky. For those who aren't, I recently heard about Penis Extenders which you can use to give yourself an extra few inches. Maybe I'll try them anyway!
You're right-I do very little hair removal. Both Kristen Bjorn and Men at Play forbade me from shaving or waxing. I give myself a little trim but that's it. I like myself better without hair but people seem to respond well to the way I am naturally. So, I'm grateful to save myself the trouble of waxing and I consider it part of the 'what you see it what you get' image that I have.
Man Crush: We all have one body part that we truly dread having to train. What would that body part or muscle group be for you and how do you motivate yourself to get through working it out?
Jake Genesis: I like to train everything. I'll tell you what I do hate though is cardio. For me it is like 20-40 minutes of sheer torture in the morning. I motivate myself to get through it by thinking about the horror of losing my abs. The horror!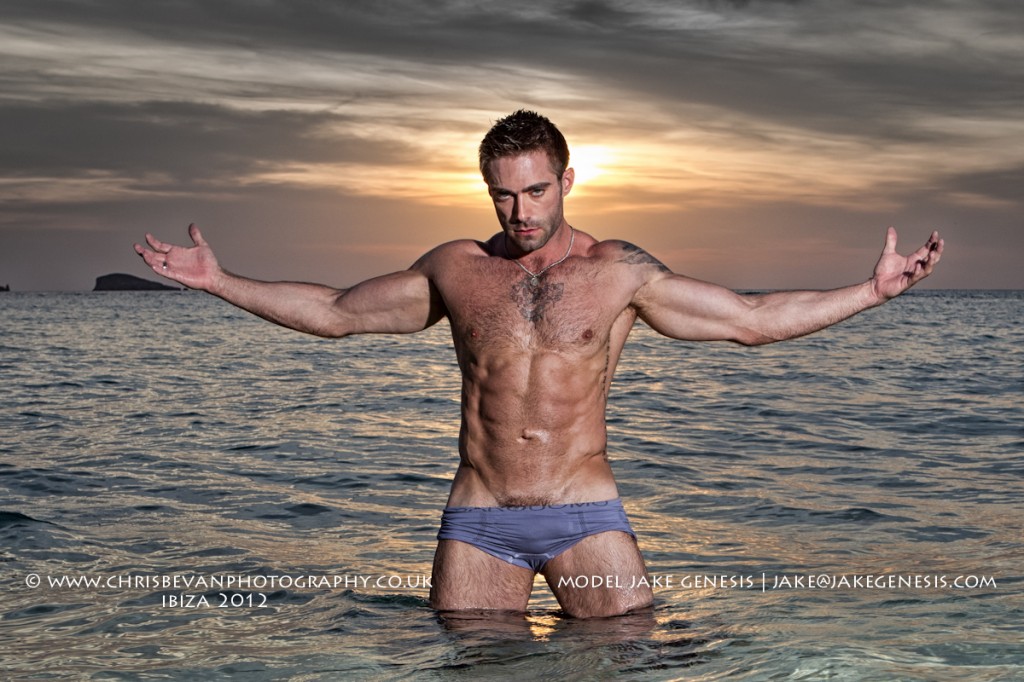 Man Crush: Let's say someone wants to build an awesome torso like yours. Choose three exercises that will target the chest, shoulders and abs to give them a "Jake Genesis" body.
Jake Genesis: Three exercises that hit everything? Hmm. I'll take you back to my police academy days and will say if you can only do three: deep push-ups, pull ups, and leg raises.
Man Crush: Your body and fitness has always been important to your career, both as a police officer and as an adult entertainer. Someone like me looks at you and exclaims, "Perfection!" What do you think when you look at your body?
Jake Genesis: I'm a perfectionist so I see myself as far from perfect. I look at myself and I see a body that is above average but still has a great deal of room for improvement. I like the challenge of never being satisfied because I am constantly driven to work to improve everything.
Man Crush: Bestow some fitness wisdom upon us. What's your one piece of fitness advice you can offer the readers as they set out to get "crush" worthy bodies.
Jake Genesis: I'm not particularly attracted to muscular guys. It's fine but doesn't turn me on. I am indifferent. I like a boy with a six pack but on the scale of importance, it is pretty low. My advice is to work on improving the body that you already have. It drives me crazy when I meet a boy with a beautiful slim and cut body who is obsessed with being 'big.' My advice is build your body, not the body that you think other people expect you to have.
Getting Personal
Man Crush: One thing that many seem to have split opinions on in regards to your last big interview was your statement implying your partially bisexual. You said you were gay, 90 percent gay but that you have sex with girls occasionally. This one statement really seemed to get some riled up. Do you believe it's because gay men sort of want you all to themselves or because people aren't comfortable sexuality being so fluid and undefined?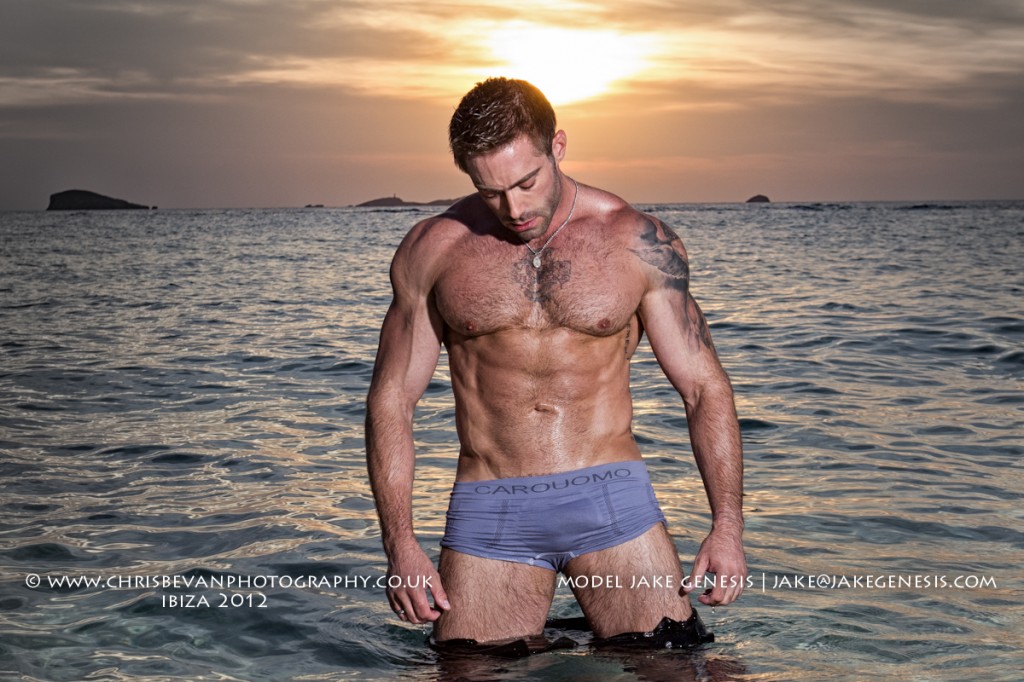 Jake Genesis: I am gay. I don't define myself as bisexual. However, we have known for a long time thanks to Alfred Kinsey that for most people sexual attraction exists on a scale. I have the ability, and do on occasion, to have sex with a girl or a male and female couple. It doesn't make me straight. It doesn't make me bi. It doesn't make me gay for pay. In my adult life, 100% of my relationships have been with men and a very small percentage of sexual encounters have been with women. I think people like to have things tied up neatly and categorized. That is part of human nature. Many gay men have had sexual encounters with women which they completely stop when they come out and we're more comfortable with that. My reality is that if I feel like having sex with someone, I will. I feel at my most natural, most true to myself, with guys. That is not to say that every once in a while a girl doesn't slip through the cracks. I think people in other countries have a more fluid view of sexuality than those in the U.S. I am unapologetic for this but I promise to take a shower after.
Man Crush: You spent some time studying to be a Catholic priest. Now, I go to church just about every Sunday and am kind of known for tweeting during services about my observations, some which are a bit humorous. Still, I'm spiritual and religion factors into my life. People have this feeling that there's little to no room for homosexuals in a religious setting. How do you feel about religion and its impact on your sexuality?
Jake Genesis: I know a lot of Catholic priests and out of the dozens that I know, I can only think of two straight guys. The Church is run by gays and closet gays so it makes the Church's official stance on homosexuality confusing and hypocritical, even for them. I try to live my life by an ethical code but the ethics by which I live have little to do with Christian morality: where there is overlap, it is by sheer coincidence.
I do not believe in sin and I do not believe in hell. I do believe in right and wrong though. My relationship to religion and to Roman Catholicism in particular is a complex blend of nostalgia: mystery; a deep appreciation for the beauty in art, music; and liturgy-all of those are things that the Church has given to us. I can't, in good conscience, say that I believe what the Church believes but that is why I am not a priest: I don't believe homosexuality is wrong, I am pro-choice, and I reserve judgment on most of the myths the Church holds to be true. I can say that I feel what the Church feels: I feel peace when I smell incense and hear Gregorian Chant and in the silence of old cathedrals; I wear a Mary medal all the time because I like her better than anyone else we talk about.
Man Crush: This is my Oprah question! I've been hung up on it since she asked this question to Rihanna on an episode of Next Chapter so indulge me. Jake Genesis, who are you? It's a simple question that can be interpreted and answered in various ways so I'm curious how you'll choose to answer this question.
Jake Genesis: I'm a real person. I'm not a character from a movie or an actor in a scene. I am neither super human nor sub-human. I am a man with feelings and desires and ambitions and faults like any man. I am smart and I try to be kind. I am both a simple country boy who grew up poor in the mountains of Idaho that still calls people sir and ma'am and a well-traveled, multilingual, university-educated professional. I am neither a saint nor a slut but I am a little bit of both. I am a Catholic and an agnostic. I am someone's son and brother and best friend. I am what I write and what I say and what I do but I am not only those things. Who I am is becoming and always unfolding.
Man Crush: Do you think the whole premise of what you're doing with porn-the intimacy, the feelings acted out, the sex, the connection-is in some way serving as a substitute for a real relationship with another person? If you found yourself romanced and swept off your feet by a guy, would your involvement in porn change in any way?
Jake Genesis: One of the reasons that I started doing porn was because I was tired of trying so hard in my relationships that never seemed to work out. Porn for me is an intentional break from dating. Whilst there's nothing wrong with using sites like cammiesonthefloor.com to find dating options, for me I was getting frantic about it. Porn is certainly a good substitute for the time I would spend dating but would be a very poor substitute for the intimacy I look for in a relationship. I was never naive enough to think that doing porn could be an adequate substitute for a committed relationship. It does however keep me busy and limit my opportunities for dating, which, for the moment, is exactly what I want.
If some man is strong enough to break through all of this then he'd have me one hundred percent. I'd take a break from porn to see where it was going to go and leave it altogether if I genuinely thought it was going to work out. I'd even invest in sex toys for long distance if they happened to be a long way away. If you're interested, here's a website where you can get more information on the latest sex toys.
Man Crush: Do you contemplate your exit plan from porn? Some have a defined idea and plan for when and how they'll take their final bow while others stay in the game without any indication that they will be leaving the industry anytime soon.
Jake Genesis: I won't have the relationship I want while I'm doing porn and if I'm lucky enough to have some boy sweep me off my feet for real, I'd leave the industry or take a break at least, to see where it went. I am a hopeless romantic so I think that given the choice between love and anything else, you can never go wrong choosing love.
If dreams don't come true, I think I will eventually set a deadline but right now I am playing it by ear. For now, I plan to follow this wherever it goes.
Man Crush: You've got some experience under your belt now. What's your advice to those guys considering porn as career option?
Jake Genesis: I think guys have to carefully consider the doors they could potentially be closing by doing porn. I had my professional career and I went as far in the police department as I wanted to go so I won't be knocking on any doors anytime soon looking for a public sector job. Fucking on camera is something you can never take back so the consequences and benefits have to be carefully weighed. It's been and continues to be an amazing experience but I did it at the right time for me.
Man Crush: You get the last word. What parting thought, idea or news would you like to leave with the The Man Crush Blog's readers?
Jake Genesis: I'm grateful to anyone who made it this far in the interview. [laughs] When you're ready for another dose of me you can get it at JakeGenesis.com, on Twitter @jakegenesis, and Facebook.com/jakegenesisx. The next two months are going to be crazy filming here in the US. I hope to be online a lot with updates and behind-the-scenes stories. Whether you love me, hate me, or are indifferent I'm glad you took the time to learn a little more about me. Let's see where I go from here.
Follow The Man Crush Blog on Twitter | Facebook | Google+ | Tumblr