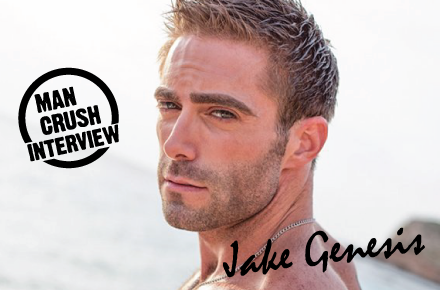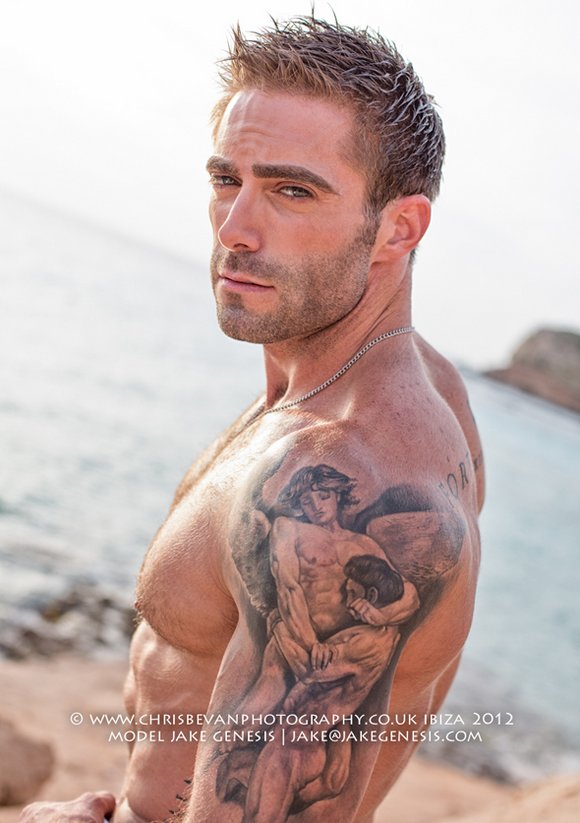 Jake Genesis–He's one of the porn industry's rising stars. Handsome, muscular, alluring, sexual; Jake is all these things but there's much more to him than what can be observed by the naked eye and in his scenes online. Behind the porn performer, that might be seen on websites similar to hdpornt, is a complex human being: a bit religious, thoughtful, opinionated and at times controversial. I had the chance to speak to Jake in what's one of the most revealing and thought provoking interview to date. Check out the first part of my interview with Jake where we discussed everything from how he got into porn, his rising star and provocative view of opinions and blogs. Photos courtesy of photographer Chris Bevan.
Ice Breakers
Man Crush: Let's fire off some random questions to get things going. I notice you have some tattoos. Which one is your favorite and what does it mean to you?
Jake Genesis: I waited until I was 31 to start getting tattoos. They all mean something very special to me. My favorite at the moment is 'Jacob wrestling with the Angel' on my left shoulder. It is a nearly exact replica of an 1876 piece by Leon Bonnat. The angel is a beautiful curly haired boy with an angelic face and a lean, cut, muscular body. The two figures are embracing. I'm not totally convinced they are fighting. Regardless, it's a hot image. My birth name is Jacob so I've always loved the biblical stories about my name's sake. For me the tattoo represents the struggle against adversity, the beauty, even sacredness, of homosexual contact, and that it is sometimes difficult to tell the difference between a wrestling match and a loving embrace.
Man Crush: Since you've gotten involved in the porn industry, what's one misconception that you had coming in that's been changed through personal experience?
Jake Genesis: I never knew it was so much work to make a scene. Even a really hot scene with tons of real chemistry can be exhausting.
Man Crush: How do you prepare for a scene?
Jake Genesis: Ideally with a quick workout, a light meal with some slow digesting carbohydrates, and a shower. I have been expressly forbidden from shaving or waxing my body hair by everyone that I've filmed with so that one is out. I trim the hair on my stomach and do a little manscaping. I don't memorize lines even if I have them in advance. I do like to see pics of my scene partners before I film for websites similar to watch my girlfriend xxx. I've become pretty relaxed with the whole process.
Man Crush: I know you used to be a police officer. Do you have any stories about people coming onto you in an attempt to get out of a ticket or some other offense?
Jake Genesis: I am famously oblivious to people coming on to me so it might have happened when I didn't notice. I was pretty much a ston- faced cop and I didn't work in a nice neighborhood so there wasn't a lot of opportunity for that type of thing. It may be of note that I got into trouble for sneaking into another district in the middle of the night to fuck my ex-boyfriend when I was supposed to be working. Other than that I kept my nose pretty clean.
Man Crush: If you could film a scene with anyone out there, regardless of their studio affiliation, who would your ideal scene partner be?
Jake Genesis: I hate this question because I have a short wishlist and I hate to narrow it down to just one. If I have to, this week it would be Ty Roderick who I think is super sexy. There are so many beautiful boys in the industry. I didn't watch much porn before I started working so I'm still discovering a lot of the guys. I guess when I'm watching sex free hd you could say I'm doing 'research.'
The Porn
Man Crush: This has been a rather big year for you. You sort of exploded onto the scene. I've seen you in Men At Play scenes, Kristen Bjorn, you briefly signed on as an exclusive to The Trophy Blog. You've been one of the top searches on The Man Crush Blog ever since your featured man crush of the day post a few weeks ago. In other words, you're kind of the "It" guy or Golden Boy of the porn industry right now. How are you handling all this attention? Are you finding a downside to being such a big deal or is all that glitters gold at the moment?
Jake Genesis: I'm surprised. I've been surprised since my first scene came out and my personal Facebook got taken over by fans. I don't think of myself as a porn star or even as much more than a slightly above average looking guy so the popularity and attention is totally unexpected. I am really grateful to each and every person who has friended me on Facebook, who follows me on Twitter, who has taken the time to visit JakeGenesis.com, who watches my scenes and who reads the numerous blog posts about me that seem to pop up all the time. I have really good people taking care of me too: Kristen Bjorn has been a great mentor to me and my manager John Teagan is amazing. I never forget who I am or where I come from and mostly, I do everything pretty much like I did before porn: gym, friends, and lots of reading and writing.
The downside … hmm. Sometimes I forget that I do porn. In Barcelona a few weeks ago this guy came up to me and said, 'I love your work!' I was thinking about something entirely different and literally had no idea that he was talking about my scenes. I was like, 'Uhm… thanks…' and gave him a weird look. The second he walked away, I figured out what he was talking about and I felt like a total ass. I'm getting used to the fact that almost everyone I know has seen, at least accidentally, my cock or ass, including my mom who innocently logged onto JakeGenesis.com. [laughs]
Man Crush: What lead you to get into porn? From what I've read of you, you have a rather classic idea and approach toward relationships and sex. You've said you don't hook up, you like a little romance, you're a sensitive guy. All of these characteristics seem to go against what one would get out of being involved in the adult entertainment industry.
Jake Genesis: I've said I don't hook up MUCH, not that I don't hook up at all! [laughs]. I am still a guy. I am a pretty traditional guy I guess. I like monogamy. I don't think that other types of relationships are wrong, just that they wouldn't be right for me. I'm a jealous guy and I'm a one guy guy. The quickest way for a boy to make me lose interest is to try to get in my pants right away. I like to go on dates, get to know someone's favorite color, you know, crazy stuff like that.
I had a string of failed relationships after leaving the police department and found myself sort of emotionally unavailable. That, coupled with no longer having to protect my professional reputation as a cop, opened the door to porn. I tried it very much as a social experiment without the intent to pursue it very far but— surprise, surprise—here we are. I'm getting ready to film with almost every major porn producer in the U.S. in the next few months.
Man Crush: More so than many, you seem to read other blogs and user comments about you. You had a bit of a tift with The Sword over some comments made about you. Many would tell you not to even pay attention to what people are saying about you. You're in demand, you're on top–as that SNL skit involving The View would say, "So what, who cares?" Why are you so concerned with what your fans and critics have to say about you?
Jake Genesis: I write a lot, I always have. It provides a way for me to express myself and gives people who are interested in knowing who I am an opportunity to get to know the real me. I wrote an editorial on Ethical Blogging that was inspired by some pretty shockingly negative comments that I read about some other models. If you run a blog, you are personally responsible for everything that gets posted on your blog. My site has a comments section and I refuse to publish negative comments about other actors or studios. In the words of my editorial, "The forum on my website will be a place for the positive exchange of thoughtful ideas not the irresponsible and thoughtless exchange of any idea." Some people appear to have been shocked or offended by the suggestion that bloggers are personally responsible for the content of their blogs and that comments should be moderated so that personal attacks don't get posted.
I support freedom of speech. That means someone can walk down the street with a sign that says, 'GOD HATES FAGS' and even though I think he's an ass, I'll defend his right to do that. However, I am not going to give him a marker and poster board to make the sign, nor would I let him stand on my front steps. He can take his free speech elsewhere because I think hateful language is unethical, I think comments that hurt people are unethical. When a blogger publishes a comment that is a personal attack, he's giving that person a pen, poster board, and a porch to stand on and that blogger is responsible for the hurt caused. I've been called all sorts of names for what I wrote but I see nothing wrong with wanting to live in a more positive and affirming world. It may be idealistic but people are at their best when they are affirming, kind, generous, and good and at their worst when they are not. Blogs have a lot of power and they should use it responsibly and ethically. That's my stand and I don't apologize for it. Before porn, I had a job where people tried to kill me with bullets and axes and spit on me and threw rock and bottles while I stood on a riot line. Call me what you want it won't kill me but I'll stand for what's right and I won't back down.
Man Crush: Ok, not to harp on this subject but I took a look at The Sword's site and perused the comments made about your Ethical Blogging piece. My degree and background is in journalism so, to be honest, I'm on the fence. I think we're dealing with two different issues. One is just the nature of the Internet. If it's done anything it's that it's turned everyone into an American Idol judge, meaning everyone has an opinion and they use the Internet as a forum to express that opinion, no matter how negative or positive it is. Then there is also the issue of comments. Some are constructive; some are just catty and serve no purpose than to just tear someone or something down.
That being said, as a journalist, which in some way all bloggers are, it's our duty to be unbiased and paint a full, complete picture. That means we have to report the good and the bad. We have to acknowledge the very wise and informed members of our society but also give the less informed their opportunity to get their opinion out there. I really don't have an issue with negative comments here on this blog but occasionally one does come through and I'm always debating whether or not to approve it. The negative comments sometimes spur constructive and thoughtful discussions and all positive comments at times paint a distorted picture.
This may be more of a commentary or conversation than it is a question but I'm curious as to when you feel it's acceptable to permit less than flattering comments and discussions to take place on blogs. If we're talking ethics, it's not very ethical to tell one group that their opinions matter and then turn to the other side and tell them that theirs are less important just because it rubs us the wrong way. Isn't that what conservatives attempt to say to liberals? Or closed-minded heterosexuals say to gays and lesbians? There's a lot of gray area in this debate that leaves me feeling a bit uncomfortable declaring bloggers and commentary need censoring and heavy moderation to create a happy, positive, affirming picture that can be rather misleading and incomplete in its representation and portrayal.´
Jake Genesis: When I wrote that editorial, this was exactly the type of conversation I wanted to start and even though it's earned me my share of criticism, I'm happy to have caused so many people to question, if only for a moment, the status quo. Thank you for helping to keep the conversation going.
I think I know what you´re getting at so, I'll respond some of your points. My dad always says, "Opinion are like assholes—everyone has one." I'll add, "… And some of them stink and are dirty because people didn´t take the time or care to clean out." Yeah, everyone has an opinion and some of them are not very nice. The difference between your average internet commentator and an American Idol judge is vast. American Idol judges have training and a background in music, either its promotion or its performance. I think very few of the blog commentators have training in video production and/or performance in the adult industry. Second is the hot button topic of anonymity. I saw one commentator who's screen name is JakeGenesisisaDouche. Now, his mom probably didn´t name him that. From behind the cloak of anonymity, we can say or do anything without taking responsibility for it. The American Idol judges have to sit there in front of America and take the hits for the things they say.
Regarding the duty of journalists/bloggers to paint a full and complete picture, this is true, to a certain extent. However, the questions, "Does publishing a comment that says, 'John Doe is ugly!' really add anything to the story? Does it really complete the picture?" I read the comments in blogs to get a complete picture and I take constructive, thoughtful criticism well. Getting a tan, wearing my religious medal, bottoming more, not shaving my body hair, doing a scene with dialogue totally in Spanishall of these acts or non-acts are the results, at least in part, of comments that I've read. I want to be the best that I can be at what I do. Some comments help me and other models to do that, other comments do not. It is not responsible journalism to feign the inability to distinguish constructive criticism from personal attack.
To compare blog comments like those that call porn stars washed up, say that they are ugly, or mechanical or whatever else they may say to the Gay Civil Rights Movement or the struggle of liberals against conservatives is comparing opposites. What distinguishes them? Consumers who make unconstructive comments on blogs aren't trying to build something, they aren't fighting for some principle they believe is right, they aren't helping the poor or the sick, they aren´t bravely taking a stand for civil or human rights to make the world a better place. They are, instead irresponsibly and anonymously attacking other human beings. Violence isn´t always physical or aggressive. Violence is also launching a personal attack on someone, it´s making the world hostile place instead of a more civil one.
Man Crush: I still say that's the nature of the beast when you're dealing with the Internet in modern times. Especially being involved in any profession where how successful you are is based upon superficial qualities like how you look and how much you turn someone on.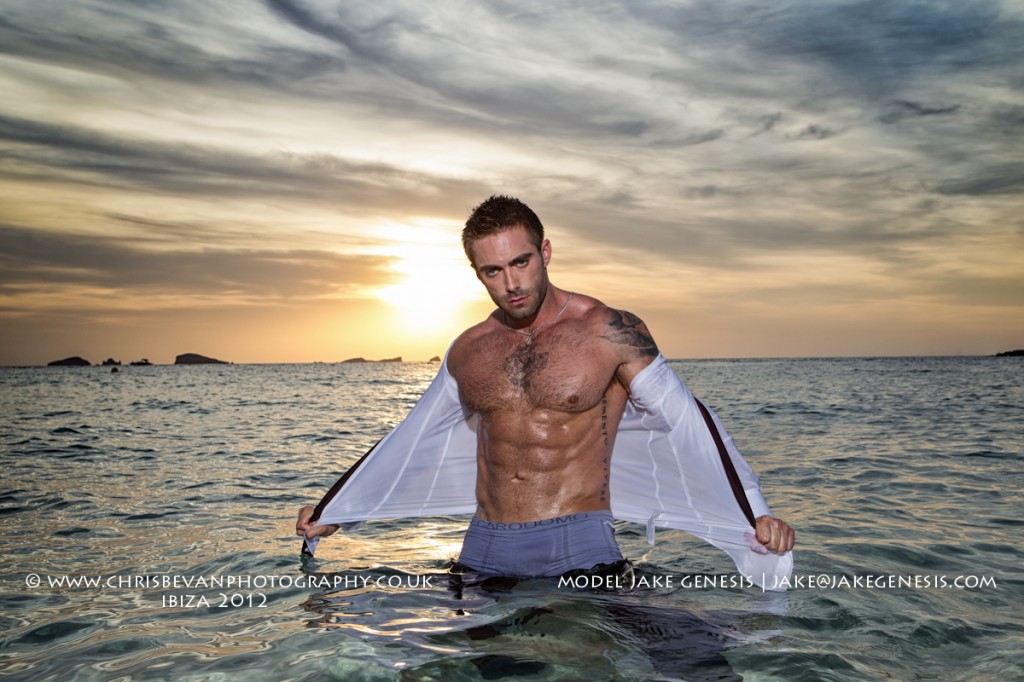 Jake Genesis: I am unapologetic for that and I am continually surprised by the shock that people express at the mere suggestion that we try to make the world a less violent place and that we begin with something so small as this. Call me a crybaby. Call me overly sensitive. Question whether or not I am in the right line of work. At the end of the day my conscience is clear because I've stood for what´s right.
The world isn't always rosy. It can be a negative place where people act to hurt others. It's not about being 'rubbed the wrong way.' It´s about calling into question the way we do things. I think people in the industry—porn stars, producers, and bloggers—have all come to accept that this is how it is. People are going to make crazy, mean, and nasty blog comments and there is nothing we can do about it. Those comments themselves, and being resigned to the idea that this is how is, devalues the contribution which blogs actually make to the porn industry.
Man Crush: You really seem to be carrying the torch for you and your fellow porn participants in this matter of porn performers and their viewers playing nice with one another.
Jake Genesis: As a newcomer in the industry I don't accept that we can't do better. I have a unique opportunity and responsibility to call this into question and people are talking about it now, and they are still talking about it. Every producer, agent, and porn star I have talked to says don´t read the blogs, don´t pay any attention to them. Half of the bloggers I've talked to say the same. People have given up. Sure, it might be this way. Why is it this way? Does it have to be this way? Can we make blogs a place for the positive exchange of constructive ideas? We can. Can we make blogs a place where consumers or fans and industry people meet to learn from one another? We can. It's up to bloggers to decide what kind of blog they want to run. We choose all participate daily in the ongoing creation of the world in which we live. The question is whether we want to participate by making the world a more positive and affirming place or more hostile and violent place. I've made my decision.
That brings me back to your main question. Why do I read the blogs and blog comments? I read them because I am an intrinsically curious person. I love to learn. I am also a perfectionist and no matter what I am doing, be it patrolling the street, or taking it up the ass on camera, I want to be the very best I can. Some critical comments are constructive. Someone told me I should get a tan early on in my porn career. I got a tan and I like the way I look on camera way more. I want to be the best I can. We can all be better at what we do.
Man Crush: Since we're on the subject of blogs, let's talk about you and your relationship with one in particular. You signed on as an exclusive to The Trophy Blog. What lead you to choose to sign on as an exclusive to this site when there are bigger studios with more prominence that would have been able to help increase your exposure more so than a blog could?
Jake Genesis: Let me clarify something. I ended my exclusive relationship with The Trophy Blog on August 23rd because I disagreed with a negative blog post they wrote and video they posted. It was hard to do because they have supported me from the very beginning.
I am not perfect. I've said negative and critical things certainly but to publicly post them is something entirely different. So I was forced to put my money where my mouth was and resign. My 'exclusivity' extended only to other blogs and not to studios. It gave me a fixed spot on The Trophy Blog in exchange for exclusive photographs, stories, editorials, and videos. Working with The Trophy Blog was overall a very good experience.
Man Crush: I get a sense that you're very loyal with how you speak of your relationship with The Trophy Blog. At the same time, I have to say that this exclusive deal that you were involved in seems … odd. I'm glad to learn you're no longer tied down to just one blog being able to promote you. No offense intended to those at The Trophy Blog but there are dozens of other blogs out there that could benefit from running some exclusive content from you and that can promote you and your endeavors just as well. Were you not concerned that you were limiting your exposure with this initial exclusive deal?
Jake Genesis: I'm grateful to everyone who has supported me to get to this point in my career in such a short time and The Trophy Blog was a huge part of that early support.
When I started porn in Europe, I didn't think much beyond the first couple of scenes that I did. I didn't expect that I would develop a fan base of amazing fans. I didn't expect that people would recognize me. I didn't expect that people would care what I had to say so much so that weeks later, we're still talking about. Men at Play and Kristen Bjorn did a remarkable job of promoting me, as did The Trophy Blog. If you will, they gave me my marker, my poster board, and let me stand on their porch to say what I wanted when very few people knew who I was and I am grateful for that. The short answer to your question is no, I wasn´t worried about limiting my exposure because I wasn't concerned about exposing myself. This all just kind of happened by accident and no one is more surprised by it than I am.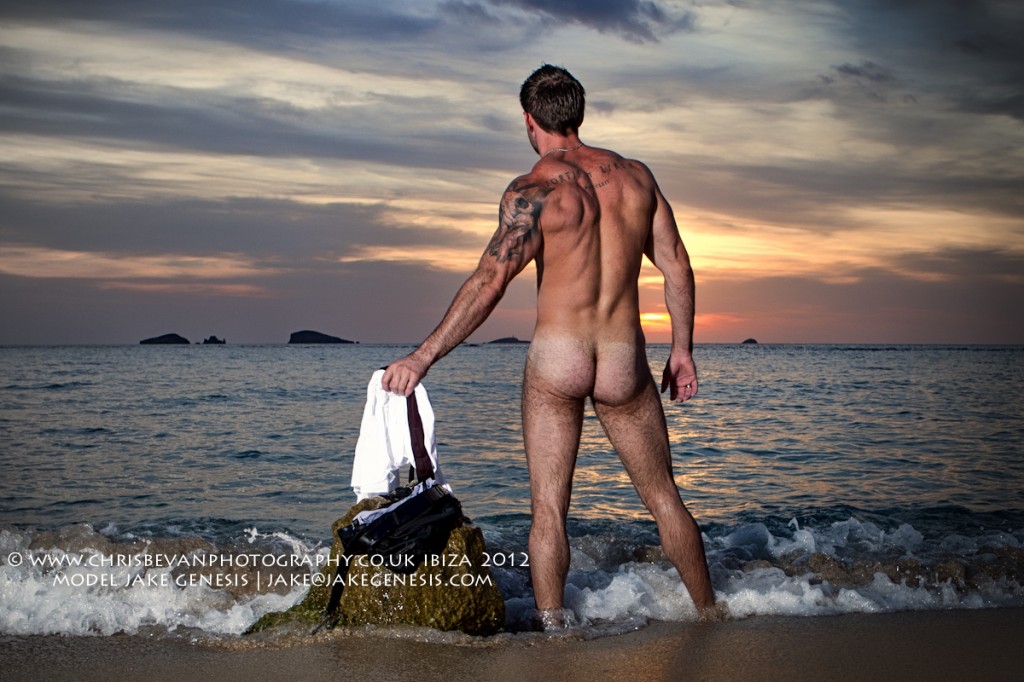 Part 2 of The Man Crush Blog's interview with Jake will be out this Friday. You can follow Jake on Twitter @JakeGenesis, on Facebook or visit his website jakegenesis.com for more information and pics. In case you missed it, check out his featured crush post here with tons of additional pics.
Follow The Man Crush Blog on Twitter | Facebook | Google+ | Tumblr