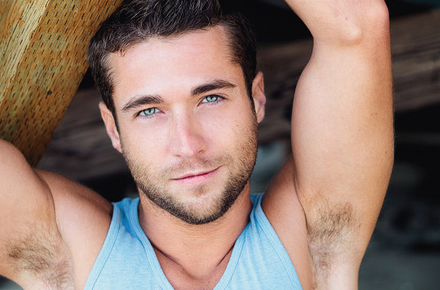 If you've been following The Man Crush Blog then you've likely seen this hot guy pop up in a few of the posts about Cover Male and Christian Underwear. It's model, go-go dancer Colby Melvin. Colby is from Breaux Bridge, LA but currently lives in West Hollywood, California. He considers himself a constant goofball and professes to loving the outdoors. He did an interview with The Underwear Expert where he revealed he's fine with showing his ass in photos and doesn't consider such photos as vulgar because everyone has a butt. On the flip side, he's not into full-frontal nudity but if you've seen his backside you'd be satisfied enough to leave the front to your imagination. You can find Colby on Twitter @colbymelvin, his ModelMayhem profile, or check out his Facebook page for more information and pics.
Pics in today's gallery include photos by Gabriel Gastelum and Patrick Mark. Check out The Man Crush Tumblr for a few additional images of Colby.
Follow The Man Crush Blog on Twitter | Facebook | Google+ | Tumblr
Click on thumbnails to view larger images.