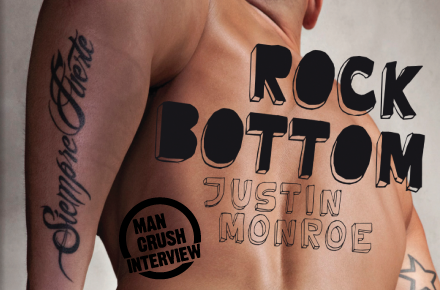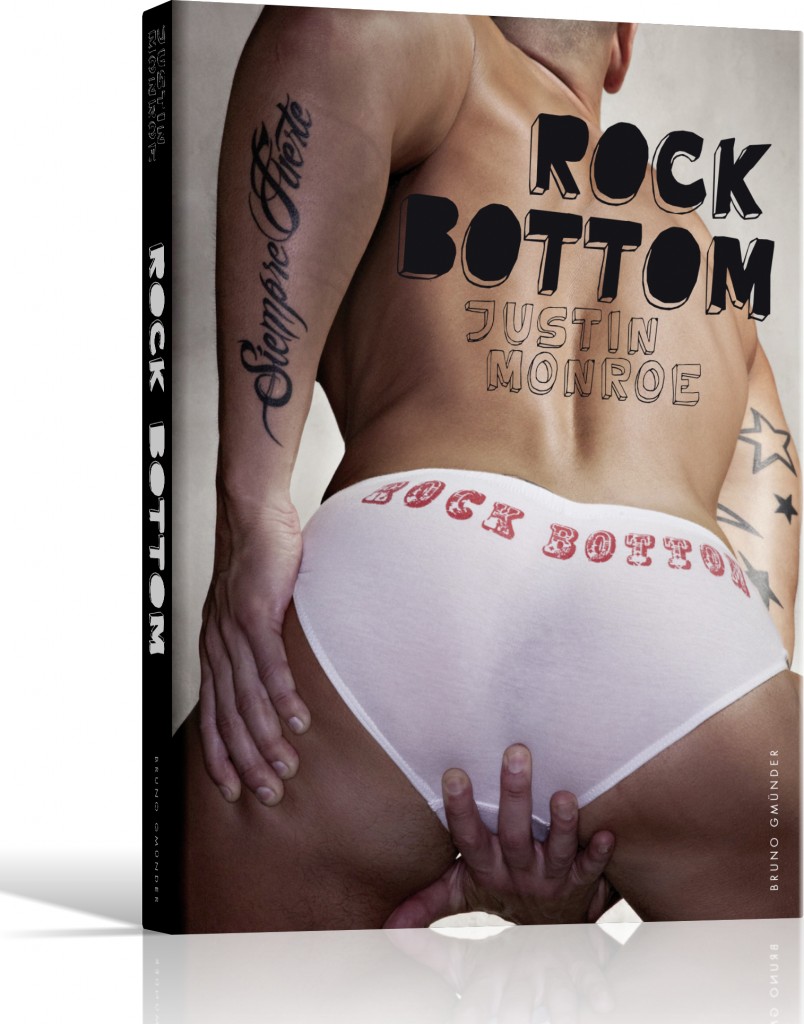 This past week I had the opportunity to interview photographer Justin Monroe. You've likely seen his work all over the Internet. He's known for his very bold, at times edgy and controversial pictures that both embraces and celebrates male (and female) sexuality. Often though photographers aren't given their due credit or moment in the spotlight so with this interview we not only discussed Justin's upcoming book Rock Bottom but his career, his art and his take on how the changing digital world has impacted how photographers make a living from taking photos. Enjoy this exclusive interview and these exclusive photos from the book.
Ice Breakers
Man Crush: During photo shoots I know it is common place for photographers to play music for the models to help facilitate some creativity or strike a mood. What song do you play for yourself to get prepped for a photo shoot?
Justin Monroe:  At Monroe-land we listen to a variety of artists. Typically it is music that is sexy and puts the subject(s), my team, and myself in the proper mood. A few examples are Goldfrap, Die Antwoord, Peaches and Azealia Banks.
Man Crush: You've photographed a slew of ridiculously hot men. Is there a guy out there that you haven't yet been able to get to pose for you?
Justin Monroe:  Not really! [laughs]
Man Crush: A lot of your photography definitely flirts with the edge of erotica. How do you respond to some that may view your work as being primarily porn as opposed to art?
Justin Monroe:  I really do not care what they call it. It has been called pop art, Hollywood smut, transgressive, and porno chic, to name a few. It has been called so many things that I have become immune to the labels. My main objective is for the viewers to enjoy the imagery and that the imagery tickles them somewhere or somehow. I shoot what I shoot because it is inside me. It has to get out or I'll go crazy.
Man Crush: Let's have a little story time session. Tell us your wildest experience as a photographer. We want scandal, sex and all the other tantalizing things.
Justin Monroe:  That is easy. I was shooting "Three Little Piggies" with Adam Killian, Landon Conrad, Ryan Collins and me as the Big Bad Wolf. We were all naked. I was being photographed as I was photographing them. As I was modeling, I was also directing them to be the naughty little piggies they are.  I kept daring them to get as naughty as possible and hold nothing back. Well first of all, never say that to Adam unless you mean it! They started sucking, rimming, and pissing all over each other and all over my studio. It was so hot! I was sitting there shooting them with a huge boner. Just another day in the Monroe-land office.
Man Crush: If you weren't a photographer, what would you be?
Justin Monroe:  That is easy! I would be a porn star. I love the camera!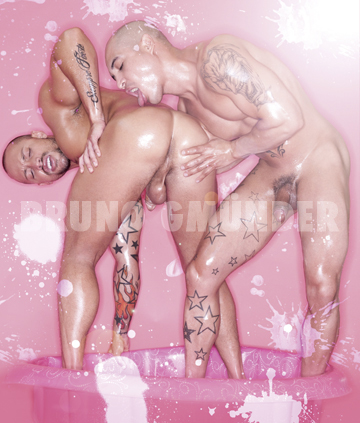 Origins
Man Crush: Many are likely similar to me. We've seen your work all over the Internet but we have little idea how you got started. Do you mind filling us in on your background and how you went from novice to being such a big figure in the photography world?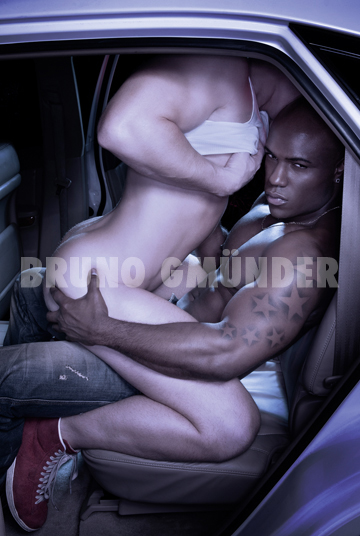 Justin Monroe:  I was an editorial hairdresser for fashion photographers. I was always intrigued by what they did. You see, I am a Leo and that means I am a control freak. So … I picked up the camera on a dare because someone asked me to photograph them. I was instantly hooked. I took a few extension courses at UCLA to see if I liked it and I fell in love even more. Shortly after, I enrolled myself at Pasadena Art Center and got my bachelors degree in photography. I began shooting men mostly and started getting instant positive feedback. I just kept on going and it has been a labor of love. I truly love what I do and feel blessed.
Man Crush: Your portfolio includes shots of both men and women. Is there a certain gender you prefer working with over the other? If so, what's your reasoning?
Justin Monroe:  I love shooting men and women and everything in between. I go through different stages. I will shoot all men for a while and then have to do a female fashion story to fulfill my creative nature. I guess I like things overtly different and unique. If I am shooting that, I do not care what the subject matter is. I love anything fashion, pornographic, sci-fi, theatrical, and beautiful.
Man Crush: Your photography oozes sexuality and eroticism. I've come to see that as your thing. How'd you develop this style and how do you manage to convince so many of your subjects to go to that extreme with you?
Justin Monroe:  It is like a circus to me–there are so many options and weird, wonderful possibilities. I am very comfortable with my sexuality and I think that it shows in my work. I have always had a gift of getting people to do what I want. My models are overly willing to please. I think at the end of the day, they trust me and know I am going to make them look great. I like to create an environment, such as when you were a kid, where you can try things and experiment freely without fear of judgment. This kind of letting go creates the best images. 
Man Crush: Is there an ongoing theme in the photos you take? Something that ties all of them together no matter what the project is or who is in them?
Justin Monroe:  Confidence, beauty, and fantasy.
Man Crush: Photoshop and other means of enhancing or cleaning up photos can be both a good and bad thing. How do you feel about altering photos or using different programs and software to alter the images from how they appear when they're raw on your camera to how they may appear in final print form?
Justin Monroe:  That is a good question. I think each and every photograph is unique and should be treated that way. Sometimes, an image speaks to you and says, "I need to be dirty and flawed." Others say, "I need to be slick, shiny and flawless." Photoshop is like a gun. In the right hands it is a magnificent tool. But in the wrong hands, it is a disaster!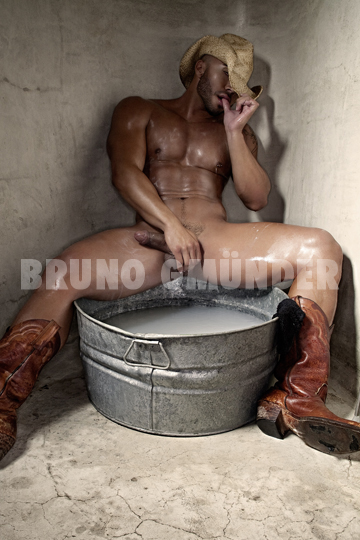 Rock Bottom
Man Crush: You have a new book coming out titled Rock Bottom. Mind telling us a little about what we can expect from this book?
Justin Monroe:  Perfect butts that are firm, muscular, and sexy. In my new book, I give you a spectacular view on some of the hottest backsides along with the rock-hard corresponding front views. This book offers outstanding images and exciting photo series that will leave you breathless with all its eruptive highlights. Rock Bottom is a collection of my latest works, and it is in one word, perfection.
Man Crush: So, who've you got lined up to appear in this book? Any names we may be familiar with?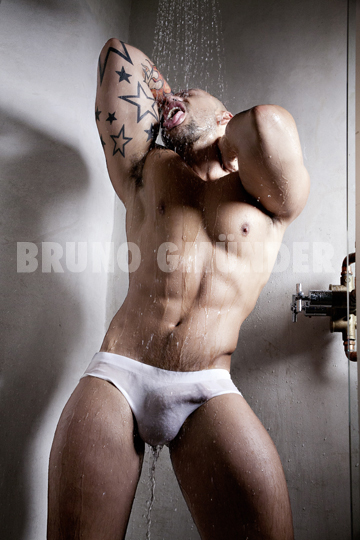 Justin Monroe:  Rock Bottom features some familiar names along with some hot new talent. Expect to see pornstars Jordano Santoro, Jesse Santana, Jay Roberts, and Dionisio Heiderscheid along with some amazing other talent such as Steven Dehler, Bobby Momenteller, Victor Po, Vincent Vanguard, Jamie Dominic and Dwain Leland.
 Man Crush: A lot of those guys have been on The Man Crush Blog so you've definitely got my attention.Photography books are always interesting because, and no offense, it seems a bit like a hard sell in today's market. People wait a few months and a lot of images appear online for free or the best of the book gets illegally spread through Tumblr or the Internet. What would you say to those who are resistant toward actually buying and purchasing your photography?
Justin Monroe:  I think that there is always going to be the kind of person that appreciates a tangible book. People love to show them off when they are having a few cocktails, display them with their collections, and not to mention that they make amazing gifts. I do see this current trend in piracy and that is why I made this book affordable to everyone. On a final note, if there is an artist whom you admire, the only way you can keep them in business and creating is supporting what they do.
Man Crush: I hear you've got some creative ways you plan on promoting the release of this book including parties in some big cities. Mind telling the readers what they can expect in the coming weeks leading up to the release of the book?
Justin Monroe:  We will be launching two events in Los Angeles–one at Rasputin and the other at the Abbey. These will both take place in October. The final week of October and the first week of November, we will be in Florida holding release parties on two separate weekends in two separate cities. These will be held at Sawmill in Dade City and Boardwalk in Fort Lauderdale. Finally, the first week of December, we will be holding a book signing at Rufskin's store in New York. We will be having hot boys wearing the Rock Bottom Underwear and go-go dancing for your naughty pleasure while promoting the new Rock Bottom underwear line along with my new 2013 Calendar titled "Masculinity."  Of course we will be out at night with a handful of naughty surprises up our sleve. Check www.monroe-land.com to stay up-to-date with all of the information regarding the events.
Man Crush: Give us the 411 as to where and when we can buy the book and what price we can expect to pay for Rock Bottom.
Justin Monroe:  Rock Bottom is scheduled to release early November. We are currently taking presale orders at Amazon.com for only $36. My last book Down the Rabbit Hole was less affordable to the masses so the idea behind Rock Bottom was to make a book affordable for everyone to enjoy.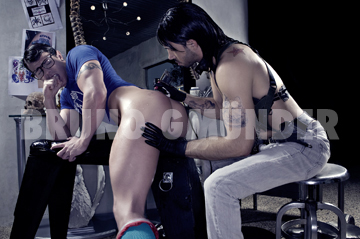 The Wrap Up
Man Crush: Here's something I'm curious of. We live in a digital age of sharing. There are tons of blogs, sites like Tumblr and Pinterest and "sharing" functions on social media sites that enable people to spread images around like wildfire. As a photographer, how do you feel about your work being shared beyond your control?
Justin Monroe:  Well I think in this landscape it just comes with the territory. It is kind of a double-edged sword. It is good for publicity and to inspire others. However, it is not good for the pocket book. The more circulation an image gets, the more difficult it is to police…but I have my spies. [winks]
Man Crush: I know of some photographers that have no issues with people spreading awareness of their photography through blogs like The Man Crush Blog or on Tumblr. Then there are others that seem vehemently against it and see it as an issue of copyright infringement if it appears anywhere other than their website or its intended source. Where do you stand on this issue? Is there something with current trends in terms of today's sharing frenzy you wish would change?
Justin Monroe:  Well, if I were to actually comment on that it, would be too much, too little, too late. My images have been shared on the web for over a decade. If I were constantly policing what blog posted what image at what time and what day, there would not be any time to pick up my camera and actually create art. Photographers today are like recording what artist were 10 years ago when all the computer geeks were mastering all their piracy skills. This is what watermarks are for. At the end of the day, I look at is as promotion as long as it all comes back to me.
Man Crush: It seems to me that often it's the model that's getting all the attention and few people really seem to be concerned with getting to know the photographer. This may be a bit like the chicken or the egg debate but in your opinion, what or whom should get more credit: the photographer who is taking the photo, working on making it look good, coming up with the concept and getting the work out there or the model that's the subject of the photo that has to sell it to the audience to make it popular to begin with?
Justin Monroe:  Definitely the model. If you believe the story and the image the model is portraying, then the photographer and the model have done their job flawlessly. It is like when you go to see Swan Lake for example–it is the dancers telling the story that draws you in. Even though the choreographer created the moves that capture you, you relate to the subject. Therefore, like a choreographer, the photographer should do his best to tell the story whether or not the spotlight is on him or the star. When it comes to chickens and eggs, I prefer omelets.
Man Crush: Here's an Oprah-like question that I heard her ask Rihanna the other night that may be fun for you to tackle: Who are you? I mean, photography, notoriety and reputation all aside … who is Justin Monroe?
Justin Monroe:  I am a work in progress. When I figure that out, you will be the first to know.
Man Crush: You get the final word in the interview. What parting shot or thought would you like to leave with the Man Crush audience?
Justin Monroe:  If anyone ever tells you they are just going to put the tip in, they are lying!
See more of Justin Monroe's work on his website monroe-land.com and pre-order your copy of Rock Bottom on Amazon today by clicking here. You can follow Justin on Twitter @PhotogJustinM, Facebook, and view his videos on YouTube and Vimeo.
Click on thumbnails to view larger images.
Follow The Man Crush Blog on Twitter | Facebook | Google+ | Tumblr