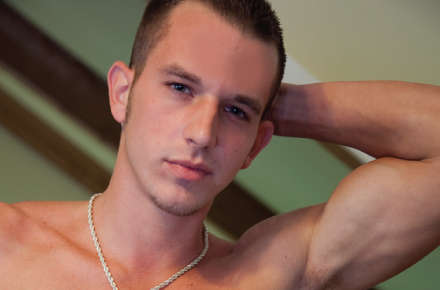 Today's porn crush is another of Southern Stroke's hunks–Ace Harper. He's straight, insists he's "very straight" in fact and is from Dallas, Texas. Ace is 6'1″ tall, 170 lbs, 4% body fat. Ace is into extreme sports–freestyle skiing, motor cross, surfing. Though I kinda loss interest in his craziest sex story considering it was heterosexual (he had sex in a haunted house) I perked up when he took off his shirt, revealing his abs and awesome torso. And then tattoo? Yes, that's just an added bonus. You can see more of him on southernstrokes.com and by following them on Twitter @southernstrokes.
The images in today's gallery are NSFW and intended for those 18 years or older.  
Follow The Man Crush Blog on Twitter | Facebook | Google+ | Tumblr
Click on thumbnails to view larger images.