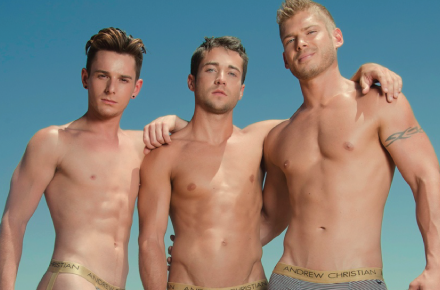 Andrew Christian's recent promotional campaigns have blurred the lines between fashion and porn as the underwear company has chosen to push the envelope a bit with racier promotional pics to show off its brand. The latest shoot titled "Jock Strap Cowboys" features porn models Brent Corrigan, Quinn Jaxon and two new models Brandon Brown and Colby Melvin. I honestly hardly notice the underwear on display as my attention is going straight to the hot models. Visit the Andrew Christian site for an uncensored behind the scenes video of the shoot. You can follow Andrew Christian on Twitter @AndrewChristian.
Follow The Man Crush Blog on Twitter | Facebook | Google+ | Tumblr
Click on thumbnails to view larger images.