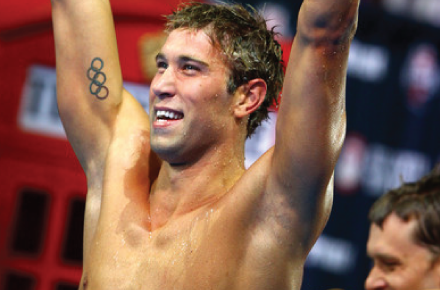 The other night as I joined in with many gays across the nation and world in watching men's Olympic swimming I couldn't help but to find myself crushin' quite hard on American swimmer Matt Grevers. Before seeing him win the gold and making a scene by proposing to his girlfriend/fiance soon afterwards, I'd never heard of him. After his medal-winning swim though as he was interviewed panting hard, abs tight, I was most definitely a fan! Matt is 6'8″ tall, 229 lbs and specializes in the backstroke and freestyle. He won gold in the final 100-meter backstroke. You can follow him on Twitter @MattGrevers.
Follow The Man Crush Blog on Twitter | Facebook | Google+ | Tumblr
Click on thumbnails to view larger images.