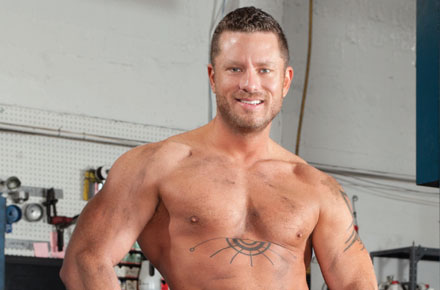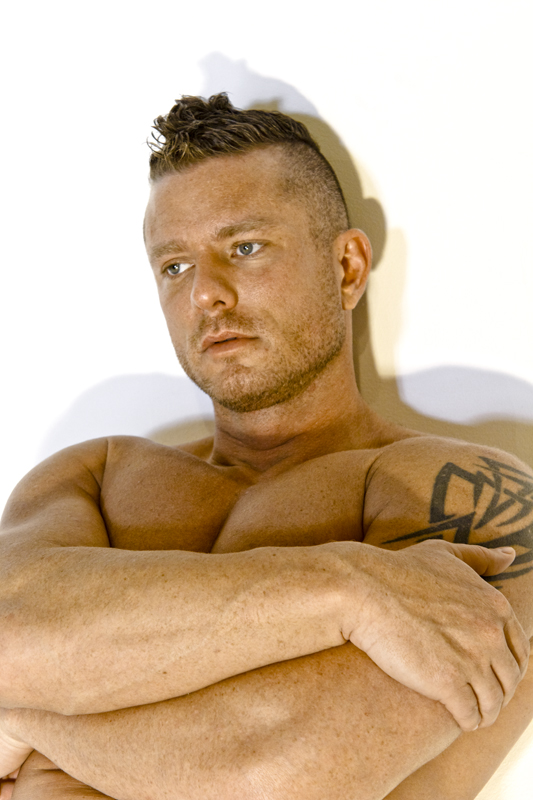 When I was offered the chance to interview one of Falcon/Raging Stallion's hottest newcomers this year, Charlie Harding, obviously I leapt right into my bed and went to work … on some hard-hitting questions for him! Charlie first appeared on The Man Crush Blog back in May as one of Edwin Pabon's Eye Candy features (check him out here). Now he's returning for an exclusive interview where we talk about everything from his worse hook up to body image issues. The photos in this interview come courtesy of Falcon studios, Sydney Alvarez for www.fuertemen.com and Barry Noland. You can follow Charlie on Twitter @CHardingXXX.
Ice Breakers
Man Crush: Charlie! Before we get into the main interview, let's loosen up just a bit with a few random questions to get you going. What's your favorite foreplay activity?
Charlie Harding: I love touching, massaging, groping. Nothing is hotter than exploring each other's bodies with our hands, then our mouths…
Man Crush: What's the worst hook up experience you've had?
Charlie Harding: I haven't had many bad ones, but had a guy I met up with cum literally 30 seconds into fooling around, so I was barely getting started. I was like "um, now what?". I had even used some anal bleaching creams and manscaped so that I was looking my best but then it all went to waste which was a little frustrating.
Man Crush: You're not feeling motivated but you know you have to work out. What song would you cue up to get you in the mood to workout?
Charlie Harding: I'm actually not a "music during my workout" guy. I listen to whatever is playing in the gym. To pump myself up, I usually pose in the mirror and evaluate my body. My gym time is my therapy, my time to let out aggression, the time for me to feel really good about myself and proud to be bettering my body. That's what motivates me there the most.
Man Crush: We've read from other interviews you've done that you really enjoy sex. What would you name as your second favorite activity?
Charlie Harding: Second favorite is reading. [Laughs] On average I read at least a book a week, and have since I was about 4 years old. Sci-fi and fantasy are my favorite genres (yes I'm a total sci-fi nerd). My favorites include the Dune series and anything by John Scalzi or Sir Arthur C. Clarke.
Man Crush: Let's say someone comes to you for love advice. They have a crush on someone but have no idea how to make this crush into something more. What advice or tips would you give them on getting with the object of their affection?
Charlie Harding: It's funny you ask that one, because folks ALWAYS have come to me for advice. My advice would be to be honest and openly communicate about it. Be ballsy enough to lay it out there for the other person and see what reaction you get. But I also always caution that you have to be prepared for a positive or a negative reaction. All you can control is how you react and what YOU say, not how the other person reacts or feels about the situation. I also advise folks to look at the current level of relationship (friends, fuck buddies, etc) and before you try to take it to another level, make sure you are comfortable if it ends completely. Sometimes that can happen when one person tries to change the relationship dynamic.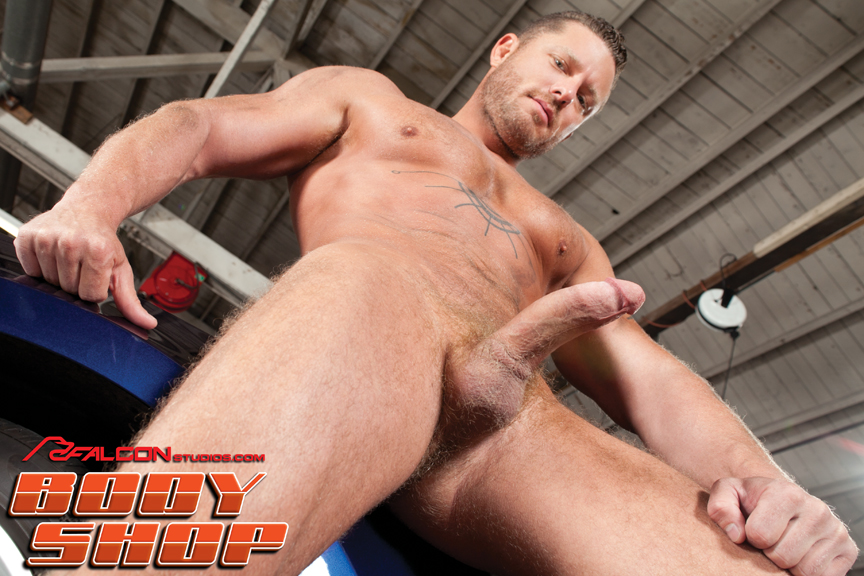 The Porn
Man Crush: I am always curious about men getting into the adult film industry to be featured on websites such as full tube xxx. Getting in front of the camera having sex exposes you to the public, creates a history that can't easily be erased or forgotten. When you were deciding on getting into the business did you have any concerns about how it'd affect your future?
Charlie Harding: Of course. I'm a planner and very analytical, so I weighed the negatives against the positives, what my future plans were, what limits that might put on my career choices (yep folks, I guess I won't be running for President) and what other avenues might open up. I liked my options with the porn career, so I went for it.
Man Crush: For some, getting into porn isn't so much about having fun as it is another means of supporting themselves financially. What was your motivation for getting into porn?
Charlie Harding: Mine was purely for the fun of it. I think that's one of the reasons I come across so genuine and real, or so I've been told. I do it because I get off on it, enjoy being in front of the camera and think it's just a hoot! I have always been a very open and up front person and this gives me a whole new medium to share my experiences and such with other folks.
Man Crush: Having more than a few scenes under your belt now and experience to draw from, what advice would you give to other men considering getting into porn?
Charlie Harding: Don't do it because you want money. Don't do it because you like sex. Do it because you enjoy being seen. Do it because you like being an exhibitionist. Do it, but keep your head on straight, and only do on film what you are comfortable with. You've also got to prepared to work on your body in ways that you might never have considered before – like Bleaching your anus at home for example!
Man Crush: Just this year you've accomplished a lot and shot many memorable scenes. What else do you hope to accomplish with your porn career? Any ideal scene partners or other studios you hope to work with in the future?
Charlie Harding: Well, I hope my "Porn Star" title can open other doors. For example, I am working with a music producer now to record a few songs (I used to be a vocal instructor, many years ago), have been able to really increase my fitness, art and fashion modeling and also have been approached with offers to do a couple independent film auditions. I enjoy being in the public eye and am always willing to discuss opportunities! As for other folks I would love to work with, Landon Conrad and I have been in a few different movies together, but just not a scene yet; Spencer Reed and I have yet to film together; would love to film with Jessy Ares because he's so hot, and that accent!; and I would say Trenton Ducati, but we just got to do a scene together in Tony Demarco's big summer project, so that wish was granted! Also, I'm always excited to see new faces appearing in the industry. I'm always on the lookout for new guys I'd love to play around with as well.
Man Crush: One of the reader-submitted questions was when do you plan to bottom on film. Is that at all an interest to you? Do you feel there's a pressure nowadays for most porn performers to be versatile rather than sticking to one position?
Charlie Harding: In my day-to-day life I would say I'm about 80/20 top to bottom and so is Scotty Rage, my partner. That leads to some interesting rock paper scissors games to see who gets to top, so that's probably how my film career will play out as well. Again, I like to keep it real and show a genuine depiction of myself. I will probably do it eventually when the right person and the right opportunity come along. Well, I wouldn't say there's pressure to be versatile, but you do open more opportunities for scenes when you can play either side, or both, of the fucking, and so being versatile can really boost career options!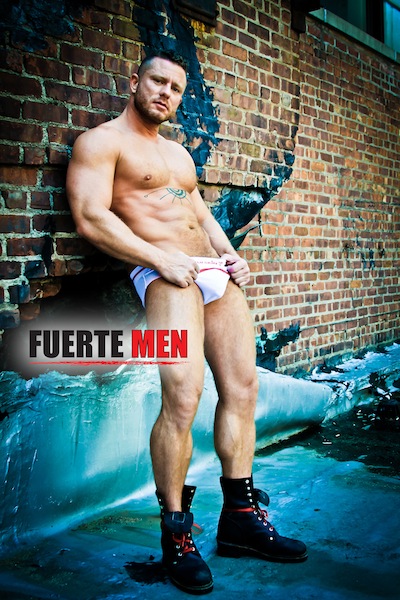 The Body
Man Crush: One of my favorite things to do in any interview is always ask about men's bodies and how they keep fit. What is your fitness regimen like?
Charlie Harding: It's crazy. I'm 38 years old, and I have to film and compete with the 20-somethings! I work out at least 6 days a week, changing up my workouts depending on where I am in my routines. Sometimes I am trying to add weight, sometimes cutting down, etc. I hate cardio more than anything else in the world, so I skip it completely. I attempt to diet faithfully, but being a bit of a foodie, I'm a little too tempted with some yummy stuff sometimes.
Man Crush: In your opinion, what's your favorite part of your body? How do you work this area out?
Charlie Harding: I'm super hyper-critical of myself and my body. In fact I'm diagnosed with Body Dysmorphic Disorder. When I look in the mirror, I see someone who is too skinny everywhere except my belly, and that's too fat. I've learned to discount my visual opinion of myself. I rely on the opinions of a couple very close friends and measurements to determine if I'm happy with my size, as I can't see the real me. I think I'm the most satisfied with my back. I have a tremendous V shape all because of my lats, and am very proud of that. I work those just like the rest of the body, and just have the genetics and physical shape to make it all work, I guess.
Man Crush: Everyone has a least favorite exercise that they still soldier through because they know the end results will be worth it. What is that exercise for you and how do you motivate yourself to push through it?
Charlie Harding: Given that cardio is the creation of the devil, that would be my least favorite [laughs] I also don't enjoy doing legs much. I have old knee injuries -from gymnastics folks, not from spending too much time on them – an old ankle injury from springboard and platform diving, not from holding them and some degenerating discs in my back with all cause trouble when I do squats and such.
Man Crush: In terms of diet and eating habits in obtaining or maintaining the body that you want, what advice would you give on food, diet and your overall health and fitness goals?
Charlie Harding: I like my high protein, low carb and fat diet. It works best for me, but may not for other people. It all depends on your body type and metabolism.
Man Crush: If you could bestow upon us one nugget of fitness wisdom or advice, what would it be?
Charlie Harding: When you start back in the gym, don't try to do too much too quickly. Literally, when I started back after about 4 years out of the gym (this was in my mid to late 20s) I did 50 pushups and 100 crunches a day for the first week, then doubled it for two weeks, then finally when the workout was becoming a routine, started going to the gym.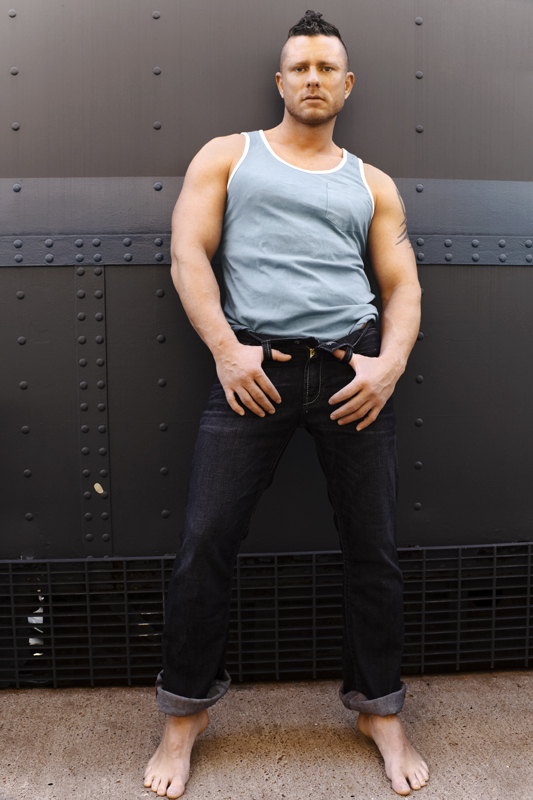 The Personal
Man Crush: We know you're in a relationship with Scotty Rage so I'm curious, with you being involved in porn and in a position of intimacy and being exposed to other men, both on and off camera, how do you two keep the potential for jealousy or tension out of your relationship?
Charlie Harding: Well, Scotty doesn't do porn but he has been doing modeling for many years in the art and fetish areas. He kinda "gets it" and understands the difference between my professional intimacy and our personal intimacy. We communicate and talk about it all the time so there's nothing hidden or any assumptions made. We also have a relaxed, monogomish (thanks Dan Savage for that word!) style relationship, so there's some flexibility there in our intimacy as well.
Man Crush: Though you've just gotten into the industry, do you ever think about your exit strategy? Some porn performers hang in there past their expiration date and welcome while others seem to bow out while they're still on top (figuratively speaking, of course). How do you envision your final bow as playing out?
Charlie Harding: This is where my MBA and marketing background have served me well. I am that guy that has the one year, five year, ten year life plans in order. Things change along the way, but there's always another goal or ambition down the road. I am enjoying taking it slow in the industry (rather than blasting hundreds of scenes out there all at once) and building a good career foundation. As other opportunities are coming along, I'm incorporating those into the plan as well. My ultimate dream is to own a gym and an art gallery, so those are that brass rings I'm striving for.
Man Crush: In other interviews you've spoken of other skills and talents you have including marketing and promoting. How important do you feel it is for porn performers and models to have something more than their bodies and sex performance skills to fall back on? I see many people pop up on Twitter who suddenly proclaims they're aspiring porn "star" as if it's a quick and easy career to break into that will support themselves.
Charlie Harding: Tons of folks think that making porn is easy, and it's not. Don't get me wrong, it's fun, it's exciting, it's hot, but it is also work. For the folks that get big in the industry, what the viewer sees on film is the culmination of hours of gym time, time studying angles in sex scenes, giving interviews, negotiating travel schedules and filming schedules, discussing sex positions, sex acts and choosing scene partners, and much more. For those that wanna do this for a living, I always remind them that this tends to be a shorter career than "regular" jobs. I always recommend that folks treat porn as a secondary career or have something to turn to if they decide this isn't for them, safety nets never hurt!
Man Crush: With the exception of Scotty, whom do you currently have a man crush on?
Charlie Harding: Well, that's a tough one as I usually see different parts of different guys that turn me on. I have to say though I just met Jessy Ares on set and we definitely had a little spark…
Man Crush: You get the final word! What would you like to say to the readers that has not already been covered in the previous questions asked?
Charlie Harding: I'd like to say thanks to the folks out there that appreciate what I do. It's hard putting yourself out there in public view, available for criticism and critique-and praise and appreciation! You really learn to value the guys and gals that see what you do and let you know that they like it. I do this because it's fun and it lets me connect with a bunch of great people in the industry and in the world, and I appreciate those who are along for the ride!
UPDATE: Soon after the interview Charlie revealed exclusively to The Man Crush Blog that he's no longer an exclusive to Raging Stallion/Falcon and is now a free agent. Here's what he had to say in his own words:
"After many months of great experience with Raging Stallion and Falcon as a exclusive, I am excited to announce that I am now working in the adult industry as a free agent. Many thanks go to Chris, Tony, Steve and Adam among others for their guidance, mentoring, directing, cheer leading and welcoming introduction into the world of porn. I look forward to continuing my relationship with both Falcon and Raging Stallion and exploring new opportunities with other studios as well! For those looking to chat about appearance and scene bookings please email me at hirecharlieharding@gmail.com"
Follow The Man Crush Blog on Twitter | Facebook | Google+ | Tumblr
Click on thumbnails to view larger images.