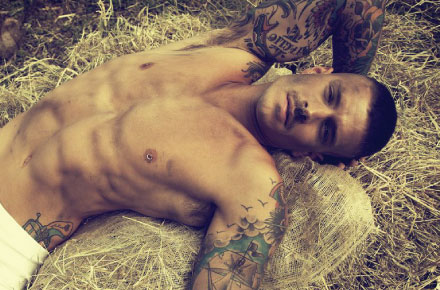 For today's Eye Candy I felt like a little something different from the usual pretty boy types that make it onto The Man Crush Blog. So, I went to my other fascination: hot alternative men. Yes, while I do enjoy my share of muscles and smooth, hard-bodied men I also like the slim framed, inked, pierced punk and alternative boys to. I know, surprise! Shock and gasp! Taking this into account and the fact that I'm from the South, Revista Junior No. 40's recent farmboy-themed spread featuring model Mateus Verdelho definitely caught my attention. I mean, this is one sexy guy! The piercing I could probably do without but that scruff, the tattoos … yes, honey.
Follow The Man Crush Blog on Twitter | Facebook | Google+ | Tumblr
Click on thumbnails to view larger images.