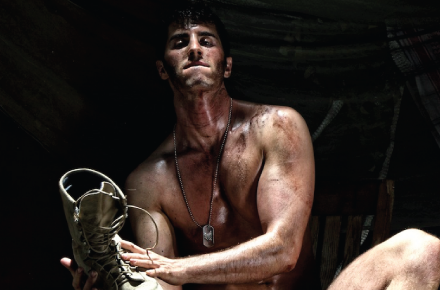 In my latest interview I spoke with Adam Rexx (@AdamRexx). Some may be familiar with Adam from his entertaining (in more ways than one) Randy Blue webcam shows and adult movies on videos hd xxx; others may know Adam as a model. The fact that Adam isn't necessarily a porn actor and isn't just your run-of-the-mill fashion model makes him the perfect interview subject. Check out this interview where we discussed everything from his hottest hook up, religion and the blurred line between art and erotica. Also, check out these exclusive images taken by photographer Tom Cullis in addition to some of Adam's hottest shots.
Man Crush: Okay Lover, let's start with some random questions to get things revved up. What type of music puts you in the "mood?"
Adam Rexx: Presumably by "mood" you mean "mood to do 'the nasty.'" Quite frankly, when I'm ready to go, I don't need music to get in the mood. I generally like to make my own soundtrack with my moaning and smacking, if you know what I mean. However, if I were to listen to music to get myself all riled up, I recommend Nine Inch Nails and Massive Attack. Those two bands really do make the best music to get-it-on to. If I feel aggressive, I play The Downward Spiral. If I feel more passionate or eccentric, I play Heligoland- both great albums. Oh, and old school Dashboard Confessional makes the best music to cuddle to.
Man Crush: I always ask this question, but get rather tame responses, so don't disappoint! What's your wildest or craziest hook-up story?
Adam Rexx: Okay… I had the best sex back in high school, unlike these days when I just always know what to expect. When I was seventeen, I used to hook up with my friend, Josh, at church youth group (in the church building.) My mom was so happy that I made a friend from church youth group, but little did she know. Josh was a charming hot guy with a beautiful dick. He and I used to ditch youth group together and mess around in the empty classrooms downstairs. I liked to read my journal entries and poetry to him, but my favorite thing to do was blow him until my jaw got sore. One time I spent a weekend at his house. I worked his dick every chance I got and swallowed three of his loads. It was back in then that I realized that cum had great skin-clearing properties.
Man Crush: What question do you get asked so often that you're sick of it at this point?
Adam Rexx: I often get asked about why I incorporate God and religion into my work. Usually the question starts off with a back-handed compliment like, "You are so handsome, but…" or "You are so creative, but…," followed by some incoherent rant about the person's religious beliefs. If I answer that question, it's usually with another question- "Why not?" I have my own mission in life, which may not be traditional, but I am not by any means a Godless person. My work is filled with Christ's love.
Your Work:
Man Crush: If we Google your name, we come across more photos of you rather than porn featuring you. Yet, the lines are probably blurred a bit because you've always been very sexual in your photos. How would you go about defining art versus pornography?
Adam Rexx: Pornography can be almost anything to anyone. If you look up the definition of porn, it means to create or satisfy an excessive desire for something- whatever… My work can be seen as porn, but there is an artistic appeal to it as well. In my opinion it comes down to the quality of the photograph. It's porn and it's art; but to the viewer, one aspect may outweigh the other. All and all, my work, which can be seen at adamrexx.tumblr.com, is for the viewer's masturbatory pleasure. I don't look at my work as just porn, because to me porn lacks substance. Like some other people I know, I'm an artist who just so happens to be working in the porn industry.
Man Crush: Some models have "no nudity" clauses, but you appear to be the opposite. Do you ever worry about your photos and nudity catching up with you in the future and keeping you from achieving certain goals or from opportunities?
Adam Rexx: No, not at all. I don't worry about it, but that's not to say that my work could potentially have a negative, or even positive, effect on something else I do in the future. It's just not an issue to me anymore. I have a dick–big fucking deal. Anybody can see it by visiting adamrexx.tumblr.com or watching me on Randy Blue Chat. I've crossed over to the assumed to be dark realm that is challenging the social rules of exposing "private parts." Quite frankly, if you look at or think about dick as much as I do, the whole "Surprise, I have a penis!" factor goes away. It's not exposing a dick that matters; it's what you do with it while you're exposing it that counts.
Man Crush: In an interview with MOC (Men of Color) you mentioned that you were single and dedicated to your craft. What kind of guy would it take for you to consider actually dating, or do you think doing what you do makes dating impossible?
Adam Rexx: I've already experienced love, and the heartache of losing it. I was in a rut two whole years, continually beating myself up for all the things I could have done differently. I don't want to go through the pain of having someone I love ripped away from my life again. My humor reflects how I struggled through the pain of loss and rejection. I want people who experience the same pain I felt to see that it does not always have to make us permanent victims of the scars it leaves. It just makes us a little more whore-ish.
Man Crush: Let's have a "Tyra" moment. Give us your ultimate modeling tip; and sorry, but "smizing" is not an option.
Adam Rexx: That's okay… Smizing is important, and so is smicking (smiling with my dick), but for now I can tell you a little about my diet and exercise regimen. For breakfast I like to eat half a box of raisins; sometimes I eat the whole box. I usually just toss the raisins because the box is filling enough. I also try to get in at least one creamy protein supplement in the morning, usually from whoever was sleeping next to me. For dinner I chow down on half a natural cigarette, mixed with ice cubes and air. You would never believe me if I told you that there are actually carbohydrates in the air we breathe, so I'm not going to say. At bedtime I strap myself to a treadmill and power walk six miles in my sleep, hence the protein supplement for breakfast. I'm always hungry, and I always feel like I'm going to die, but I'm skinny and pretty so I don't give a flying fuck.
The Industry:
Man Crush: You've mentioned that you're into the amateur porn on watchmygf.sex a bit more than staged and overproduced porn. Is that what drew you to performing on Randy Blue Chat?
Adam Rexx: Like most people, I like self-taken pictures and videos of other guys. I don't know anybody who likes air-brushing on a guy. I'm so baffled by these photographers who think that airbrush every pore off of a guy's face looks hot- it will never appeal to me. So going back to your comment, my preference in jack-off material is not directed more toward armature porn or professional studio porn; it's more so directed toward photographers who blur the line between naturally attractive guys with pores, and pore-less guys from outer space. I like the guys with pores- thanks. What I'm watching isn't really as important as what I'm doing though. Some of my friends in the business have taught me to simulate fellatio on myself. I think they learnt from the article, How to Simulate a Blowjob – Lovegasm, for any readers undoubtedly wondering!
I wanted to work with Randy Blue because his models are hot, naturally. The idea of webcamming made me feel nervous at first. I had never Skyped or done any other type of camming before working with Randy. I'd heard about it though, and seen ladies like Terrie Hawkes performing. I started camming for Randy Blue Chat in August of 2011, but Halloween was when I really started to come out of my shell and create a show out of it. I remember dressing up as a LDS Mormon, and praying for the guys in the chat room to stop their evil molesting ways. Condemnation had never looked so good! I also did a segment dressed as Mr. Stifford, the Big Red Sex-Ed Instructor Dog. He taught the people in the chat room how to properly place a condom on a dick, which is by using your mouth of course. Randy Blue Chat is the best way for guys to get to know the models, and vice versa. I feel so fortunate to be able to do what I do. Randy Blue is one of the most generous and level-headed people I have worked with in the industry.
Man Crush: There are a lot of guys (straight and gay) jumping into the adult film industry these days, given the current state of the economy. What would your advice be to guys thinking this is the right move? Should they have reservations or concerns? Should society be less judgmental toward those who choose this as their profession?
Adam Rexx: Of course, they should have reservations. Society will never respect a porn star or a guy who flashes his dick around; however, they will visit adamrexx.tumblr.com for shameless masturbatory pleasure when nobody is looking. Keep in mind that the term "porn star" is used very loosely now days. It's like a prostitute trying to run for President of the United States. People wouldn't vote for a prostitute- would you? They would say, "Go back to doing what you're good at!" Nobody wants to listen to what someone like me has to say, and that's a challenge that these guys should consider before signing away their souls to Satan. My tumblr, adamrexx.tumblr.com has allowed thousands of people to experience the pleasure of guiltless masturbation. What I do is considered a great service to my community.
Man Crush: I'm always interested in hearing about model's experiences. What have yours been like? Have there been any negative consequences to being involved in porn?
Adam Rexx: Well first of all, I have worked with some amazing photographers, such as Paul Freeman, Tom Cullis, Ninon Nguyen, and Michael Stokes. A few of the photographers, who shall remain nameless, I worked with about four or five years ago were secretly perverts in disguise. After working with the first few, I realized that I was easily able to find myself in a photo shoot turned into a "senior citizen trying to molest my genitalia" type of predicament. Let's be real here: a horny old man with a camera is not a photographer; he is just a horny old man with a camera. I've worked with some excellent photographers though. It's unfortunate that I've also been tricked into working with some guys who give photographers a bad reputation. You should see some of the shit the senior citizens with cameras sent back to me. That's one of the disadvantages I have as a self-managed model/ performer. Don't get me wrong, I love a charming handsome gentleman (even a senior citizen) who knows what he wants and goes about getting in an honest way.
In Closing:
Man Crush: One of your adoring fans, John (@notlarats), asked via Twitter, "How big are you, and do they scream when u fucking? Not to get personal." So, pretend you and I are really hooking up. What could I, or anyone, expect from the Adam Rexx sex experience?
Adam Rexx: That's a great question, John (@notlarats). You know, sometimes I just get so wrapped up in the colorful arms of materialism that I forget to observe how everything around me doesn't really make any sense at all. From the business clothes we wear to our daytime job, to the way people value or categorize other people and things. Did you know that the weight we place on our problems can sometimes completely diminish if we properly place things into perspective?
I spotted a wasp's nest outside the front door to my apartment a few weeks ago. My initial response was out of fear, but I had to stop myself from taking any action and consider the root of my feelings about the wasp and its nest. The wasp displayed obvious signs of aggression and was territorial over its nest, and all I was doing was trying to get inside my apartment. I asked myself, "That nest is probably the only thing that the poor little mother wasp has, so who am I to terrorize the little wasp's life?" This is how I think other people see me. I am like that wasp; but a gay wasp. Some people are frightened by my homosexual behavior, so they hide their children while they try to get rid of me. Like the mother wasp and her nest, this life is all that I have and I don't want anybody to try to take it away from me. Some people have had everything torn away by someone who acted out of ignorance.
I have faith in humankind that through education and awareness (or educating people how to be aware through observation) we can reduce the crime rate and diminish hatred that stems from ignorance throughout the world. Although, I don't understand everything, this one small thing makes a whole lot of sense to me.
So to make a long story short, I left the scary little mother wasp and her nest alone. I figured after a few weeks, they would all vacate and I would be able to walk into my apartment without fear. Unfortunately, my roommate put an end to the lives of the mother wasp and her unborn babies. Anyway, to answer John's (@notlarats) question; yes, I can make a guy scream with my big fat dick.
Man Crush: Whom do you currently have a crush on?
Adam Rexx: I've been crushing really hard on Kennedy Carter. I've always had a thing for red-heads. Actually, the very first boy I crushed on back in elementary school was a red-head named Joshua- freckles and all. I don't know what I liked about that bastard, because he was a snippy little fella. I know that red-heads are typically portrayed as feisty, careless, soulless, bratty ginger-snaps who lie, cheat, and steal-but I don't care about all of that. I'd love a bright, fiery-colored man to fuck me so hard that I'd need my inhaler. Some people hate red heads, but I love them.
I dated a red head once, named Phil. He had the freckles, but his hair was a darker shade of red. He treated me so terribly. He would lie to me, cheat on me, pinch me, and hurt me really badly with his eight-inch man-tool. It was as if he was completely numb to the burden his existence had on my life. He was a son of a bitch, but I loved him.
Man Crush: Take away the modeling, the dildos, and the webcamming–who is Adam Rexx?
Adam Rexx: I'm a very compassionate person. I want to make the world a better place to live in through the pleasure of masturbation. My dream is to implement a human rehabilitation program, which would be funded by the taxpayers to educate and rehabilitate people who are disadvantaged. I would also implement rehabilitation programs and housing for disadvantaged or abandoned GLBTQIA youth, as well as dogs and cats. What people may not know about me is that I was one of those kids who got kicked out at seventeen years old for being gay.
Most people just want to see my dick, but I know that there are some people out there who will look at my dick and wonder at the same time how they can do their part in making the world a better place. I went through one traumatic experience after another, starting at a very young age. I want people who experience the same pain I felt to see that pain does not always have to make us perpetual victims. In my case, the pain I have gone through has made me a complete basket case.
Man Crush: What message would you like to leave with those reading this interview?
Adam Rexx: It's not what we do that matters; it's what we do that matters to us. Remember, Jesus is watching… and so is Satan but they probably don't have Internet access.
For even more images and information on Adam, check out his original featured crush post here.
Follow The Man Crush Blog on Twitter | Facebook | Google+ | Tumblr
Click on thumbnails to view larger images.