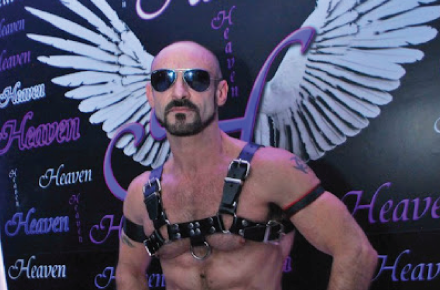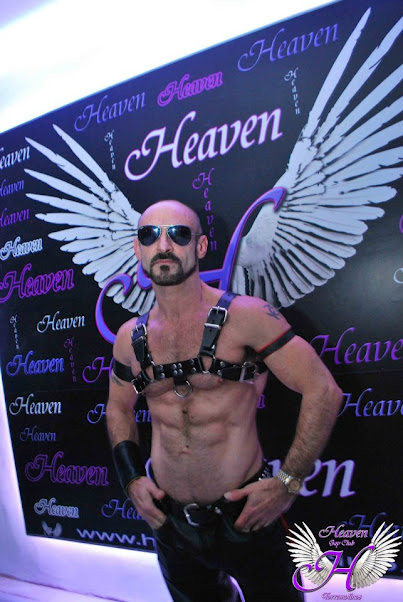 Here's an interview featuring European porn actor Cristian Torrent.
Ice Breakers:
Man Crush: What's the first thing you notice about a guy?
Cristian Torrent: His chest and if it is built strongly; a flat stomach.
Man Crush: What would you say your hottest hook up has been?
Cristian Torrent: Possibly when I go to a porn shoot and do not know who I am shooting with, that excites me a lot!
Man Crush: What do men from the UK have going for them that American men are lacking in?
Cristian Torrent: I can't say UK men are much different to those of the USA.
Man Crush: How do you prep for a scene?
Cristian Torrent: Regardless of whether I am top or bottom, I always douche, because the scene could turn into a flip flop, so always be prepared for anything!
Man Crush: What question are you tired of being asked?
Cristian Torrent: I am tired of being asked to do things for free or give out free log ins to my paysite. How do people expect me to make a living if I do not charge for my services or films? Porn is all I do, I don't work for an airline, or a bank, so have to rely solely on this industry.
The Porn:
Man Crush: Don't take offense but the first time I heard about you was when you tweeted me one day. In other interviews it was written that you are more in a niche market of the adult entertainment industry. Do you consider yourself to be a big name in the porn industry or are you content with being a bit underground and unknown?
Cristian Torrent: No offense taken! Depends what circles you move in, you walk down Compton Street in London's Soho, I get stopped all the time with people saying hello, same goes for Berlin where I am very well known. Most places in Europe know who I am. In the USA, seeing I haven't cracked that market yet, I may be less well known.
Man Crush: You work a lot with European porn companies. Is that by choice or are there factors keeping you out of the U.S. companies?
Cristian Torrent: I worked with them purely due to geographical reasons. If any U.S. companies want to use me, they'd need to fly me there, which often stops my application in its tracks.
Man Crush: You have been very upfront about your HIV status. How have others you've worked with responded to your positive status?
Cristian Torrent: Why be a hypocrite? I see many of my colleagues around me doing safe sex on film just to keep a clean slate yet I know for a fact many of them bareback off screen.
Man Crush: Especially here in the U.S. age plays a big part in how we not only view and treat gay men but in how attractive we think they are. Is that different in the U.K. And it's porn industry?
Cristian Torrent: I have to say recently I have been MOST upset by Europe's ageism, they have all written me off purely due to my age of 48, they may not have even looked at my latest pictures where I have to say, I beat hands down many guys in their 20's when it comes to body perfection. Should I lie and take off 15 years when applying? No, I won't do that. I got into porn at 43, so I'm a late starter. Companies simply are not bold enough to put age to one side and see what really is before them. I am not like most 48 year olds: I do and have looked after my body very well, and I am proud that at age 48. I can stand proudly alongside many of 25 year olds and say I look better than them body wise.
The USA seems to take people into their films on merit, regardless of age, hence that is why I am going there in September, to see what opportunities there are. I already am modeling for world famous Tom Bianchi. He saw my potential and looked beyond the age. I applaud him for doing so, and wag my finger at those studios that dismissed me recently because of my age. They will soon see that even close to 50, I will do some great work with Tom. Some has already started, and I hope that it will end once and for all the matter of my age, as I am sick to death talking about it to be honest. Studios should cast on merit and the body, and don't insult men of my age with a very poor excuse. Take a bold step, take us on as we are powerhouses of experience. We know sex backwards, we don't need much directing, we know the ropes, we fuck still like animals.
Man Crush: If you were to leave behind a change or legacy in porn, what would you want to be remembered for?
Cristian Torrent: Honestly, integrity, professionalism and I have always liked the fact that I often do things others only wish they could do. I take a leap and try new things. My latest big step is to go to California in September. I am excited to hell about that!
The Body:
Man Crush: In most publications we are told and taught that as you get older it gets a bit harder to stay in shape and build muscle. What's your secret for working out and staying healthy as you age?
Cristian Torrent: Genetics plays a big part. As I look through my genetic pool, I can see why I am still a 32 waist at 49 as when I was when I was 22 years old. I don't over eat; I keep an eye on the bad things people eat; I don't burn the candle both ends; I don't go to the after shoot parties that often end up too drug orientated or even dangerous for your health. I now live in almost total seclusion in the Spanish countryside, where I can relax, think, and prepare for films with no pressures of a city life and all that goes along with it. I dip into city life occasionally, but love to dip out back to my new quieter life. Some of my older co-stars have struggled with premature ejaculation as they have got older too which is why looking after your health is so important. You can always buy VigRX delay wipes and other male enhancement products though if you are struggling to last in the bedroom.
Man Crush: What is your favorite workout move?
Cristian Torrent: Has to be the classic bench press.
Man Crush: As you look at younger males that seem more obsessed than ever with getting the "perfect" body, what do you think they are doing right? Where are they going wrong?
Cristian Torrent: Right? They all obsess with using steroids now, do they not know that their heart is also a muscle that also grown with steroids, which is not good. Also, now many of the younger ones to me look the same. They don't have individuality and they'd rather feel part of a clique than be imaginative, but that is mostly peer pressure.
Man Crush: How do you motivate yourself to work out and stay fit?
Cristian Torrent: Quite simple: Discipline.
Man Crush: For someone in porn, what do you say is the most important part of the body that needs to be worked out, toned and fit? What move do you do to accomplish this?
Cristian Torrent: Has to be the upper body. Good pecs and washboard abs are what is seen first in a film, a firm butt and good strong legs get seen a little later on!
Personal:
Man Crush: You said once that you waited to get into porn until your parents were no longer around. What feelings or factors motivated you to do this?
Cristian Torrent: Respect for family and at 43 when I went in, I was very sexually confident by then.
Man Crush: Do you have any regrets for not pursuing your career in porn earlier in life?
Cristian Torrent: Back then when I was 22 or 25, there was NO porn industry in the U.K. where I lived.
Man Crush: You aren't exactly into straight-laced, clean cut porn. Some would view your type of porn to be a bit harsh and in plain terms distasteful. How would you, or have you, addressed such critics?
Cristian Torrent: I do what I like, especially for my own site, I also do like to shock sometimes, that also makes me feel I am doing something different. I will never shoot to alleged straight guys on some broken sofa in Utah claiming to be straight, its rubbish and just is very bad porn. My films are better shot, better lit, always HD and in most cases I establish a credible reason at the onset of the film why the guys in the film are fucking.
Man Crush: On a lighter note, who are you currently crushing on?
Cristian Torrent: Michael Brandon!
Man Crush: You get the final words! Anything you'd like to say to the readers that hasn't already been addressed?
Cristian Torrent: Just to support my site Cristian Torrent, I recently reduced the price to a mad $14.99 to join. It is the only income I get, so don't just watch the trailers for free, take the plunge, buy a membership as then you will see you get way more than you bargained for. Also, look out for my new venture, a sister site in Autumn, giving European Models a platform to appear, promote themselves to the world. I won't appear there but will administer and run it. So keep your eyes open for a new direction from me. I still however will remain doing films, so if you are at a studio and had any doubts about that "age thing" drop it, book me and get one hell of a performance from me!
Follow The Man Crush Blog on Twitter | Facebook | Google+ | Tumblr