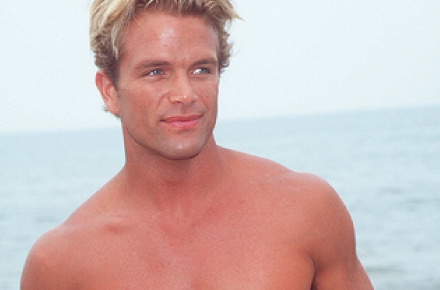 So, let's pretend it's 1995 and we're not yet engulfed with reality whores and housewives and were all high and obsessed with campy television shows. One of my absolute guiltiest of pleasures was Baywatch. I am seriously convinced this show contributed greatly to my gayness. Even back then I didn't find "The Hoff" to be all that impressive but a certain beach blond stud did get me all hot and bothered–David Chokachi who played Cody. Good lord in Heaven this man was, and still today remains, kinda gorgeous. He had abs, he had the smile that would just make your underwear or panties disappear as he played Cody Madison. Now … I honestly can't remember or recall much about his character because I was too busy staring at his abs or bulge or ass in his speedos.
David was born in Plymouth, Massachusetts. In 1997 he was chosen by People as one of the 50 most beautiful men. He's a big environmentalist, devoted to animal rights and is a huge surfer and he's just all around hot. I miss all his wet, speedo-clad Baywatch days but we can reminisce by checking out the pics in today's gallery. You can follow David on Twitter @ChokachiDavid.
Follow The Man Crush Blog on Twitter | Facebook | Google+ | Tumblr
Click on thumbnails to view larger images.