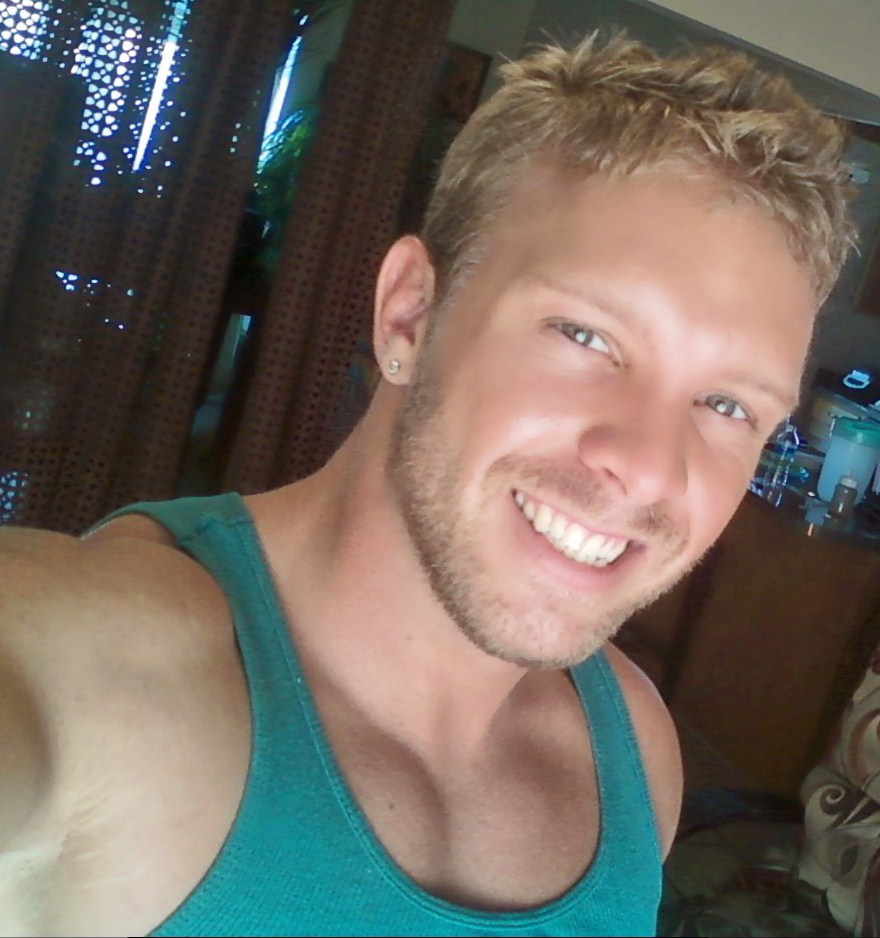 Not too long ago the Southern muscle hunk that is Toby Tucker graced this blog as a featured porn crush (view the feature and pictures here). Toby recently joined Twitter @TobyTuckerXXX and I was able to get a little interview in with him where we briefly chatted about everything from his motivations for getting into porn to some tips on getting Rocky Mountain-like abs like his. You've probably seen some of his best work on websites similar to young sexer, but you've most likely never seen him for the man he is beyond the camera.
Ice Breakers
Man Crush: Do you "always come out the one that's on top" or would you mind "rockin' the bottom" sometime? And if you can identify the two pop songs this question references then you'll get a bonus question!
Toby Tucker: I hate pop music [laughs] but about those other questions, I choose to stay on top…privately.

Man Crush: What's one misconception people generally have about you that you'd like to clear up?
Toby Tucker: That I'm the nicest guy in the world and I'm always happy. Well, true for the most part, but I don't let anyone walk over me cause I do also have a short fuse! [laughs]
Man Crush: The write up on your Randy Blue introduction implies you've followed the studio and its models for some bit. What Randy Blue model do you hope to work with?
Toby Tucker: No one in particular..they are all great looking guys!
Man Crush: We know you're a Southern guy so give us your best/favorite Southern catchphrase or saying:
Toby Tucker: I say "I'm 'bout fixin' to" alot..lol
Man Crush: We know just from looking at you that you spend a lot of time working out. What song do you listen to in order to get motivated and pumped up when you're dragging?
Toby Tucker: "War Ensemble" by Slayer.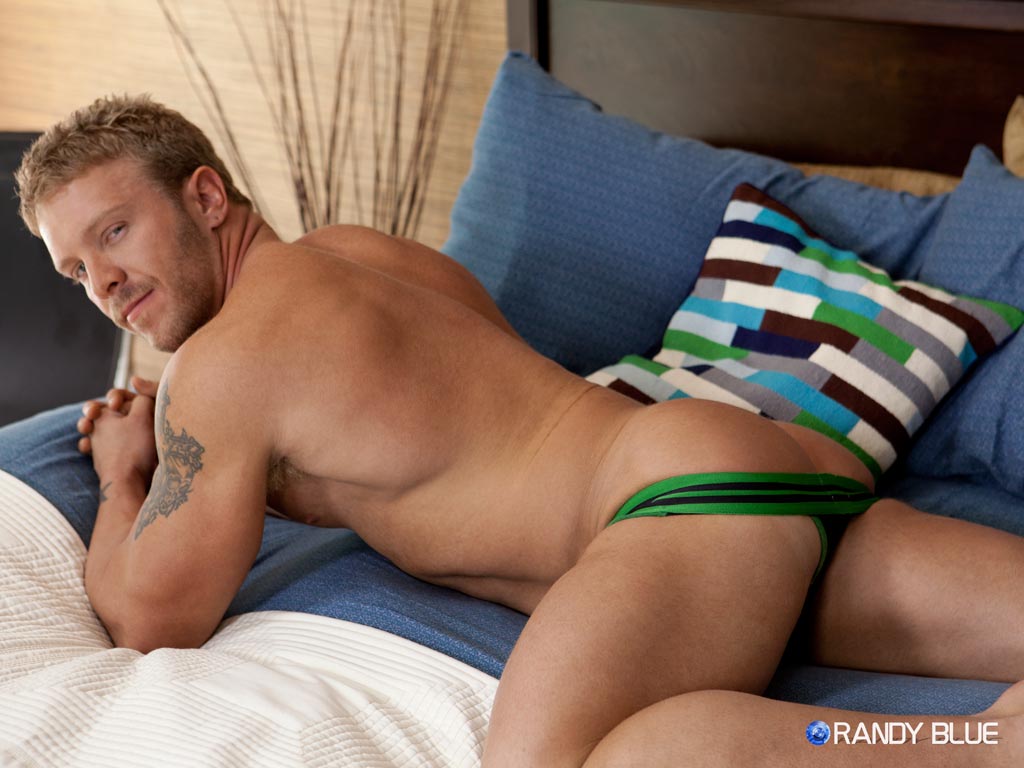 The Porn:
Man Crush: I'm always curious with anyone their reasons for getting into porn. With so many stereotypes and the automatic stigma or assumptions that come with the idea of being a "porn model," it's enough to make anyone a bit wary of making such a career move. What's your story or reasons for getting involved with the adult entertainment industry?
Toby Tucker: No big story. I definitely was in a tight spot financially at the time so I figured hell, That sounds fun and it pays pretty well.


Man Crush: Through the interviews The Man Crush Blog has done with others in the industry, everyone has their reasons for getting involved in porn. For some it's something to pass the time; others it really is a means of support and necessity. What are you hoping to accomplish with your time in this industry? Are you afraid anything you do now will end up making some of your future goals, no pun intended, hard to accomplish?
Toby Tucker: Nah, not at all. I really don't care what people think as far as what I do. [laughs]
Man Crush: Enough of the serious stuff. I asked specifically about Randy Blue earlier but who are you hoping to cross paths with and shoot a scene with in the future?
Toby Tucker: That's kinda undecided at this moment..still thinking on that one.
Man Crush: You're a hot, blond, muscle hunk of a Southern guy. That certainly must turn a few heads. Since this is your first real interview outside the Randy Blue pages, tell us a little about you. What makes Toby Tucker a force to be reckoned with?
Toby Tucker: I'm a very confident guy, but not too "cocky."[laughs] I'm very laid back and I get along with everyone–a total southern gentleman.

Man Crush: Since you're new to the industry, are there things you're still on the fence about doing on screen? Are there any limitations to what you'll do or things you're hesitant to do but are certainly curious about?
Toby Tucker: So far I've only done solo work. I've been debating on doing more but I'm still undecided at the moment.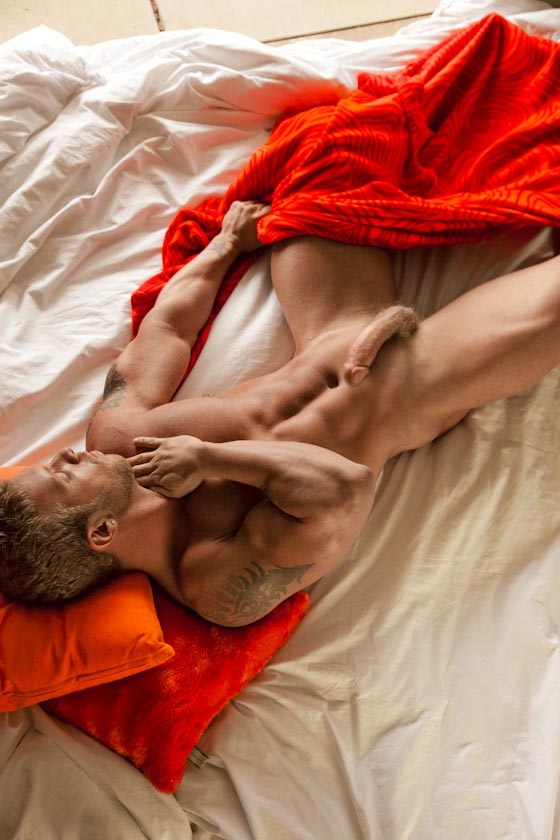 The Body:
Man Crush: Let's talk about this ridiculously hot body of yours for a bit. You have a bit of size to your frame. What's your muscle-building technique? Any secrets or tips you'd be willing to pass on for those looking to add a little 'meat to their bones' as we say in the South?
Toby Tucker: 75 percent of it is nutrition. If you're not fueling your body with the right nutrients, then you are wasting your time in the gym!

Man Crush: Even with your body, I'm sure there's a muscle group or body part that you dread training and working out. What is it and how do you motivate yourself to get past the dread and get to working it out?
Toby Tucker: I just suck it up! I'm totally driven when it comes to my gym time!
Man Crush: What's your tips for getting or developing abs like you do? Is there a particular move you do or workout routine specifically targeting your abs?
Toby Tucker: The key is the diet. I maybe work abs 3 days a week really. Abs are made in the kitchen!
Man Crush: I'm always curious how a good looking guy like you gets in a good workout without being cruised to death or stared down by all the horny men that must check you out. Any crazy, or hot, gym stories about admirers trying to get you to pump or squat with them outside of a workout?
Toby Tucker: I get stared at by guys and girls constantly but when I have my iPod on and I'm training that's all I really focus on, mostly. Gym time is not play time to me. Play time is for outside of the gym.
Man Crush: What's a health tip you think all men should be following?
Toby Tucker: Get plenty of sleep, guys! It is more important than you think.


Personal:
Man Crush: Take away the impending porn career, the muscles and stereotypes: How would you define or describe who you are and what you're about?
Toby Tucker: I'm about fairness and looking on the upside of things; I hate negativity; I have a big heart–that's my weakness.

Man Crush: What do you look for in a person you're attracted to?
Toby Tucker: Looks are very important: Brunettes with dark skin–yum! Soft body and a total goofball.
Man Crush: Tell us about one personal goal in life that you have why you feel it's the most important one for you to accomplish.
Toby Tucker: To be financially stable. [laughs]
Man Crush: You get the final word! What final message would you like to leave with the readers of this interview?
Toby Tucker: I'd like to thank everyone who has helped me out along the way–all my fans and especially Randy! Muah!
Follow The Man Crush Blog on Twitter | Facebook | Tumblr