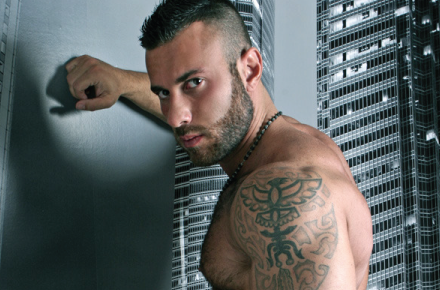 All bow down before the greatness that is Gianluigi! Oh, how I've crushed on Gianluigi for a bit and finally found some of his pictures. He is all muscle, hair and my body is simply jelly at the thought of him. Seriously, I am just taken by Gianluigi's ridiculous body and by how amazingly hot he is. He's in his late 20s, born and raised in Rome, 8 inches, uncut … I don't even need to go on. Nope. Enough has been said. As usual, I love the whole Men At Play tightrope between business and pleasure. I can't even imagine working in an office with someone that looked remotely like Gianluigi.
Some of the images in today's gallery are NSFW and intended for those 18 years or older. A few additional photos of Gianluigi will be posted throughout the day on The Man Crush Tumblr. 
Follow The Man Crush Blog on Twitter | Facebook | Tumblr
Click on thumbnails to view larger images.