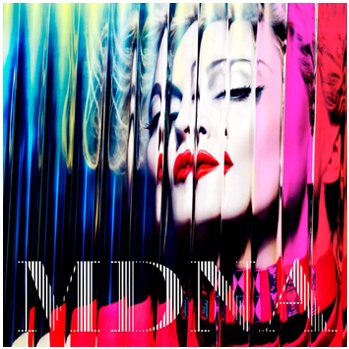 Madonna's 12th studio album MDNA is officially out for all to enjoy and partake in. This is Madonna's first album with Interscope having left Warner so all are curious how she'd follow up 2008's Hard Candy. If Hard Candy divided the fan base, MDNA is an attempt to make the people come together. MDNA is more like a re-introduction to all that has made Madonna a mainstay on the music scene for all these years: there's controversy as she takes on both religion and her image, there's sex and intrigue that some would compare to sensual scenes from sites like U Jizz, there's also a lot of carefree, feel-good pop music to keep the masses entertained and dancing for months to come while she takes her act on the road for a new world tour. You've likely seen the glowing reviews from various publications and reports so here's yet another comprehensive look at MDNA and what it has to offer.
Track-by-Track
"Girl Gone Wild" opens with an Act of Contrition and a bit of a mission statement that marks the opening of this new era of music. Madonna declares that she's tried to be good but now she's going off the rails. The song itself is a roaring club anthem mixed by Benny Benassi, the man behind the video mix of Madonna's "Celebration" track. It's fun, it makes references to her musical past with nods to Erotica and Like a Prayer and overall is fun and carefree. This is the Madonna that's been absent for a while, one that could care less about acting her age and playing nice.
"Gang Bang" is this album's "Impressive Instant" (from the Music album). There's little singing in it, everything is spoken verse similar to tracks like "Rescue Me." The track plays out much like the plot of her "What It Feels Like for Girl" video and continues the theme of a good girl gone bad. She's bitter, she's angry, she's out for blood and makes references to her nemesis building her coffin, driving her hearse and declares, "If you're going to act like a bitch then you're gonna DIE like a bitch." If you're familiar with "Thief of Hearts" from the Erotica album, "Gang Bang" could easily be an updated sequel to that track where at the end she demands, "Stop bitch, now sit your ass down." Time has NOT healed that relationship and she's asking for the bitch's life now. Hardcore Madonna is quite entertaining. "I'm Addicted" stylistically is very Kylie Minogue-like: synths, bubbly, all about being so over-the-top in love with someone that they're like a drug to you. This is the track where she makes reference to MDNA (the club drug). "Turn Up The Radio" has a touch of techno and a lot of 1980s optimism and pep to it, making it sound like a track from her first album. It's upbeat, encouraging and full on club/dance.
"Some Girls" is a big autotune track. This marks Madonna's latest rap attempt as she proclaims, "Some girls are not like me; I'm everything you've ever dreamed of. I've got you beggin' 'Baby, please!'" She rips apart the girls with fake tits, the girls who are second best (nice nod to "Express Yourself") and that she's better than any girl out there. The song is heavy on the bass and beats, making it a dancefloor hit. "Superstar" lyrically is a bit of a nursery rhyme as Madonna–with back vocals from Lourdes–compares her current object of affection to different male figures like Marlon Brando, Abe Lincoln, James Dean, Travolta, Al Capone, Caesar. Consider this the musical lovechild of "Vogue" and "Cherish" with a summery-beat, dubstep and cheer-stomps that go hand-in-hand with "Give Me All Your Luvin'." "I Don't Give A" features Nicki Minaj and has Madonna rapping once again. This is a more upbeat version of "American Life" as she describes her "hard" life and obstacles she encounters on a daily basis. Nicki's rap on this track actually seems appropriate and fits nicely with the music. It's a fun, in-your-face track and is very Madonna in how unapologetic it is.
The album shifts with the next set of tracks from a dance/club theme to a more reflective, serious Madonna. "I'm A Sinner" starts off with much like "Cyberraga" from Ray of Light and goes on to have Madonna singing, "I'm a sinner, I like it that way!" She sings how everyone wants to be a sinner like her. While the track could be considered to still be dancey, it's an hard about-face to the rest of the album with all the religious references to the Saints. Interesting but hard to get into on the first few listens. "Love Spent" is another folksy-dance track where Madonna pleads, "Hold me like your money, tell me that you want me, spend your love on me." It's fun, trippy and Madonna earns points for utilizing a banjo along with electrobeats. "Love Spent" has the country/electro appeal similar to "Don't Tell Me" and "Love Profusion" as it makes over the typical love ballad and makes it something you can dance to. "Masterpiece" is the Golden Globe-winning track taken from W.E. and is easily one of the most vulnerable and moving tracks she's written in a long while. Completely stripped down and her voice sounding untouched and full of emotion, "Masterpiece" describes a love almost so perfect and breathtaking that it's like a work of art that's protected and preserved.
"Falling Free" ends the standard-edition of the album. Completely "free" and stripped of any distracting beats, autotune, this is Madonna back to her Ray of Light roots. The track is all about embracing love and not trying to be in control but rather going with the natural evolution of a relationship. Considering a lot of MDNA feels like it's Madonna gone wild and rebelling, this track stands out as interesting since Madonna usually carefully selects the last track of the album to make a statement.
Deluxe Tracks
"Beautiful Killer" is upbeat with a nice guitar riff, a bit rock and back to the references to love mixing with violence. "You can call my name and maybe I'll be around, you can shoot me down…" she sings along with stating that she can't talk with a gun in her mouth. "I Fucked Up" has a very urban-backing but the lyrics are very revealing and honest. Madonna sings of all that was good about the relationship she's lost and all the hopes and desires she had but how in the end she "messed up" and caused its demise. She also, in very Madonna fashion, declares that it wasn't really her fault in the end. There's a nice lyrical reference to her Confessions on a Dance Floor track "Sorry" as she apologizes in French. "B-Day" song feat. M.I.A. is retro and features playful Madonna, making references to being spanked (similar to "Hanky Panky") and that she'll let the listener lick the icing off her cake. M.I.A.'s part in the song doesn't add much to this track.
"Best Friend" is a bit trippy, very reminiscent of classic Kylie Minogue style. She describes all the things she misses about her former lover and goes through a check list of things she feels she may have done that lead to the relationship ending. The lyrics are a bit too specific to ignore and gloss over as not having a real, personal meaning to her. "Give Me All Your Luvin' (Party Rock Anthem)" cuts out finger-flippin M.I.A. and substitutes LMFAO and Nicki Minaj. This mix of the track is definitely more modern sounding for those that felt the original cut was a bit too retro and dated sounding. If you ordered the album from iTunes after the Super Bowl you also get another bonus track, the acoustic version of "Love Spent" which is more folksy sounding which goes a bit better with the lyrics and subject matter. If you're a fan of the style of music from Ray of Light then you'll enjoy the acoustic reinterpretation of "Love Spent."
Final Verdict
As the extended review with references to past tracks and albums would suggest, I'm a longtime Madonna fan which means my opinion may be skewed. Is this her best effort yet? Personally, I don't think so and am having a bit of a hard time understanding where all the sudden positive reviews are coming from considering American Life was far more personal but got panned by critics as her worst album and some of the lyrics on this album are so simplistic that they make Hard Candy feel Grammy worthy. There is much to like about MDNA: the first half of the album are very club/dance orientated and Madonna is at her best when she's simply outputting great music with awesome beats rather than trying to be preachy and enlightened. The art direction of MDNA is leaps and bounds an improvement over Hard Candy's odd lack of a focus. Mert Alas and Marcus Piggott definitely re-captured the fun disco and '80s inspired style that Madonna rocked in the Confessions on a Dance Floor era.
I loved all the musical nods and references to her past songs and catalogs. You'll probably have to be a hardcore Madonna fan to pick out some of them but if you listen closely there are more references and musical style choices from old albums packed into MDNA that I can remember in the past few albums. While "Girls Gone Wild" was a smart choice for a single, I'd have marketed "Give Me All Your Luvin'" as a song exclusive to the Super Bowl because it sticks out like a sore thumb on this album and feels completely out of place and random. For casual Madonna fans, it likely was a turn off but as can be said for most first singles from Madonna, it's not representative of the album as a whole.
MDNA isn't a perfect album but it feels like an album ushering in a Madonna that's willing to take more chances with her music like in the old days. She curses, she gladly wears this "Explicit" title and speaks ill of her relationship with Guy and perhaps even with the forgotten Jesus era (her boyfriend after Guy); she's flirting with controversy by having a few violent references and making jabs at religion. Considering she came off an era of trying to be commercial and going urban/hip-hop, this is a step in the right direction. Get the expanded deluxe edition of the album because the bonus tracks help balance out the listening experience. Be sure to order your copy online at iTunes.
Listen To These: "Girl Gone Wild," "Turn Up the Radio," "Gang Bang," "I Don't Give A," "I Fucked Up," "Masterpiece," "Love Spent," "Superstar"
Follow The Man Crush Blog on Twitter | Facebook | Tumblr