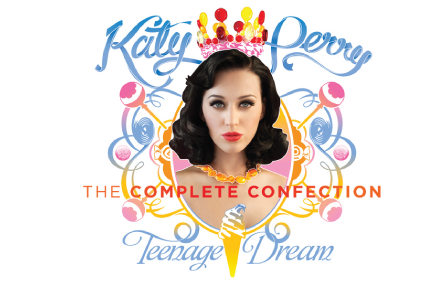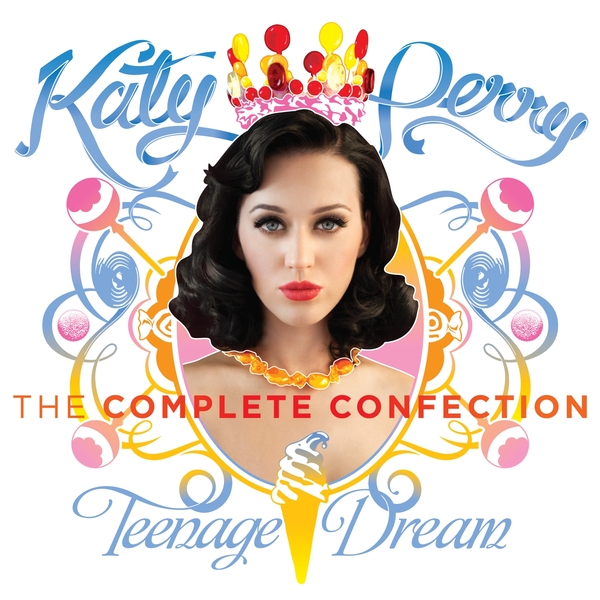 On March 27, 2012 a re-packaged and expanded version of Katy Perry's Teenage Dream will be released. The Complete Confection contains the main 12 tracks from the original album, an acoustic remake of one of the tracks, three new tracks, two remixes of the album's biggest singles and one megamix. For many, you've heard the album and may be at the point of feeling over it considering it was first released in August of 2010 and seems to be the album that never goes away. Is the Complete Confection really worth buying? It depends. If you don't own Teenage Dream then heck yes, The Complete Confection gives you the album and then some. For those that own Teenage Dream and have been collecting all the remixes, then The Complete Confection may not be for you.
Track-by-Track
"Teenage Dream" is a great pop ballad; while playing on the theme of that first love everyone has during high school, Katy created a fun and whimsical song that you could not only relate to but dance to. It's very true to the title- sweet, sentimental, innocent and danceable, "Teenage Dream" is fun and one of Perry's best songs to date. "Last Friday Night (T.G.I.F.)" does not break any grounds musically but the lyrical story it tells of a innocent night gone wrong (or right, depending on who you speak to) is the type of song you'd play in the background as you'd prepare to go out and party. "California Gurls (feat. Snoop Dogg)" is the track that set Katy on the path to breaking records. It's a great summer track that has all the elements of what's come to make a great pop song over the past few years: autotune, innuendo, carefree/party attitude and the bow on top is an unexpected rap verse courtesy of Snoop Dogg himself.
"Firework" is the album's inspirational and motivational track. Feeling down, defeated, hopeless? Katy's message on this track is to keep your head up and to know that everything happens for a reason and your time to shine and show off is upon you. "Peacock" is the album's dirtiest track where Katy uses the metaphor of a colorful bird to demand that she wants you to show off your peacock and goes on to describe how great it is and how she's unprepared for it's revealing. It was single worthy but could not get past the censors for radio play, even with attempts made to clean it up. "Circle The Drain" focuses on a relationship gone sour. The sound breaks from the album's pop focus and seems a bit out of place with its rock-influenced track. Still, the track's fast paced beat and a few curse words thrown in make it interesting and worth a listen. "The One That Got Away" could be considered the musical sequel to "Teenage Dream" in that it continues the plot about true love fizzling and being lost. It's a ballad but much like most of the album Katy and her producers put a bit of life in it by inserting a dance beat that keeps things moving and interesting.
"E.T." is chopped full of innuendo about a sexual encounter with someone from another world. This is another of the album's best tracks as the choppy synthesized beat is a break from the album's straight-forward pop formula and features Katy channeling her inner sexiness. It's a breathy, fun, sexual track. "What Am I Living For?" is a bit of an emo track. The duration of the track spends time questioning fame and and being an idol with Katy proclaiming, "Heavy is the head that wears the crown; don't let the greatness get you down." "Pearl" is the sore thumb track on the album. Not pop, not happy, the lyrics are a bit dark and focus on a girl that let herself get beat down by life and refused to recognize her strengths and greatness and thus lost her shine and luster. The lyrics go on to encourage the listener not to be held down and to be independent and not to let any man hold them down.
"Hummingbird Heartbeat" is addictive, catchy and full of exuberance and joy. It describes another love-turned-sexual encounter and mixes in a little classic rock, '80s pop sound that makes it stand out from anything being played on the radio currently. The standard-edition of the album ends with "Not Like the Movies" which is a stripped down, almost acoustic track that focuses on Katy's voice above all else. She describes a perfect, ideal love and remarks how it seems to only exist in the movies and in fairy tales. Quiet and understated, "Not like the Movies" may not have the same dance beat or commercial appeal as a majority of the album but it does close out the album in a thoughtful, innocent way, bringing it full circle from the first track.
The Complete Confection Tracks
What's new to the re-release is the tracks exclusive to The Complete Confection.  The first of these tracks is an acoustic version of "The One That Got Away." It's slightly slower, subdued and quieter than the album version which honestly makes more sense considering the subject matter and the video of the track. It's a thoughtful re-interpretation and definitely more sentimental and reflective and forces the listener to pay more attention to the lyrics and story being told rather than getting lost in the catchy dance beat of the original track. "Part of Me" is a track many heard before the official release because it's been floating around for as long as the album has been out as a demo. It's an upbeat track that, unlike most of Teenage Dream is actually exploring the aspect of a breakup and how one can pick themselves up afterwards and carry on better than ever. One can't help but to think of Katy's now perished marriage to Russel Brand when listening to this track and how it possibly has become her personal anthem. "Wide Awake" is the strongest of the new tracks. Again, it keeps with the theme of reflecting on bad relationships but lyrically and musically it feels fresh and serves as a nice continuation of the Teenage Dream plot that goes from being madly in love with someone like a giddy teenager to breaking up and waking up to see life differently. "Dressin' Up" is Katy's attempt to be sexy and do a song about fantasies and spicing things up in the bedroom. It's easy to see why this is just a bonus track compared to a regular album cut.
"E.T. (feat. Kanye West)" is the remix most have heard due to it being used in the music video. It's nothing new and his rap did not add much at all to the track. Otherwise, the original beat was maintained and and it hardly qualifies as a remix. "Last Friday Night (feat. Missy Elliot)" is the best of the remixes. Missy took the uninspired musical backing of the original track and inserted her usual party beat and made it into a real pop/dance track with some fresh Missy verses that only she could pull off. The breakdown alone is fun and a must-listen. The best is literally saved for last with "Tommie Sunshine's Megasix Mashup" where six of the album's biggest tracks get tossed together in one hip, fun, glorious pop confection. The track opens with Snoop's line from "California Gurls" where he says, "Greetings loved ones–let's take a journey" and the 7:03 long track goes through a mix of "Teenage Dream," "California Gurls," "The One That Got Away," "Last Friday Night (T.G.I.F.)," "E.T.," "Firework." The mashup works because the backing track is kept rather simple throughout and effortlessly blends the different tracks together while even keeping some of the original music.
Final Verdict
Re-releases are always annoying in that they pack more  tracks into the album's original cut for usually the same price, making the album you bought kind of pointless and lesser of a product. Should you buy The Complete Confection? There are only three tracks that feel worth buying this new collection and the others are ok but have either been released for a while (as with some of the remixes and the track "Part of Me") and then there are others that feel like they only need one spin and you'd have your fill of them. Let's not even get started on the cheap album cover compared to the original album's artwork direction that feels far superior and more thought out than The Complete Confection's.
Though she may be suffering a bit from overplay, Katy Perry and Teenage Dream definitely has had a great run and it makes the re-release of the album that came out almost two years ago seem necessary. Overall, the album (both the original and this new cut) are well thought out, exploring the subject of love and relationships, the good and bad, the ups and down from various musical perspectives.
Listen to These: "Tommie Sunshine's Megasix Mashup," "Wide Awake," "Last Friday Night (T.G.I.F.) (feat. Missy Elliot)"
Follow The Man Crush Blog on Twitter | Facebook | Tumblr
Click on thumbnails to view larger images.